US
How to get the most Covid financial relief when filing your taxes this year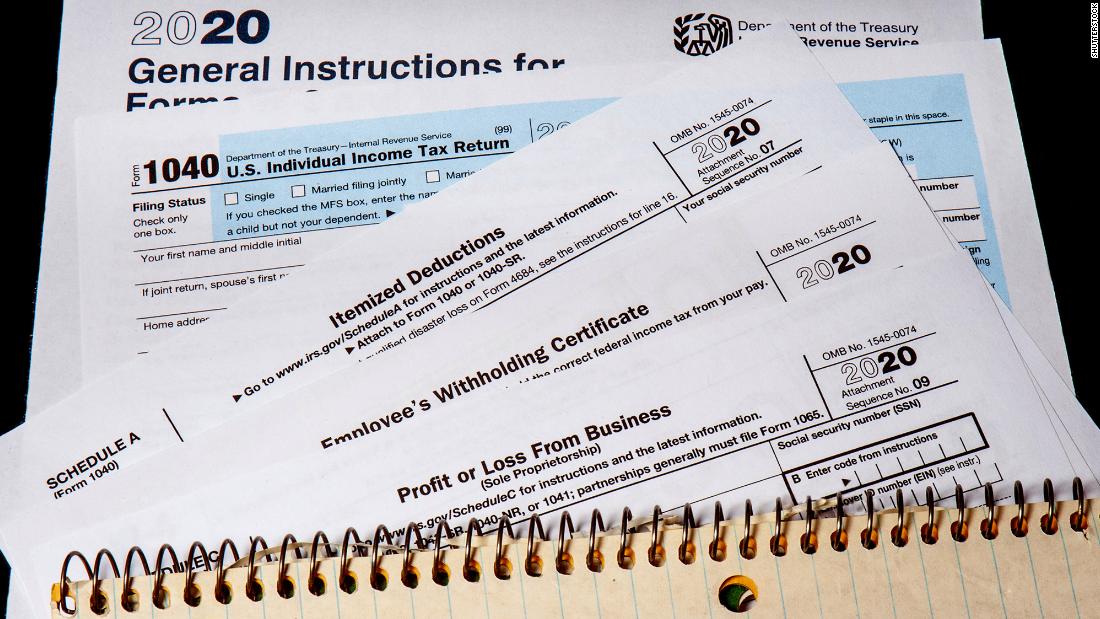 You could get back more money than you think, or at least lower your tax bill. A number of Covid relief provisions may be claimed in full only through your tax return. Some tax credit rules have become more advantageous as a result of the pandemic. And you may find yourself eligible for some tax breaks for the first time due to Covid.
The IRS will
start accepting
returns on February 12, and the filing deadline is April 15, unless you apply for an automatic extension.
But by filing on time you will avoid being charged a
penalty
for filing late and potentially a penalty for failure to pay if you still owe any taxes to the IRS.
Claiming the most stimulus for which you're eligible
But anyone who didn't file a federal tax return in 2019 or whose 2019 income was above the 2020 income eligibility thresholds for the stimulus payments may not have received what they are owed. That's because the IRS, for the sake of speed, shipped out payments based on the 2019 tax information it had as well as information it had for Social Security recipients.
The same situation may have affected parents who got a divorce in 2020, said Elaine Maag, a principal research association at the Urban-Brookings Tax Policy Center.
It's possible the IRS sent the family's full stimulus payment to the non-custodial parent.
But to get the payment you're owed, you must claim the refundable Recovery Rebate Credit. The credit will be awarded in the same amount as the stimulus payment for which you are eligible. Refundable credits reduce your tax liability dollar-for-dollar. If a credit exceeds your tax liability, the rest will be sent to you as a refund.
You may be eligible for an Earned Income Tax Credit
Given how difficult 2020 was financially for so many people, you may qualify for another tax break — the refundable Earned Income Tax Credit — which is geared toward rewarding work for low- and moderate-income filers.
The credit is worth up to $6,660 for married couples with children and up to $538 for single, childless filers.
"In both cases, if you earned less in 2020 than in 2019, you can calculate your credits based on 2019 earnings or 2020 earnings. You can choose a different year for each credit," Maag said.
Small business owners will enjoy supercharged deductions
And the forgiven loan will be treated as tax free to the small business owner.
Source link