Health
These Remote-Controlled Sex Toys Will Give You Orgasms From Afar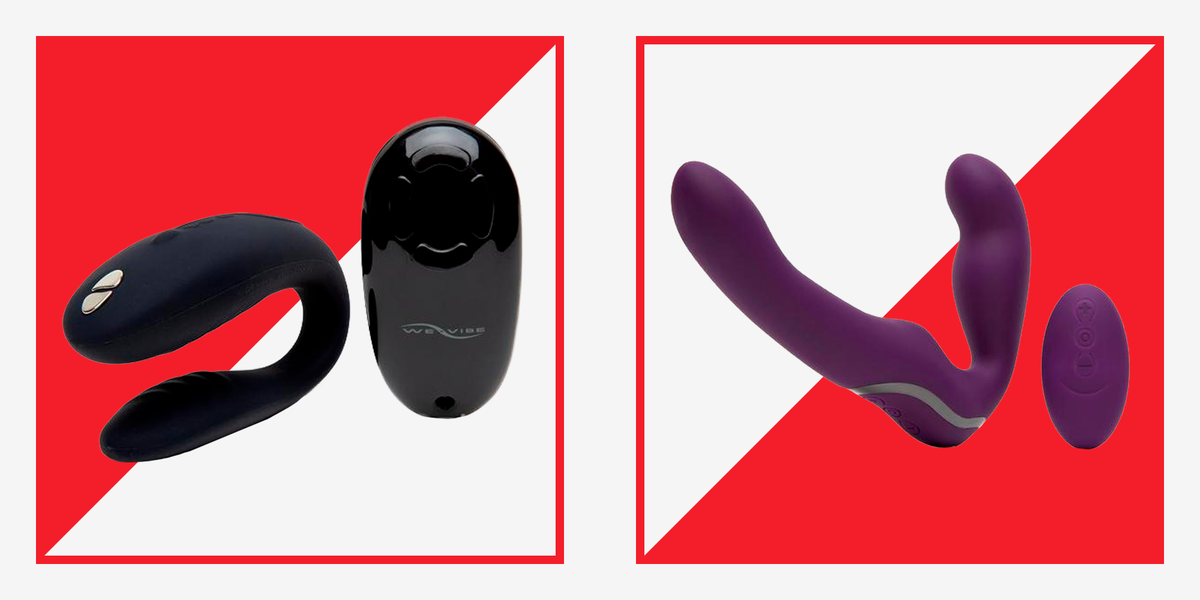 If social distancing has taken its toll on your love life this year, there's a good chance you're desperate for new ways to connect with your partners sexually, even if your hookup is happening through a screen. That's where sex toys come into play—but not just any old sex toys. We're talking about remote-controlled sex toys, including vibrators, prostate massagers, and more.
Remote-controlled sex toys are great for two main reasons (besides the simple fact that they feel good). First, there's the thrill of you and your partner being able to control each other's toys from afar. If you're in a long-distance relationship (or quarantining in separate locations), you might suddenly feel closer; plus, if you're into playing with power dynamics, it can be totally kinky to relinquish or take full control. Second, if you're attempting to use a toy on yourself during FaceTime sex with a partner, you want a toy that's easy to manipulate. You don't want to have to awkwardly bend over, cover the camera, and ruin the moment just to change the vibration pattern on your prostate massager. A remote-controlled or app-controlled sex toy makes things so much less clunky.
Whether you go with a remote-controlled or app-controlled toy depends on how far apart you and your partner are, says Megan Fleming, Ph.D., sex expert for Lovehoney. "Proximity will determine whether you purchase a sex toy with a remote control or a Bluetooth app-controlled sex toy," she says. "If you're on different sides of the coast, or across seas, you'll definitely want a toy controlled by an app. Otherwise, it may be simpler just to use a remote control toy."
But you can also use app-connected devices even if you're in the same town, explains Bryony Cole, CEO of Future of Sex. "You can give your partner a little zap as she's shopping at the grocery store, making it far more exciting!" she says.
Alright, now that you know why you need to buy either an app-controlled or remote control sex toy, we compiled a list of our favorite products on the market. Enjoy!
Advertisement – Continue Reading Below
1
Couple's Vibrator
We-Vibe x Lovehoney
lovehoney.com
$119.99
"The is one of my favorite wearable sex toys designed for couple's play," Cole says. "Even though it's small, the vibrations feel powerful for both partners." 
2
Max 2 Masturbator
Lovense
amazon.com
$119.00
The Max 2 connects to the Lovense app, so your partner can control it from thousands of miles away. "Masturbation sleeves are great, especially if you're long-distance because for men, it's sort of the closest thing to having penetrative sex," Fleming notes. "This one has seven vibrating styles and the three penetration contraction patterns for extra stimulation." The best? It pairs with other devices from Lovense—like the Nora, below.
3
Nora Rabbit Vibrator
Lovense
amazon.com
$119.00
The Nora is a g-spot and clitoral vibrator that can be connected with the Lovense App. "It can actually sync with Max 2, so you both experience the same vibrations at the same time," Fleming says.
4
Vibrating Butt Plug
Lovehoney Desire
lovehoney.com
$74.99
"The more bulbous shape of the vibrating butt plug makes it feel sensational, and it's simple to control with the remote," Cole says.
5
Relentless Vibrations Remote Prostate Vibrator
Fifty Shades of Grey
lovehoney.com
$89.99
Fleming recommends two toys from the Fifty Shades of Grey line, which both have handheld remotes. The first is this prostate massager, which is a little on the larger side. It has 4.5 inches of insertable length, so it hits your prostate and then goes past it. This toy is great for guys who have some experience with prostate massagers.
6
Relentless Vibrations Remote Control Butt Plug
Fifty Shades of Grey
lovehoney.com
$89.99
Fleming also recommends the butt plug from the Fifty Shades line. "I haven't seen too many butt plugs with remotes, which makes this one unique," she says. This butt plug is particularly firm for a silicone plug, which creates an even fuller feeling when it is inside of you. 
7
Lush 2 Love Egg Vibrator
Lovense
lovehoney.com
$139.99
"Products like the Lovense egg allow you to use a toy while on the go; you don't necessarily have to be at home or in the bedroom," Cole says. "You can slip a toy into your panties and make grocery shopping far more exciting." 
8
Melt Clitoral Stimulator
We-Vibe
lovehoney.com
$149.99
"WeVibe Connect is currently the most sophisticated app-toy combination on the market which allows video, text, picture sharing all within the app, while connecting to toys," Cole says.
9
Rimming Plug 2
The Rimming Plug from b-Vibe simulates the sensation of analingus (getting rimmed) while having a butt plug inside of you. It feels heavenly and the vibrations and intensities are controlled using a light-weight remote control. 
10
Chorus Couple's Vibrator
We-Vibe
feelmore510.com
$199.99
"With an adjustable fit, touch-responsive vibrations, and customizable controls, it's the most advanced and intuitive couples vibrator ever," the Chorus' description reads. The Chorus' remote is another thing that makes it special: the tighter you squeeze, the stronger the vibrations get. So when you release your grip, the vibrations weaken. 
11
Remote Control Strapless Strap-On
Lovehoney Desire
lovehoney.com
$109.99
This is actually a strapless strap-on, ideal for pegging. "The shorter of the two shafts is inserted into the vagina, which helps it stay in place," Cole explains. 
12
Hugo Prostate Massager
LELO
amazon.com
$219.00
$164.25 (25% off)
The Hugo is one of our favorite prostate massagers currently on the market. It uses novel technology for the remote not yet seen in other sex toys. By simply tilting the remote, you control the intensity and placement of the vibrations.   
This content is created and maintained by a third party, and imported onto this page to help users provide their email addresses. You may be able to find more information about this and similar content at piano.io
Advertisement – Continue Reading Below
Source link