Health
These Are the 26 Best Gins for Any Budget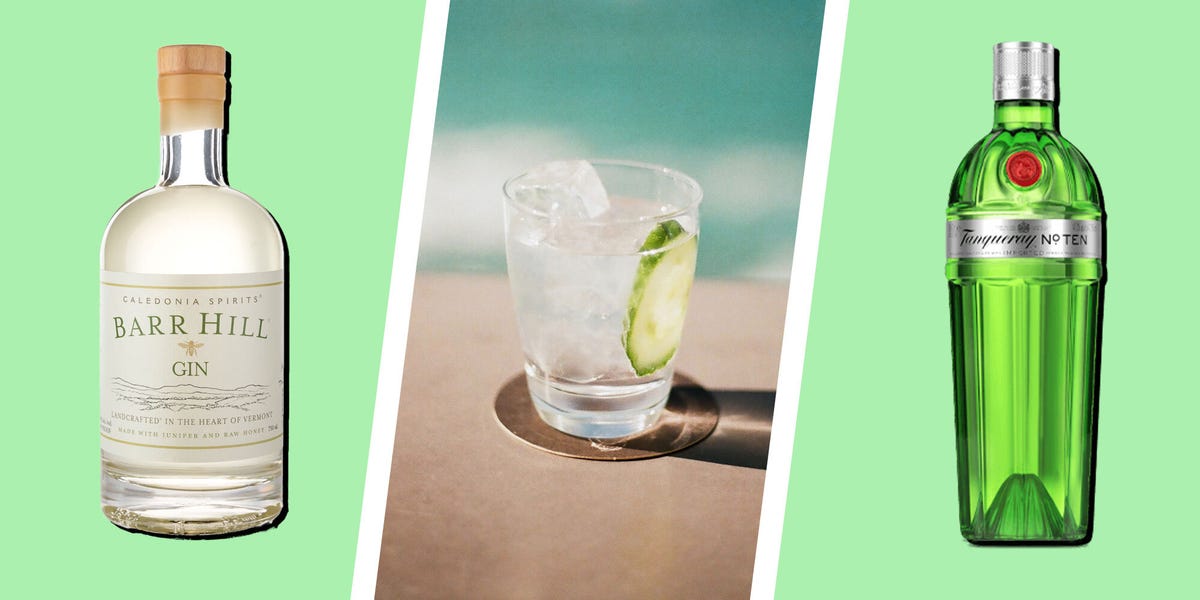 GETTY IMAGES; COURTESY OF BARR HILL; COURTESY OF TANQUERAY
Gin has a long, rich history that goes back centuries and winds through the Golden Age of Cocktails, where it figured prominently in such classic creations as the Martini, the Rickey, and the Tom Collins. But gin is no vestige of a bygone era—in fact, the spirit is having a bit of a moment right now in 2021. As the fastest growing white spirits category in the world, drinkers are discovering (or re-discovering) the botanical magic of gin both as a base for compelling cocktails as well as on its own.
And while gin's simplicity is often one of its principal selling points, distilleries around the world are pushing the spirit forward with unprecedented innovation, meaning there's a wider variety of captivating, challenging, and ultimately refreshing gins out there for you to sip than ever before. So with an estimated 6,000 different gin brands coming from over 68 countries, selecting the right gin can sometimes feel overwhelming.
That's why we consulted with experts like Brendan Bartley, head bartender and beverage director at Bathtub Gin in New York City, and John McCarthy, author of Be Your Own Bartender, to get their top picks for gins you should add to your bar cart or liquor cabinet at home.
"The thing I personally look for now are gins that are showcasing the native flora and fauna of where it's from," says Bartley. "It's a good opportunity to display unique terroir qualities and botanicals. While most spirits have to stick to strict base ingredients when distilling, gin gets to be playful with what it wants to use."
From more popular brands to up-and-coming small distilleries, here are the 26 best gins you can buy:
Advertisement – Continue Reading Below
Barr Hill Gin
Bartley admires this "one-of-a-kind gin" that sustainably incorporates the addition of raw honey into the production process. That "ode to the bees of the Northeast" comes through in the gin, colliding with juniper-forward botanicals and a creamy finish. If you're a fan of brown liquor, be sure to try their Tom Cat Gin, which is barrel-aged 4-6 months in new, charred American White Oak.
Sipsmith London Dry Gin
Sipsmith claims to be the first copper pot distillery to open in London in the last 200 years. Whether or not that's true, the gin they're making is first rate. "It's strong and robust—all that you want from a classic London dry gin," McCarthy says.
Citadelle Gin
This gin hails from a region in France best known for the production of cognac. But when Maison Ferrand Distillery realized they could distill gin in the offseason, Citadelle was born. Crisp clean, it transports you to a beach in the southwest of France. Enjoy it with crushed ice, tonic, and lemon peel.
Gin Mare Mediterranean Gin
Made with a blend of European botanicals—including Seville orange and Greek thyme—this gin is made in a fishing town just outside of Barcelona. "It's herbal and spicy, and great for Spanish-style G&Ts," McCarthy says. By "Spanish style," he means a gin and tonic made with lots of ice, a big, bulbous wine glass, and garnishes like citrus peel, herbs, spices and fruit.
Black Button Distilling Citrus Forward Gin
Rochester's first grain-to-glass distillery since Prohibition is the maker of several fine gins, but this spirit stands out for its accessibility. It's a great gin for people who think they hate gin: citrus overtones help balance out the piney flavors and a smooth finish makes it highly sippable. While many gins evoke springtime, this one encapsulates a hot summer day, best enjoyed with a little pebbled ice and a twist of orange, lemon, lime, or grapefruit.
Nautical American Gin
Gin is an ideal spirit to enjoy by the sea, but this maker takes things to a whole other level thanks to a splash of saltwater that's added to distillation. Bartley appreciates the mix of over ten exotic ingredients including lemongrass and Indian coriander. We recommend using this gin for a gimlet cocktail, as the lime and sea salt will work together to really bring out the citrus flavors.
Monkey 47 Schwarzwald Dry Gin
Gin (and G&Ts) are über popular in Germany. And this Black Forest gin is a fave-rave among bartenders. "This is just a lovely gin," McCarthy says. "Elegant and nuanced—as you drink it, you continue to discover new notes and flavors."
Roku Gin
The Japanese are famed for the care and craft they apply to their spirits and cocktails. And Roku (which is Japanese for "six") combines classic gin botanicals with six locally-sourced and seasonally distilled additions—sansho pepper, yuzu peel, sencha tea, gyokuro tea, and sakura flower and leaf. The result is a delicate spirit that nicely balances floral, fruity, and spicy notes—at a super-reasonable price.
Ferdinand's Saar Dry Gin
This gin from Germany is floral and grassy on the nose, with an intriguing mix of pepper, thyme, and red apple on the palate. One reason it's such an enticing bottle for Bartley? It uses 30 botanicals, as well as the addition of riesling.
Family Jones Juniper Jones Gin
This New World western-style gin has a strong juniper foundation and it's bottled at slightly higher proof. It's a great utility player thanks to seven subtle botanicals that won't overpower the rest of a cocktail. Pair a G&T using this spirit with a spring radish salad or a spiced roast beef.
Four Pillars Rare Dry Gin
Launched in 2013 via crowdfunded project, it's one of the newer gins on the market worth your dollars. It's also a bit of a pioneer, given that Four Pillars is one of the first craft distilleries making gin in Australia. Bartley, a proud Aussie, says, "It's a great way to see local ingredients at work."
Brooklyn Gin
McCarthy says this is one of his favorite gins—period. Brooklyn Gin is "bright and fruity, and fantastic for cocktails," he says.
Tanqueray No. Ten
There's a reason this bottle won Best White Spirit three times in a row at the San Francisco World Spirits Competition, says Bartley. You may recognize the brand for its flagship, but this small batch version (named after the stills of its origin) kicks things up a notch in terms of complexity. It's possibly the best value gin on the market, according to Bartley.
Gray Whale Gin
Golden State Distillery's Gray Whale Gin is made with Baja lime, Capay Valley almonds, and other botanicals sourced from the California coastline. The result is a light but complex gin—perfect for a martini.
Nikka Coffey Gin
"Every time I taste this gin I remember why I love it," says Bartley. He points to the gin's "elegance," which derives from the use of local Japanese ingredients and a coffey pot still. You'll notice when sipping it straight that this gin has an exceptionally long finish, if you're into that sort of thing (we certainly are).
The Botanist
This Scottish gin is made with "hand-forged" botanicals from the island of Islay, McCarthy says. He describes it as "clean, light and bright," and says he prefers to drink it chilled and straight—"all on its own."
Beefeater London Dry Gin
England takes its gin seriously and is home to some of the most well-regarded distilleries in the world. Beefeater's recipe dates back to 1863 and remains the distillery remains one of nine still operating in London today. As one of the more affordable quality gins, it's excellent bottle to have on hand both for sipping straight or infused with sweet vermouth.
Neversink Gin
This gin is made from apples from a single apple orchard in New York, with apple spirit that's macerated with juniper and 11 other botanicals for 24 hours. "Everything they do here is done with an environmental mind," Bartley says. "They take great pride in their gin and I feel like it comes through in the flavor."
Bimini Gin
Despite its Bahamian name, this gin is made by Maine-based Round Turn Distilling. Unlike most traditional gins, Bimini is made with hops—a surprising choice that McCarthy digs. "It clouds up when mixed and makes a great G&T," he says.
Nolet's Dry Gin
You can't argue with the history: Nolet's is a family-owned distillery has been distilling since 1691. A few signature ingredients? Turkish rose, peach and, raspberries, among others. "This is a good gin if you want to start getting into gin," says Bartley.
Ford's Gin
Ford's Gin is a cocktail "workhorse," McCarthy says—meaning it performs ably in a variety of mixed drinks. If you're looking for an excellent new take on a classic London dry gin, this is your choice.
O.R.E.118 Premium Raw Vegan Gin
Since all ingredients in this gin aren't cooked past 118 degrees Fahrenheit, the botanicals are still considered raw. Bartley likes this is as a go-to sipper that's delicate and uses Chardonnay grapes to distinguish itself from the competition.
St. George Dry Rye Gin
While most gins are made using spirits distilled from wheat, St. George's uses rye for its base spirit. The result is a major departure from traditional gin—but a delicious one. If you're a fan of negronis, this is a fantastic change-of-pace gin.
D. George Benham's Sonoma Dry Gin
Hailing from Sonoma County, Bartley says this gin always reminds of him wine when he sips it—in a great way. He points out that it's individual vapor distilled in a column still with 12 botanicals and Buddha's fingers in the distillation, and appreciates that the brand specializes in other spirits. "I feel like they always look at things differently," he says.
Drumshanbo Gunpowder Irish Gin
This smooth, balanced gin is made in copper pot stills in the town of Drumshanbo, Ireland using Irish and Asian botanicals. That may sound like a strange marriage, but it certainly works in this great gin.
Oxley Cold Distilled London Dry Gin
Cold vacuum distillation makes this gin unique. Bartley points to the decision to not cook ingredients as a game-changer, as the flavors come out with a fresh taste. The result is a gin that's "inviting on the palate" and brighter than many other bottles you could pick up.
This content is created and maintained by a third party, and imported onto this page to help users provide their email addresses. You may be able to find more information about this and similar content at piano.io
Advertisement – Continue Reading Below
Source link