Health
These 9 Healthy Meal Services Actually Have Delicious Food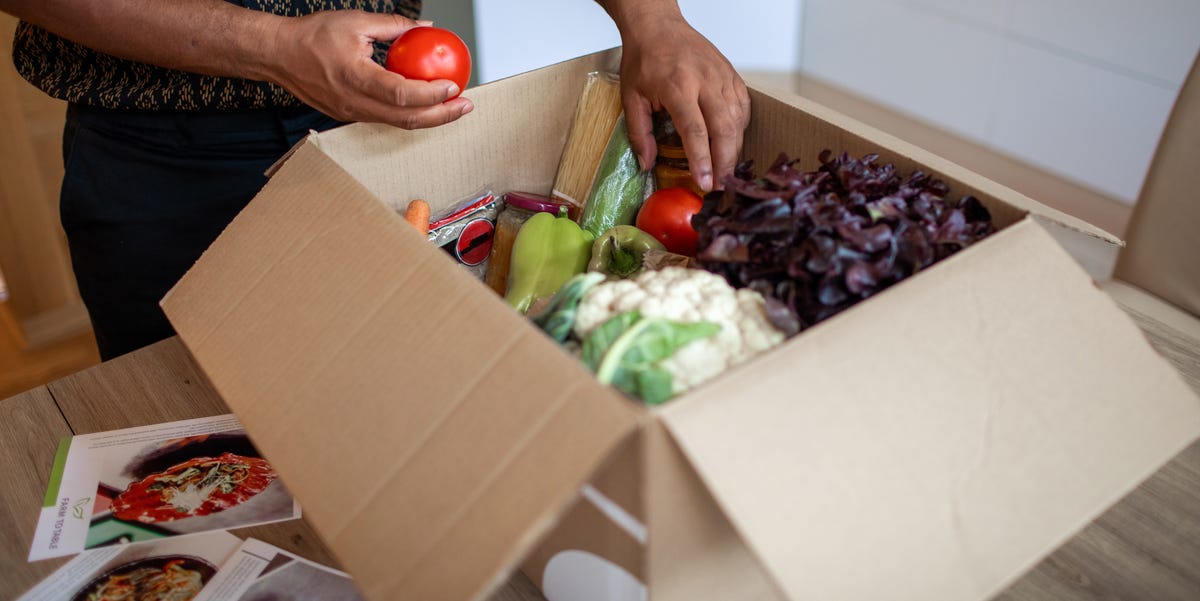 Cooking can feel like torture if you don't enjoy the task. First, you have to find a recipe, shop for groceries, then prepare your meal. But ordering from a meal delivery services takes nearly all the work out of eating at home.
The problem is, though, that are so damn many of these meal delivery services that deciding which one to go with is nearly as frustrating. Which of them are any good? Are some less expensive than others? How much cooking will you actually have to do? And, maybe even most importantly, is cooking from these meal delivery services a healthy way to eat?
The good news is that over the years, many of the less-than-stellar options in the meal kit delivery market have fallen by the wayside. No longer are there 1,500 options out there (okay, that's an exaggeration, but only a minor one). And the meal delivery companies that do remain tend to send you delicious food, at somewhat reasonable prices, involved a moderate amount of cooking (but not, like, a ton), and have a wide variety of healthy options to choose from.
And, of these remaining services, there's still an array to suit your dietary and cooking preferences. Some offer meals that are ready using just a microwave. Others require some very light cooking using already prepared ingredients and recipe card. Meal delivery services are a viable option for single people and families who are on-the-go.
Here are the healthiest services you can try.
Advertisement – Continue Reading Below
1
Territory Foods
These precooked dishes suit any diet, including Paleo, Keto, and plant based. Meals come in two sizes: standard and "boost," so it's the  perfect service if you want to lose or gain weight. Plus, there's a complete macro breakdown to help you track your food with ease. You can also buy a fresh produce box if you do feel up to cooking. Nothing wrong with adding more fruits and vegetables to your diet, right?
2
My Metabolic Meals
My Metabolic Meals is ideal for people trying to maintain or lose weight. You can choose entrees or individual proteins and sides to create your own meals. Everything comes pre-cooked, so you just heat and eat. The food is high quality and includes grass-fed, pasture-raised, and wild-caught proteins. Options include a wide variety of meals, desserts, and breakfast.
3
Hungryroot
Through this service, you can place a regular grocery order or specific products that make a specific meal, like chicken stir fry or black bean wraps. 
The second option offer includes recipes and all the ingredients to make the meals. However, don't be worried if you hate cooking—dishes are super easy and can usually be cooked in 10 minutes. 
4
Freshly
Freshly, a titan in the meal kit delivery service arena, provides meals that are hearty and comforting. They're also full of flavor and vegetables. For example, the chili mac and cheese is loaded with cauliflower, butternut squash, and sweet potato. All meals are microwave-ready—another bonus.
5
Snap Kitchen
snapkitchen.com
Snap Kitchen has something for every type of dieter. Choose from low carb, high fat, paleo, high-protein, or just regular well-balanced meals. Options include a nice mix of cuisines, and portions are smaller, so this is better for people looking to lose weight. Or just looking to eat well.
6
Sun Basket
Sun Basket is another option that requires a little bit of cooking time. However, all recipes come with prepared ingredients and easy-to-follow directions. This is perfect for people who want a fast meal that feels homemade. Just look at that tuna nicoise!
7
Daily Harvest
Daily Harvest is your go-to for any meal. The oat bowls, soups and protein bites are tastier than anything you'll get out of the pantry. The flatbreads are awesome too.
8
Purple Carrot
Plant-based dieters who don't mind spending some time in the kitchen will want to check out Purple Carrot. Meals include options jackfruit sliders and loaded sweet potatoes. 
This content is created and maintained by a third party, and imported onto this page to help users provide their email addresses. You may be able to find more information about this and similar content at piano.io
Advertisement – Continue Reading Below
Source link