Health
'The Sandman' Captures the Gothic Horror of Neil Gaiman's Comic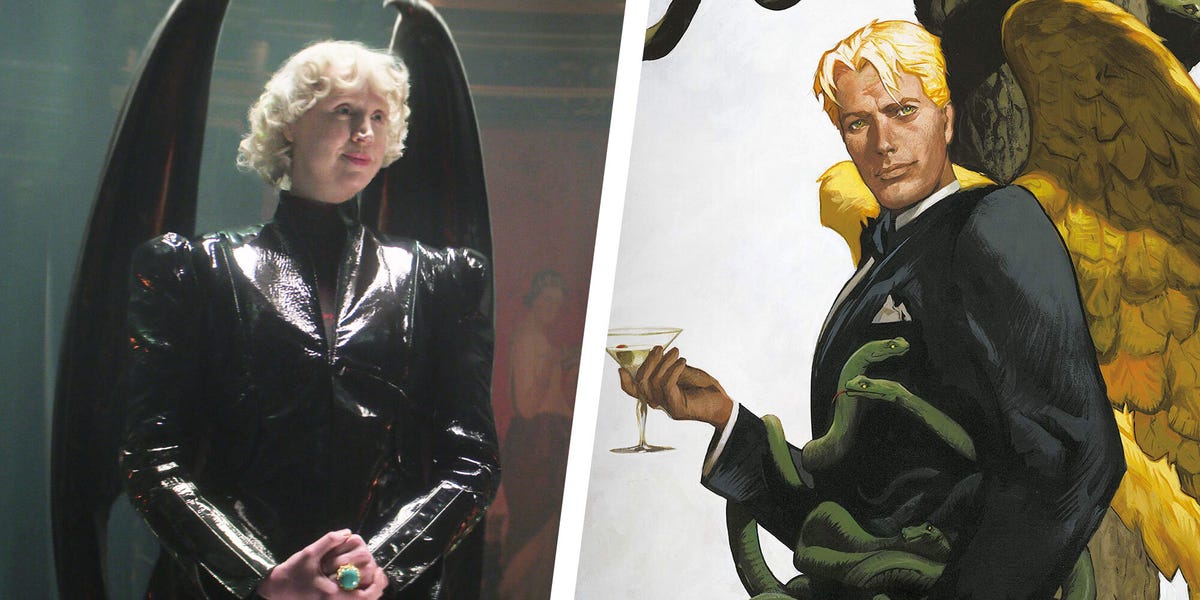 When the first issue of DC Comics' The Sandman was first released back in January 1989, English writer Neil Gaiman—at the time not even 30 years old—was at the very start of his career. All he'd had to his name was scattered nonfiction work, a few short stories, a handful of comics published in the UK, and a three-issue Black Orchid series for DC. But The Sandman—which would eventually run for 75 issues, spawn its own universe, and become one of the most heralded comic works of all time—changed all of that. Now, 33 years, 11 novels, and a number of other hit comics and literary works later, Gaiman is considered arguably the greatest living fantasy writer we have.
And if you're a writer lucky enough to make something considered a modern classic, you're almost always going to get something else: people wanting to adapt it for the screen. The Sandman had a long road to its live-action adaptation, including a planned version that at one point would've starred and been directed by Joseph Gordon-Levitt. But that winding road of production led the project, eventually, to Netflix, where Gaiman himself was an active contributor to the show's development, and where it now finds itself finally premiering. And luckily for all parties involved, it's pretty damn good.
No comic adaptation is ever going to be 100% accurate—but The Sandman is not super far off. Sure, some details from later issues are brought in earlier, and some characters are slightly tweaked, but from the story beats to the format in which that story is presented (The Sandman generally operates as a series of linked short stories and mini-arcs), everything feels distinctly of a piece with what Gaiman originally presented in The Sandman comic's 75-issue run. And, again—that's a damn good thing.
If you were wondering how some of the key characters from Netflix's The Sandman compare to their depiction within the original comic, we've got you covered.
Advertisement – Continue Reading Below
1
Tom Sturridge – Dream
The live-action choice to play the entity at the center of The Sandman is Tom Sturridge, who you may have seen before alongside Philip Seymour Hoffman in Pirate Radio or in the Netflix horror film Velvet Buzzsaw. Sturridge is a great pick to play Dream (despite not looking quite as much like The Cure frontman Robert Smith as the character from the comic), and you can tell in the way he stoically delivers every line—and gives one hell of a death glare when he's being held captive.
2
Charles Dance – Roderick Burgess
Who better to play a bitter old man with a chip on his shoulder than Tywin Lannister himself? Despite the similarities, Charles Dance is actually quite different from his famed Game of Thrones character as the mad scientist Roderick Burgess—who captures Dream and holds him prisoner—in the very beginning of The Sandman. Dance only appears briefly, but he's a perfect pick. And he's compelling as hell to watch on screen.
3
Gwendoline Christie – Lucifer Morningstar
You know Gwendoline Christie best from her role as the ever-noble Brienne of Tarth on Game of Thrones, but it's fun to remember that she clearly has a flair for taking on menacing roles as well. She played Captain Phasma in the Star Wars sequel series, but actually gets quite a bit more of scenery to chew in The Sandman. Her performance is enjoyable to watch and we look to hearing the menace in her voice quite a bit more in future seasons.
4
Boyd Holbrook – The Corinthian
Liam Hemsworth and Stranger Things' star Dacre Montgomery were among some of the first names reported as potential portrayers of The Corinthian, a nightmare who escapes from the Dreaming and becomes the main villain of The Sandman Season 1. But it was Boyd Holbrook—who previously played a terrifying villain in Logan and also recently appeared alongside BJ Novak in Vengeance—who got the job, and did a damn good job of it. This guy is a true wildcard on screen, and Holbrook does a wonderful job capturing his chill but quite terrifying demeanor.
5
Vivienne Acheampong – Lucienne
The Lucien of Gaiman's comic became Lucienne for the series, and VIvienne Acheampong was more than up to the task as Dream's loyal librarian and right-hand. Every powerful figure needs someone in the shadows to keep their head right, and that character is done quite well in The Sandman.
6
Kirby Howell-Baptiste – Death
Gaiman does something spectacular when introducing Death in the comics, and that's never explicitly saying, or having any character around say, who she really is. We just sort of figure it out. And that's done in exactly the same way in Netflix's series. Kirby Howell-Baptise (Barry, Killing Eve) captures the most important parts of Death: calming, kind, and most importantly, cool as hell.
7
Jenna Coleman – Johanna Constantine
Doctor Who star Jenna Coleman takes on the mantle that was held before her previously by Keanu Reeves (in the 2005 film Constantine) and Matt Ryan (in NBC's Constantine and the Arrowverse) in playing the character of Constantine, reimagined here as Johanna Constantine. A fighter of the occult, Johanna is an ally of Dream—and one we hope to keep seeing in the future.
8
David Thewlis – John Dee
David Thewlis is one of those actors who just makes everything he's a part of better, from a tiny role in The Big Lebowski to his memorable turn as Professor Lupin in the Harry Potter films, and everything else in between. In The Sandman he plays one of the series' best antagonists, John Dee. As you can see, the series took some liberties with the character, making him bit more sympathetic—compared to his comic counterpart, who's essentially been rendered a monster after a major misuse of power.
This content is created and maintained by a third party, and imported onto this page to help users provide their email addresses. You may be able to find more information about this and similar content at piano.io
Advertisement – Continue Reading Below
Source link