Health
The Latest and Greatest Tech Gadgets to Improve Every Aspect of Your Life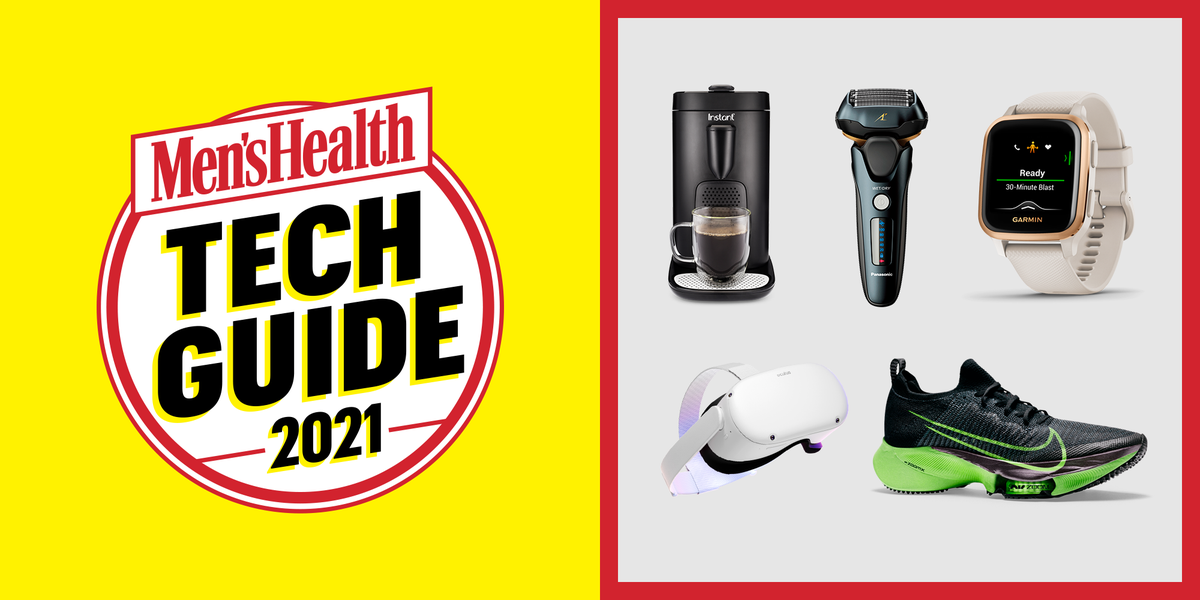 2020 had some major glitches, but that didn't slow down the tech industry. The latest gadgets and gear releases continue to prove the vital role of these high-tech helpers for our everyday lives to stay connected, stay calm, and stay focused on the important stuff. So, take a moment to "debug" and "reboot", and take control with the best tech of 2020 to pause, play, and reset for the new year.
PAUSE
Did 2020 feel like you just went 12 rounds with a calendar? Same here. This is the gear that'll help you blow off some steam while relaxing your mind and body.
Pro-Ject Debut Carbon EVO Turntable
Finally, a turntable that looks as good as it sounds. The nine finishes the Debut Carbon EVO comes in guarantees you'll find one that looks sharp in the living room—because looking at a turntable is half the joy of ownership. Behind the scenes, vibration dampening feet, a rigid one-piece carbon fiber arm, and the hefty steel platter rimed in thermoplastic combine to lower the resonance for a clean, crisp sound.
Kohler Moxie Showerhead with Harman Kardon Speakers
smarthome.kohler.com
$179.99
Magnetically docked into the center of this showerhead is a soda-can sized waterproof smart speaker that streams playlist, podcast, or news briefing into your morning routine as fast as you can say "Hey Alexa."
Dell XPS 17 Laptop
This Macbook killer packs a 17-inch screen into a build that's smaller than many 15-inch laptops. Inside a pair of fans, and insulation technology from Gore-Tex, keep things cool while the 10th generation Intel processor muscles through games, apps, and split-screen work without flinching. Though you might appreciate the CNC machined aluminum and 3D audio courtesy Waves Nx even more.
Sony PlayStation 5
Gaming's come a long way since Mario. The PlayStation 5 is the largest console in history, and it uses its power to immerse you in new ways. You'll stare at 8K graphics and listen to redesigned sound, all while battling through Fortnite with a redesigned controller that uses haptic feedback and pressure-sensitive trigger. Bonus: the PS5 plays PSVR games, too.
Therabody Theragun Mini
Forget your old, bulky massage gun and embrace the Mini. This redesigned device ditches the "gun" shape for a soft-edged aesthetic that's easier to grip than you think, and small enough to fit in a roomy winter coat pocket. The best part: It packs classic Theragun power (up to 2400 percussions per minute) to relax tight forearms and hamstrings.
Dish Playmaker
Go off the grid during the NFL season responsibly—with TV service you can take just about anywhere. This mobile, 7-pound satellite rigs to an RV, or on a tripod at your campsite, and beams 50 HD channels to a TV. Car camping, or that rural Airbnb your girlfriend keeps mentioning, is about to get a lot more manageable.
Vecnos IQUISPIN
While it's not much bigger than a Sharpie, this 360-degree camera punches above its weight. With four lenses, one of which points straight up, you can focus on being in the moment and not worrying about catching the right angle.
Sonos Arc
Get immersive audio that can fill an entire house in one slim, sleek, ultra-versatile package. A whopping 11 drivers power Sonos' newest soundbar, fueling a surround sound experience that delivers in all situations, whether you're playing Halo or watching Avengers: Endgame.
BEST BUDS
Chill out, work out, and tune out any disruptive sounds that throw you off your groove—music to your ears, right? Some of the biggest brands in headphones released tiny-yet-mighty wireless earbuds this year, all with noise-cancelling/reducing abilities. These new earbud all-stars help you focus on what matters, and absolutely nothing else.
Best for Audio Addicts
Bose QuietComfort Earbuds
The Bose QuietComfort Earbuds prove good things can come in small packages. Consistently striving for audio perfection, Bose took everything we loved about the gold standard 700 style and somehow jammed all of that greatness and more into sleek, attractive buds that have the most effective noise-cancelling technology on the market. And about the size of the buds: they're not the smallest on the market. It might take a trusting exercise at first to believe these bad boys won't pop out of your ear when you're on the move, but once you find the right StayHear Max ear tips for that snug fit, they'll be your new go-to workout earbuds (with an IPX4 rating to combat sweat and water). 11 adjustable levels of active noise-cancellation can even silence the most chaotic, noisy environment, from school playgrounds to an New York City subway train. While on the go, the touch panels on the earbuds allow you to have full control with minimal movement, as you enjoy up to 6 hours of audio bliss per charge, making these ideal for the total boss with a love of bass.
Jabra Elite 85T Earbuds
What causes a brand like Jabra to release a newer version of an already beloved wireless earbuds style in less than a year? The answer is new advanced active noise cancellation, delivered by a dual chipset and 6 microphones with an open ear design for the best quality sound, all for a reasonable price for customers to get the most bang (and bass) for their bucks. A dual slider allows you to customize noise cancellation while the buds rest comfortably in your ears, thanks to new oval-shaped ear gels that also support acoustics. The design is a smidge taller than its predecessor to accommodate bigger speakers and the ANC chip, but you won't even notice the difference in size. What you will notice is 5.5 hours of incredible sound quality for music, calls, and everything in between with ANC technology.
LG TONE Free HBS-FN6 Earbuds
amazon.com
$149.99
$106.99 (29% off)
Nose-reducing wireless earbuds? Snoozefest! Nose-reducing wireless earbuds with self-cleaning technology to kill 99.9% of bacteria? Well, now that's something!
LG's new TONE Frees come in a pocket-friendly pebble case and deliver an immersive sound experience with Meridian technology. Enjoy the clear, crisp audio of your favorite tunes and podcasts, and when you're done, the case cleans them up with ultraviolet LED light when charging. Though the bass isn't quite strong enough for EDM lovers, you can adjust ambient sound and choose between multiple equalizer settings, or customize your own, to create your ultimate listening experience for up to 6 hours per charge. With an earbud design similar to AirPods, the LG TONE Frees sit comfortably as you work up sweat during your grueling workouts with IPX4 water protection. If you've been holding out replacing from your corded buds, LG's new stunners might be the affordable upgrade you've been waiting for to finally cut the cord. 
PLAY
There's no shame in lusting after cool gear that's just flat-out fun to have—you earned it, man. Enjoy the adrenaline rush from these grown-up toys that make adventuring, working out, and getting back out there better than ever.
Segway Air T15 Scooter
amazon.com
$749.99
$559.99 (25% off)
If your city commute is only a few miles, it's time to ditch mass transit for good. This folding scooter weighs just 23 pounds, has enough oomph to cruise at about 12 miles per hour for around 7-miles. When you arrive, flip the kickstand down, to dash in and grab a sixer, or collapse it into its dock to recharge at the house or office.
Peloton Bike+
Peloton's updated bike boasts a lustrous, 24-inch wide screen, and a game-changing multi-grip handlebar that lets you always find comfortable position. And the best feature just may be auto-follow, which automatically shifts the resistance when the instructor calls for it. Translation: No escape from tough workouts.
DJI Mavic Air 2 Drone
The massive optical sensor in this packable drone means the 48-megapixel photos pop and the hyperlap video is 8K—smart futureproofing for when your TV plays catchup. The next-gen obstacle avoidance sensors, combined with the 34 minutes long flight time, mean you spend more time shooting killer video and less time dodging trees and buildings.
Nike Air Zoom Tempo Next%
Let the power of air propel you forward. A pair of Zoom Air pods in the forefoot of the Tempos give you a little extra oomph with every step, delivering just enough energy return to help improve your running efficiency. Unlike other high-tech racing shoes, the Tempos are durable enough to be worn every workout, thanks to a propulsive midsole plate and a blend of ZoomX and React foams.
Bowflex SelectTech 2080 EZ Bar
Revamp your home gym with Bowflex's unique adjustable barbell and EZ curl bar combination, which can be as light as 20 pounds or go heavy as 80 pounds (upgradeable to 120 pounds) with just a few clicks of the quick-change dial. No matter the resistance, you're curlingwhile gripping a gym-quality bar that's friendly on your wrists and built for long-term durability.
Bose Frames Tempo
These multitasking sunglasses don't just block out UV rays. Thanks to Open Ear Audio, they also play music and let you take phone calls—all with nothing actually on your ears. Add in a sweat- and weather-resistant design that's built for the outdoors, and you have a device that lets you listen to ASAP Rocky's latest, while still paying complete attention to the outside world on your morning run.
Oculus Quest 2
Virtual reality takes another step forward with the Quest 2, which sucks you into even more immersive video game worlds, courtesy of 1832×1920 resolution in each eye, and an electric Snapdragon XR2 processor that keeps pulse-pounding games like The Climb 2 running smoothly. The downside: The headset's more comfortable than ever, so you may never want to take it off.
BETTER WATCH OUT!
Today's smartwatches tell you more than the time. They tell you about you, breaking down everything from sleep patterns to oxygen consumption to stress levels. The right smartwatch charts your entire life on your wrist, giving you the information you need to feel and perform your best. Just make sure you pick the right one for you.
BEST OVERALL
Apple Watch Series 6
Just when you thought the Apple Watch couldn't get better, Series 6 arrives with even more health-tracking goodness. Series 6 delivers an ultra-speedy blood oxygen app that can give you a reading in just 15 seconds, as well as a wide range of VO2 max values to help you understand your cardio health. And the new sleep-tracking functions will have you wearing your Apple Watch to bed, too.
Apple delivers all this information to you at light speed, thanks to a snappy new S6 chip, which may be 20 percent faster than the processor in Series 5. That means easier access to everything from fitness tracking to Apple Music to the new handwashing feature, which is available on all Apple Watches and tracks your hand motions to make sure you're washing for at least 20 seconds. Yes, your Apple Watch works takes that good care of you!
BEST LUXURY/BEST FOR A NIGHT OUT ON THE TOWN
Samsung Galaxy Watch 3 Titanium
amazon.com
$599.99
$499.99 (17% off)
Samsung blends a weighty titanium bracelet with its stainless-steel Galaxy Watch 3 chassis to create a shiny, elegant smartwatch that's built for Friday nights. An ultra-sharp 360×360 OLED display delivers you a wealth of information (everything from steps to blood-oxygen if you want it). Not into the metrics overload? The display is so crystal-clear and versatile that it can also mimic a more classic watch face.
Samsung lets you navigate all this information without ever touching your watch face, thanks to a slick and sturdy rotating bezel. And yes, this watch can still take a gym or hiking pounding, too, thanks to Gorilla Glass and 5ATM of water resistance. Add in nearly two days of battery life, and you may never take it off.
BEST BATTERY BEAST
Fitbit Sense
The best, most feature-packed smartwatch FitBit has ever made is a watch you'll almost never have to take off. The Sense boasts six-days worth of power on every charge, along with a handy quick-charge feature that gives you 24 hours of juice in just 12 minutes when you're running low.
The endless well of battery life makes it easier to enjoy Sense's vast array of health-tracking features. Some are well-known, like blood-oxygen level readings and an electrocardiogram app to detect heart rate abnormalities. These range from the well-known blood oxygen level readings and an ECG app to detect heart rate abnormalities. Others are more intriguing, such as the electrodermal and on-wrist temperature sensors designed to track your body's response to stress. 
BEST BUDGET
Garmin Venu SQ
From on-board GPS to stress and hydration tracking, the Venu SQ jams a host of key fitness features into a wallet-friendly package. A solid 1.3-inch LCD display anchors the package, and it's built to survive your toughest runs and hikes, coated in Corning Gorilla Glass 3. In fact, the Venu SQ is meant for those runs, with a GPS that acquires a signal at light speed and almost never loses sight of you.
And Venu SQ doesn't just tell you about your performance. It works to keep you safe, too, if you turn on Incident Detection and Assistance. The moment you're involved in a high-G event (think: car accident), Venu sends a text and email to key contacts, then tracks your whereabouts.
RESET
New Year's resolutions are lame—and basically doomed from the get-go. Just start fresh with the right gadgets you need to eat healthier, get back in shape, and get your organization back on track.
Hatch Restore
Part white noise machine, part meditation app, part sun lamp, and part alarm clock circa 2001: Space Odyssey, the Hatch Restore let you optimize how you fall asleep, stay asleep, and wake up. Special props to the Sunrise Alarm feature, which gradually lights up your room and revs up your cortisol levels so you wake up refreshed.
Google Nest Hub Max
Watching YouTube how-to videos, catch up on episodes of "The Witcher," or check the weather and the news on Hub Max's crystal clear 10-inch display, which fits easily into any room in your home. In a year of social distancing, Hub Max has Zoom-level capabilities, letting you set up 30-person video conference calls with your best friends and loved ones.
Higher Dose Infrared Sauna Blanket V3
Is your sauna access still restricted? Bring the benefits of an infrared sauna into your home with this easy-to-store blanket that uses infrared waves to increase blood flow, aid in muscle recovery, detox the body, release endorphins, and help you sleep better.
Oral-B iO Electric Toothbrush
amazon.com
$329.99
$249.94 (24% off)
Rotary brush heads provide a gentle but effective clean, an innovative pressure sensor tells you when you have the perfect amount of pressure for optimal cleaning, and AI capabilities track your progress and tell you how to improve. It's the newest and best electric toothbrush on the market with all the most modern bells and whistles.
Panasonic ARC5 (ES-LV97)
Five blades, a head that pivots in 16 directions, and a sensor that detects beard density makes this one of the most advanced electric razors on the market. It also means you get the closest shave possible in less time whether you shave wet or dry.
Ninja® Foodi™ Smart XL Grill with Kitchen Collection
bedbathandbeyond.com
$279.99
Chances are you can't make soup with it, and sushi might be tough, too, but for everything else worth eating, this grill-slash-air-fryer-slash-dehydrator (which also bakes and broils) has you covered. It's also got built-in smart programing to ensure that your grilled chicken isn't too dry and your steak isn't too rare.
Vitamix FoodCycler FC-50
amazon.com
$399.95
$279.99 (30% off)
Throw in your apple cores and chicken bones, twist on the lid, and then listen as this next-gen composter's soft whirring as it dries, grinds, and breaks down your food scraps into garden-and yard-ready fertilizer. Think of the FoodCycler as an investment in greener grass and bumper crops come springtime.
Garmin Index 2 Smart Scale
Yes, it tells you how much you weigh (duh), but Garmin's new smart scale also measures your BMI, skeletal muscle mass, body fat percentage, bone mass, and body water percentage. Sync it with your Garmin Connect app to track your gains and losses, and if you happen to wear one of the brand's trackers or watchers, you can cross-reference said gains and losses with your physical activity.
Nespresso Vertuo Next Deluxe Dark Chrome & Aeroccino3 Milk Frother
This content is created and maintained by a third party, and imported onto this page to help users provide their email addresses. You may be able to find more information about this and similar content at piano.io
Source link