Health
The 7 Best Bone Conduction Headphones for Any Workout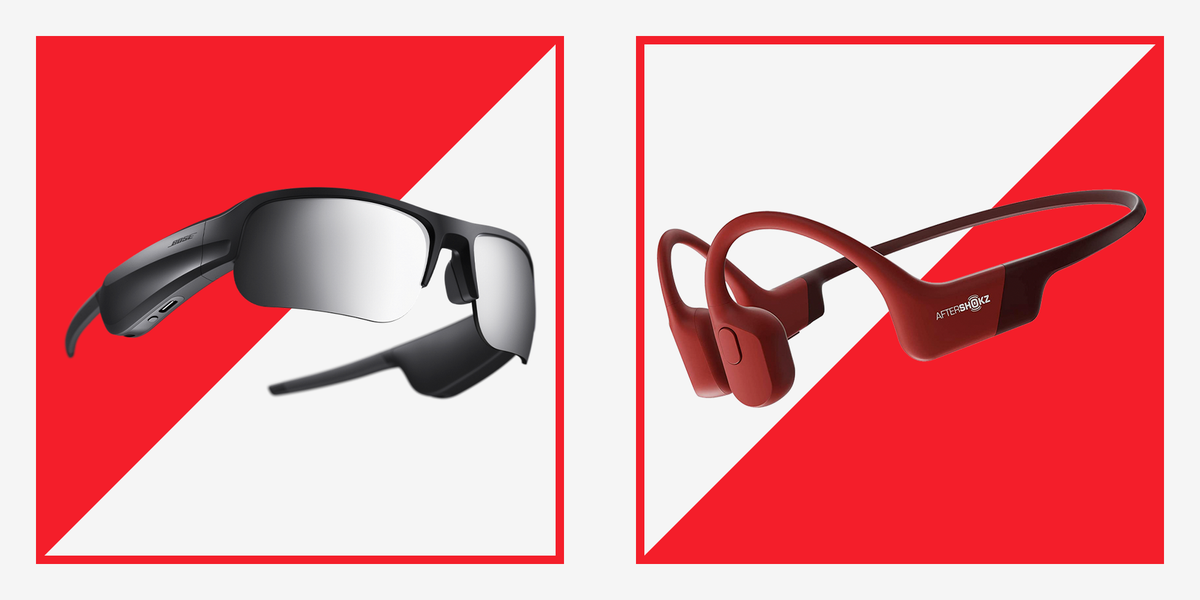 Think about it. Bone conduction headphones absolutely make sense, though the concept sounds more complicated than the mechanism. Audiologists introduced bone conduction technology in hearing aids in the 1970s, and the advancement has been particularly vital for individuals with hearing impairments. At the start of the Bluetooth headphone era, headphone brands understood the opportunity to incorporate bone conduction technology into entertainment equipment. This leads us to today. The technology has proven useful in circumstances where noise-canceling gear might inhibit the safety of the headphone wearer, and in instances where situational, background and spatial awareness are crucial (think: hiking, open road running or biking).
What Are Bone Conduction Headphones?
At its purest, sound is vibration. Where traditional headphones direct sound into the ear canal, bone conduction headphones emit vibrations through the cheekbones and jaw, bypass the ear drum and direct these vibrations directly towards the inner ear, or cochlea. While bone conduction headphones are generally safe, experts advise us to keep a close eye on the volume—there is a tendency to crank it way up since bone conduction headphones lack an ear seal, and inherently allow better perception of background noise.
What Are Bone Conduction Headphones Good for?
Bone conduction headphones are a notable choice for any activity where it's important to be aware of your surroundings. While traditional noise-cancelling headphones are an audiophile's dream, there are a number of instances where you can blame them for things going south: missing the first sounds of a big catch on the lake, or rustling leaves of warning during a hike.
No matter your sport or activity, on your hunt for the best bone conduction headphones of 2020, be sure to consider design elements, comfort, durability, waterproofing, sound quality, and last, but certainly not least, long-lasting battery life.
We've listened and heard the sweet sounds of success. Here are the 7 best bone conduction headphones for right here and right now (and, just in time for the holidays).
Advertisement – Continue Reading Below
Bose Frames Tempo
The Bose Frames Tempo is the ultimate sport audio sunglasses splurge for the guy that doesn't compromise when it comes to sports or high-fidelity sound. With flexible temple grips and a sweat- and water-resistant design, this Bluetooth-enabled pick is tough and stays put through rainstorms and sweat-heavy workouts. Designed for the everyday athlete, the Frames Tempo is aerodynamic at 1.76 ounces and boasts up to 8 hours of battery life. There's also an option to swap out the nose pads, as well as the shatter and scratch-resistant polarized lenses for prescription lenses or lenses best suited to your terrain.
AfterShokz Aeropex Bone Conduction Headphones
Keep going in comfort with 8 hours of quality Bluetooth 5.0-connected music and calls. While they aren't made for swimming, the Aeropex is built to brave the elements of sports and exercise—it's sweat-proof and waterproof, and includes a moisture detection alert for safer charging. Mastered multitasking while you WFH? Great, you're in for clear conference calls—dual noise-canceling mics veil background noise, and at just over an ounce, you may forget you're wearing these. Available in a standard and smaller size, this minimalist design is one of the most reviewed bone conduction headphones on Amazon.
AfterShokz Trekz Air Bone Conduction Headphones
An excellent mid-level pick for lovers of beats and bass, AfterShokz Trekz Air sticks around to help you maximize your day, with up to 6 hours of battery life. The Trekz Air is designed to be just as tough as you, and fully charges in only about two hours. From desert biking to road runs amid traffic, the conduction technology allows you to perceive your surroundings and its innovative design repels sweat, dust, and humidity. What's the differences between the Aeropex and the Trekz Air? The latter runs on up to 6 hours of battery life (versus 6,) charges using a micro USB cable instead of a magnetic induction cable, and the Trekz Air is also slightly heavier and only water-resistant (versus waterproof).
Aftershokz Titanium Bone Conduction Headphones
Aftershokz continues to offer some of the best bone conduction headphones available and the Aftershokz Titanium lives up to the brand's reputation. With Bluetooth 4.1 connectivity and multipoint pairing across iPhone and Android devices, the Titanium delivers up to 6 hours of quality audio, backed by anti-sound leak technology. From runs to multitasking, call quality is a top spec priority—dual noise-canceling mics mask even the noisiest of background occurrences. At just over an ounce, the Titanium is one of the weightier options in the lineup, but the Titanium is still designed for comfortable, extended wear.
Pyle Bone Conduction Headphones
Pyle Bone Conduction Headphones are a standout mid-level pick and perfect for fans of running, outdoor workouts, cycling. Powered by Bluetooth, these headphones stream stereo audio up to 35 feet from iPhone or Android devices and take about 2 hours to a full charge. These headphones fit snugly and the flexible, sweat-proof wraparound frame sits comfortably on the head. The battery for this mid-level pick clocks in nicely at nearly 6 hours. Enjoy seamless connectivity with LED light indicators and simple side panel touch buttons.
Vidonn F1 Titanium Bone Conduction Headphones
No matter where you are, with the Vidonn F1 Titanium headphones you're guaranteed to stay connected and come in clear at up to 33 feet of signal, powered by Bluetooth 5.0. From open-road cycling to hiking, the Vidonn F1 Titanium is designed to help you stay aware of your surroundings while it delivers up to 6 hours of classics or the latest hits. While audiophiles may skip this entry-level pick, the Vidonn F1 Titanium is function-first, with a durable anti-drop design and ergonomic fit. What's not to love?
Tayogo Bone Conduction Swimming Headphones
amazon.com
This one's for the swimmers, surfers, and ski-lodge hot tub loungers (you're seen and heard). Certified waterproof, the Tayogo Bone Conduction Swimming Headphones is a remarkably durable pick that lasts at up to 6 hours of battery life. With Bluetooth 4.2 connectivity, 8GB of MP3 play-back memory and hands-free HD voice, listeners enjoy clear music and call quality across all devices. Nostalgic for analog? No problem. The Tayogo includes an FM radio function – all powered by the Tayogo App.  Whether you're on a short flight or long-haul swim, the ultra-light, no-slip wrap-around design offers the ultimate in comfort and crisp listening. Don't sleep on this one, there's no denying these great functions at such an attainable price.
This content is created and maintained by a third party, and imported onto this page to help users provide their email addresses. You may be able to find more information about this and similar content at piano.io
Advertisement – Continue Reading Below
Source link