Health
The 56 Best Gifts for Every Stage of Boyfriend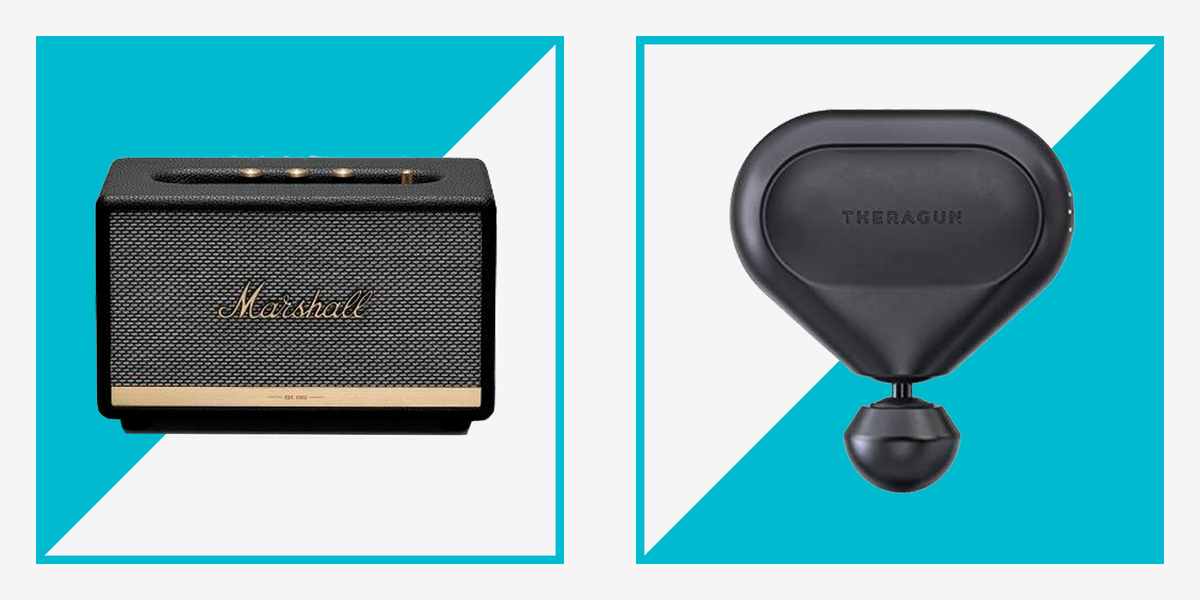 Once you start getting good at gift giving, it can actually become quite enjoyable. The most helpful question to consider before starting a search is: What would this person want that that they wouldn't buy themselves? That can be an investment piece, a new version of something they have that's falling apart, or an item that seems fun, but maybe isn't explicitly necessary for life. This is the opportunity for say, a fancy new speaker, and not, say, printer ink.
When it comes to purchasing boyfriend gifts, that element of fun levels up a bit. Of course, that entails a little bit of creativity, but it's only as complicated as you make it be. What does he like to do in his free time? How does he like his home to feel? Does he love the feeling of a good new outfit, or would he rather melt than you force him into another jacket of your choosing again?
Play into his hobbies (or, aspirational hobbies) and get 'em something that he'll use every day. Here are the 56 best boyfriend gifts to give him this year, for birthdays, anniversaries, or the holiday season.
Beats Flex All-Day Wireless Earphones
A fresh new pair of headphones is always a good gift for boyfriends constantly taking in new music and crime podcasts. These Beats are meant to feel comfortable in your ears all day long—no ear muscle soreness included.
Amazon Echo Dot
For the man who is really (really!) trying to get his phone out of the bedroom for an optimal night sleep, Amazon's new Echo Dot is the best bridge to get there. He can still access his digital essentials without having to look at a screen. 
Sweet and Savory Hot Sauce Duo
Heat comes in many forms, but is best when complimented by opposite tastes. This duo brings you sweet and herbal heat for nights when you want to switch up the flavor profile, but always keep it spicy.
University of Dope Hip-Hop Battle Card Game
If he's a hip hop fan, this card game by University of Dope is a must-have in his game night arsenal. It's a drinking activity involving culture and history, so it's a win-win all around. 
HarleyDogDesigns Any Song Lyrics Personalised Print
A thoughtful gift for boyfriends, done simply. Pick a song that's special to your mans (or to you, together) and get it personalized on a print. Highly recommend for the music-obsessed. 
Oculus Quest 2 Virtual Reality Headset
There are few adult gifts to get and give that feel just like gifts did when you were a kid. A virtual reality headset is, hands down, the best adult toy you can give. 
Related: 40 Awesome Gifts for Tech Lovers
ArtbloxShop Sound Wave Art
These sound wave art blocks make for extremely cool decor on a bookshelf or in a music corner. Plus, picking a specifically special song to appear in it makes it just the right amount of personalized. 
MH Doin' it for the Grams Tee
If he's a gym rat, then he absolutely needs this shirt. Sure, you're probably making fun of him a little, but it's one fun tee that will crack a smile and inspire a fitness-driven New Year's resolution. 
Gatorade Gx Bottle
Gatorade on the go is a gift to all fitness fiends and hydration gurus. This bottle tags Gx pods, which are concentrated versions of your favorite Gatorade beverage. Just fill the bottle up with water, mix, and you're good to go. 
Foster & Rye Axe Bottle Opener
Another fun stocking stuffer-type option: a bottle opener that looks like an axe. Get it for the guy who'd rather be doing just about anything outside. 
Scotch Porter Fragrance Collection
Scotch Porter fragrances are what you think of when you want that rich, woodsy, sexy, pheromone-complimenting scent. They are inspired by nature and feel super luxe, yet they won't cost you an arm and leg.
Mack Weldon Tech Cashmere Accessories Set
Some people tend to think that they don't actually need a set of cold-weather accessories—but winter is so much easier to dress for when you do. This set is made with Mack Weldon's signature soft cashmere. 
Miansai Vermeil Chain Necklace
Every guy can be a jewelry guy given the right items. Miansai's simple gold chain is simple and expertly cool. It's good as a starter necklace or layered under another. 
Boyface Power Peptide Daily Moisturizer
Men need join to "clean beauty" movement, too. This daily face moisturizer is made specifically to keep men feeling hydrated and youthful. It's sulfate and paraben-free, and it's environmentally friendly, too! 
Parachute Home Wool Cashmere Waffle Throw
parachutehome.com
$299.00
Let us reiterate that the best kind of gift is the thing you want but wouldn't buy yourself. A cashmere waffle blanket is, for most of us, one of those things. But damn, is it nice to have around. 
Hawkins New York Dinnerware Bundle
For the guy who is trying to slowly upgrade his home goods, help him out with a full dinnerware reset. And toss all those old plates from college, too. 
Ancient Nutrition Multi Collagen Protein + Bone Broth Protein Chocolate Bundle
amazon.com
If it's a new boyfriend–or someone who really doesn't like making gifts a big deal—a set of pricey protein is special without feeling overwhelming. 
The Purple Plush Pillow
It is high time every man had an actually good pillow. You can get him just one, of course, but gifting him two means you'll get in on the softness. 
Madewell Hoodie Sweatshirt
Eagles Nest Outfitters SingleNest Hammock
This is the kind of boyfriend gift that feels creative without having to do much thinking. Does he like camping? Does he like spending time outside? Great. Make it a little more fun for him next time with an extremely portable hammock. 
P.F. Candle Co. Teakwood & Tobacco Candle
Whether you're going Christmas gift, birthday gift, or something thoughtful for a new boyfriend, a cool candle is always a solid choice. This teakwood and tobacco one is many levels of chill. 
Dickies x UO Beanie
urbanoutfitters.com
$29.00
Boyfriends love beanies because you know what? Everyone loves beanies. Even if they don't know they love beanies yet! This simple Dickies one from Urban Outfitters is a game-changer for vets and newbies alike. 
Good Man Brand Legend Low Top Sneaker
These are perfectly off-white sneakers to dress up or down on the daily. The rich Italian leather provides additional comfort to compliment the rubber sole. He'll end up wanting a pair in every color.
Lebert Fitness EQualizer
At-home fitness is a whole new game after this year. Help him lean into it with a gym tool that he won't know what he did without before. Dips, rows, L-sits—get creative with your workouts.  
Oversized Knit Throw
Parachute Home
parachutehome.com
$99.00
There are fewer things more refreshing than some new-found attention to your home. Parachute's super soft knit blanket looks as good on the couch as it feels on. 
Strongwater Old-Fashioned Cocktail Syrup
Every at-home bar could use some fun accessories. Strongwater's cocktail syrup makes every old-fashioned a snap. Plus, bottle doesn't look half bad on the shelf. 
Beam Dream
Navigating boyfriend gifts for a new relationship calls for a blend of something thoughtful but not overbearing. A pack of recovery-focused hot chocolate mix is a solid choice for an active man. Beam Dream uses a blend of CBD, melatonin, and L-Theanine that'll knock him to a cozy sleep. 
Lafco Penthouse Reed Diffuser
Diffusers are low-key one of the best gifts to give. It's an item that you might never need but you better be sure they want. Lafco's blown glass diffuser looks cool near a TV or on a nightstand. And smells great, of course. 
Trudeau Seville Pepper Mill
There are so many (so many!) kitchen gadgets that can feel like a full upgrade without having to do much. This pepper mill is perfect for a budding chef who wants to level up his seasoning game.  
Cleto Reyes Boxing Gloves
If the recipient of this gift has been lusting after a heavy bag or is finally getting to those boxing classes he talked about, get him a high-quality pair of gloves up to the job. Cleto Reyes is the best of the best. 
Our Place Always Pan
The Always Pan has blown up over the past year, and it makes a damn good gift. Get this for your long-distance boyfriend so he can virtually cook you dinner. 
Koio Metro Creme Sneakers
For the creative types—or ones who like to keep their belongings simplified—a pair of fresh cream-colored sneakers are a thoughtful but easy-going gift. 
Theragun Mini
OK, a Theragun is not exactly the most romantic boyfriend gift in the world but it is a good one. Get this for the gym rat or marathon trainer. This lil guy will keep their recover game on point. 
Caraa Sport Remus Bag
It's high time to invest in a bag that isn't something he's been using since college. Cara's leather-detailed duffel is as sleek of a bag as you can get. He can use it for the gym or for weekend trips. 
Closca Reflective Collapsible Helmet
Not only is Closca's collapsible helmet thoughtfully designed but it's also thoughtful to give. It scrunches up into a flat shape, which lets him throw it in his bag without taking up a ton of space. 
PhoneSoap 3 UV Smartphone Sanitizer
If the past year has taught us anything, it's that we gotta keep stuff clean. This smartphone sanitizer is one of the most fun gifts to give and get because you don't really need it. But it is certainly fun to have. 
Edge Light Alarm Clock
Yep, it is time to bring back the alarm clock. Now that we know how disruptive to a good night's sleep phones can be, help him leave it out of the bedroom. This cute little clock also functions as a light. 
Lululemon 5 Year Basic Long Sleeve
There are some T-shirts that ruin all other T-shirts for the rest of forever. Lululemon's basic long sleeve is one of them. Get your boyfriend one for Christmas, one for his birthday, and one for every occasion in between. 
Brooklinen Down Alternative Pillow
Shopping for a new boyfriend? Get 'em something that you noticed he, uh, could use. Brooklinen's pillow is as low-key romantic as a gift can get. 
Adidas Originals Continental 80 Sneakers
Shopping for someone impossible? Truly no one would be worse off with a new pair of easy white sneakers. Adidas Continentals are a no brainer. 
Fellow Stagg EKG
Fellow's Stagg electric kettle is a major kitchen upgrade for just about everyone. It's meant to live on the counter, and it looks good doing it. 
Vitamix Explorian Blender
bedbathandbeyond.com
$349.99
For one big birthday or holiday gift, look to something that lasts for a lifetime. The Vitamix blender is the best accessory for any and all kitchens. Smoothie game elevated. 
Allsaints Mode Merino Cardigan
For the guy who does love a good gifted outfit, this easy Allsaints sweater is a solid addition to any wardrobe. 
Marshall Acton II Bluetooth Speaker
Marshall speakers are an investment for sure, but they are a solid option for a heftier gift. This bluetooth speaker looks old-school, and makes for a cool piece of decor in your home.
Nice Laundry Pocket Lounge Short
Personalize these very comfy lounge shorts with a graphic that fits his personality, like this flying pig or a straight-up money bag. 
Rowing Blazers Derry Bones Hoodie
rowingblazers.com
$165.00
For the minimalist dresser, hook him up with a hoodie that is as cool as it comfy. Rowing Blazers does cool-comfy best. 
Ugg Tasman Slipper
Completely stunted on what to get your boyfriend? Ugg slippers are about as universally loved a gift as it gets. They're comfy, they're cozy, and they're a very good gift. 
Mini TRUFF Hotter Sauce
Listen, we could all use some of the functionality of stocking stuffer gifts. A set of mini hot sauces is about as functional as it gets. 
Jack Black Turbo Wash Energizing Cleanser
Having a huge bottle of body wash is truly one of the best home upgrades you can assist someone in learning. It is simple but it lasts a minute—and makes every shower experience as easy as possible. 
Intelligentsia Signature Set Bundle
intelligentsia.com
$27.00
For a thoughtful but low-key gift—maybe for a new boyfriend's birthday—capitalize on his love for coffee with a fresh flavor and new mug. 
Tumi Alpha 3 Split Travel Kit
Every man should have a travel kit and, really, every man should have this travel kit. It's got the durability of a Tumi and ideally sized organization. He can use it on trips or just to keep his sink at home organized. 
Beats Pill+
We love a gift that is physically small but is a big upgrade. Beats Pill+ is the best example of this.
Bombas All-Calf Sock 12-Pack
Socks could be a boring gift, but they won't be if they're Bombas. Go all out on a drawer replacement for the ultimate gift. 
Grady's Cold Brew Cold Brew Kit
gradyscoldbrew.com
$305.00
Grady's next-level iced coffee makes a pack that lasts a year. A year! Coffee for a year is the kind of gift that'll be hard to beat. 
Softwear Hoodie
The softest hoodie in the world is a very good gift. Especially for all those work-from-home days. Cozy as heck.  
Bearaby Cotton Napper
Weighted blankets are the most fun and relaxing addition to any couch. 
This content is created and maintained by a third party, and imported onto this page to help users provide their email addresses. You may be able to find more information about this and similar content at piano.io
Source link