Health
The 32 Most Comfortable Socks for Every Occasion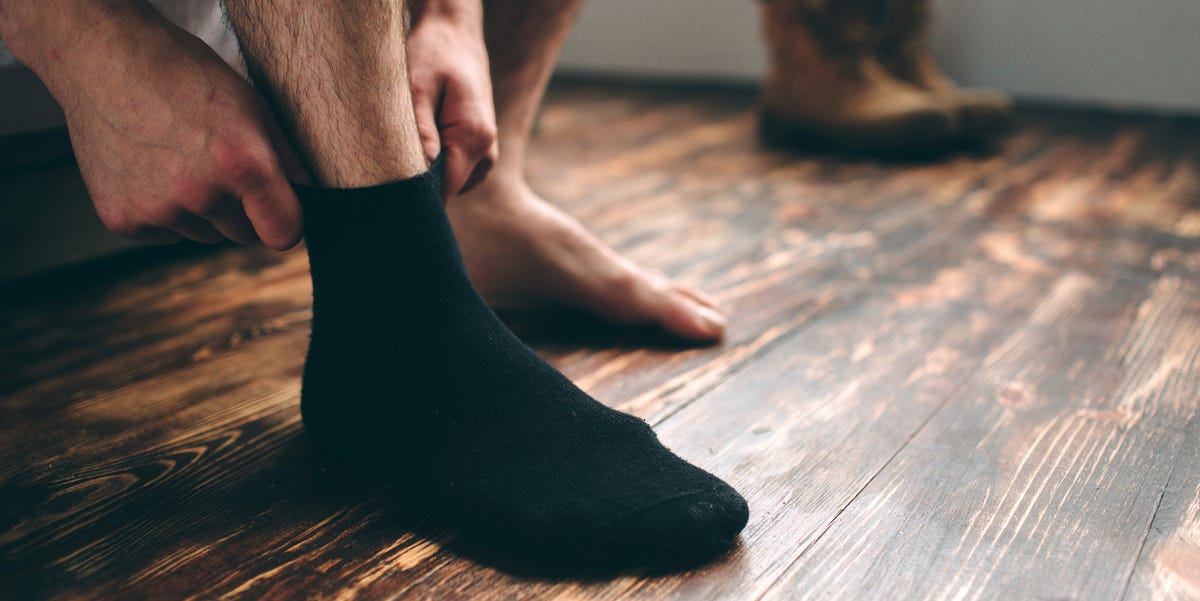 Socks are seriously underrated.
You've stocked up on quality underwear for all-day comfort, you've curated your perfect assortment of stylish tees, you've even upgraded your jeans to the most flattering styles, but socks somehow have become an afterthought. If your sock drawer has turned into a dark hole of forgotten junk, it's a sign to score some fresh pairs.
Toss those ripped and worn-out pairs that are hanging on by a thread, because the best socks on the market have thoughtful details for unmatched support and unique patterns that'll make you want to flash some ankle. Whether you're in need of cool socks to accent your killer sneaker game or just want to invest in breathable pairs that'll make your workouts more enjoyable, there are ton of options for guys to find their perfect match.
To make sure you score the right socks for all occasions, we rounded up the best socks for every man's budgets and needs. Once you slip on these bad boys, you'll never want to neglect this wardrobe essential again.
Best Budget Socks
Coovan Cushion Ankle Socks Men 10 Pack
10 pairs for less than $20? Sign us up! These affordable ankle socks will have you covered for most occasions with extra padding for durability and great comfort from work to workouts.
Best Ankle Socks
Bombas Solids Ankle Socks
Ask any sock aficionado what some of their favorite brands are and there's a good chance they'll say Bombas. 
If you're wondering what makes Bombas socks so special, it's the ultimate combination of smart design details and high-quality fabric. The brand takes all your needs into consideration with extra long staple cotton for next-level durability, seamless toe construction for comfort, and even a little fabric tab to prevent pesky, painful blisters. 
Best Dress Socks
The Tie Bar Slate Blue Thin Stripes Socks
If you're not the suit-and-tie kind of guy, shopping for formal accessories can be tedious and expensive. Meet your new one-stop shop for affordable accoutrements to look sharp, without breaking the bank. The Tie Bar offers a wide range of dress socks, but you can never go wrong with classic stripes. 
Warmest Socks
Patagonia Heavyweight Merino Daily Crew Socks
When the temperature drops below freezing, cold weather socks are just as necessary as your go-to winter parka. Merino wool can hold up to 30% of its weight in moisture, so even guys with extra sweaty feet will feel comfortable. With the brand's Ironclad Guarantee policy, you have nothing to lose by testing out these top-notch socks. 
Best Work Socks
Carhartt Full Cushion Steel-Toe Cotton Socks 2-Pack
When you're working hard all day, you need a tough pair of socks that can keep up. Made with breathable cotton, these abrasion- and odor-resistant socks are the perfect protective layer to slip on under your work boots.
Best-Selling Socks on Amazon
Dickies Dri-Tech Moisture Control Crew Socks Multi-Pack
These socks have thousands of five-star reviews on Amazon for their moisture-wicking technology, superior arch support, and exceptional durability with a low price tag. 
Best Custom Socks
Nice Laundry Personal Edition Socks
Personalized details take your everyday socks to stylish new heights. Whether you put wear them on display with a cropped pant or just provide a peep of interest when sitting in a business meeting, these Nice Laundry monogram socks will make any guy look like a total boss. 
Best Athletic Socks
Smartwool PhD Mini Performance Socks
When it comes to choosing the best athletic socks, look for a pair made of merino wool to combat odor and sweat, as well as high-density cushioning to prevent wear and tear. According to reviews, this pair from Smartwool might be the Goldilocks option of workout socks—snug but not too tight, not too thin or thick, and just the right amount of ankle coverage. 
Best Hiking Socks
Farm to Feet Damascus Crew Merino Wool Socks
amazon.com
Take a hike in comfortable and supportive socks so you can finally stop worrying about your aching feet and enjoy the view. Compression through the arch and full-density cushioning make these a top choice for year-round outdoor adventures. 
Best Luxury Socks
London Sock Company x Ilaria Urbinati The Hollywood Collection
londonsockcompany.com
$263.00
Best Sock Subscription
Paul Smith Men's Sock Subscription
 A sock subscription is a no-brainer choice for the guy who wants to continuously receive fresh pairs, without having to regularly shop. Paul Smith's unique designs will make any guy standout with style and their subscription method allows you to see your entire sock order for the year before you purchase.
Uniqlo Color Socks
If there were such a thing as Sock Gods, they would have created these Uniqlo options. They give you a serious bang for your buck, feature anti-odor technology, fit snugly against your foot, and come in almost every imaginable color – perfect to have on hand while creating those sleek fits.
Nike Dry 3-Pack Everyday Plus Cushion Crew Training Socks
Nike is known for making some of the coolest top-quality workout gear in the game, and their socks are no different. These Everyday pairs come with a substantial cushion that provides the wearer with some much needed support when digging those feet in the ground while deadlifting. When it comes to an intense workout, these are gold – and let's be honest, they look great too.
American Trench Slub Socks
American Trench is known for being the best boot socks on the market, and their assortment of cozy USA-made socks are perfect for the colder months. Not only do they work to keep your feet supported, dry, and comfortable, they add a handsome, rugged appearance to almost any outfit.
SmartWool WHike Medium Crew Sock
These merino wool socks are designed for the outdoorsman. They help optimize thermal regulation and absorb sweat through every hike or backpacking adventure.
Barbour Boyd Sock
When it comes to winter, festive socks are not only fun, they're almost an essential. This pair from the legendary British brand are just as high-quality as their iconic waxed rain jackets.
Nice Laundry No-Show Extra-Low 3-Pack
Calling all loafer wearers: gone are the days of tucking in your socks every few steps, thanks to Nice Laundry's extra-low cut option. They stay securely snug on your feet and keep your shoes from stinking at the same time. Need we say more?
Entireworld Varsity Socks
theentireworld.com
$15.00
If you have not yet discovered the hidden treasure that is Entireworld, these socks are a great first foray into the mindset of the brand. Cozy, comfortable, and a slight throwback vibe while also feeling perfect for present day.
Gold Toe Men's Cotton Crew Socks
There isn't a sock quite like a Gold Toe. While holding the throne as the ultimate Dad sock for the past 80 years, they have also started to make their way back into fashion in a big way. With an expanded range that now includes athletic, casual, dress, and performance socks, they can be paired with anything from sneakers to formal shoes.
Hikerdelic Seaside Socks
While finding socks for your favorite outdoor activities such as hiking, camping, and fishing in colder months is relatively simple, finding options for the heat can be more challenging. Thanks to Hikerdelic, that search can finally be over. Their Seaside sock is made from sturdy lightweight cotton that allows for natural ventilation and breathability, while keeping you cool and comfortable.
Kind Socks Dot Sock
For the eco-conscious shopper, Kind Socks are a fantastic black-owned business that does some good for the world. Their socks are made from 98% organic cotton, and the brand prides themselves on providing workers with a safe work environment and fair pay. We're sold!
Pantherella Waddington Cashmere Rib Socks
Since we are stuck inside why not live our most comfortable lives, right? We present you with the house sock: a sock so comfortable that you can't take them off. Pantherella knows about both comfort and luxury, so much so they created these super-cozy cashmere socks are a bit of a splurge, but definitely what we want to be wrapped up in this winter.
CDLP Men's Mid-Length Bamboo Socks
If your body temperature runs on the warmer side, you know that a heavy sock can cause you to overheat. CDLP has you covered though with their bamboo socks that are super-soft, breathable, and perfect for everyday use. We suggest stocking up while you can.
Lady White Co. Red Melange Sock
Don't let the name fool you, this men's brand makes some seriously sleek socks. This pair with its subtle texture and color are a great option for sneakerheads who are looking for an updated sock to pair with their Stan Smith's.
Cotton Citizen Tie-Dye Socks
In the past few years we have seen tie dye blow up on designer runways and on the streets alike. For those who may be too intimidated by the colorful pattern, we can't think of a better way to start getting used to the tie-dye trend then by rolling these up on your feet.
Asics Nimbus Single Tab Socks
Hardcore runners know that there is nothing like an airy second-skin sock. This graphic option from Asics is quick-drying, cushioned, and features anti-friction yarn to help you keep going the distance.
Conscious Step Socks That Protect The Lions
Honestly, Conscious Step is probably one of the most thoughtful brands on the market. Their array of unisex socks are each targeted to help a specific cause: a pair covered in sharks gives money to help protect endangered shark species, a blood-red colored sock helps fund a cure for HIV, etc. Not only are the styles playful, they do a greater good for a relatively low price. 
Wander 7-Pack No Show Socks
For those of us who can't help but lose socks to the washing machine, these simple-yet-effective no-show socks from Wander are the perfect everyday option at a low price.
Roots Cabin Socks 2-Pack
This sock is aptly named after the summer camp culture that made it famous. They are lightweight, but sturdy enough to take on anything you may throw their way. Wear them for sport, leisure, or style. The options are endless.
London Sock Company Masters Green Socks
londonsockcompany.com
$18.00
If your everyday work uniform involves a suit, there are subtle fashion choices that you can make to set yourself apart; however, none are as impactful as a sock. For the business-minded man, it doesn't get much better than London Sock Company. Their assortment of dress socks is unparalleled in both style and substance.
American Trench Boot Socks in Silk and Wool
americantrench.com
$29.50
Looking for luxury but don't want to spend a fortune? We suggest these wool- and silk-blend boot socks that will add comfort, breathability, and lightness. Sport them with lace-ups, sneakers, or boots a like. Your feet will thank you.
Happy Socks Men's Patterned Socks
It would be difficult to write a story about socks without mentioning this company. They are the industry leaders in whimsical and adventurous feet, worn by only the bold and the brave. We suggest trying them out. You may surprise yourself—and yes, that is a challenge.
This content is created and maintained by a third party, and imported onto this page to help users provide their email addresses. You may be able to find more information about this and similar content at piano.io
Source link