Health
The 30 Best Mother's Day Gift Ideas for Fitness-Obsessed Moms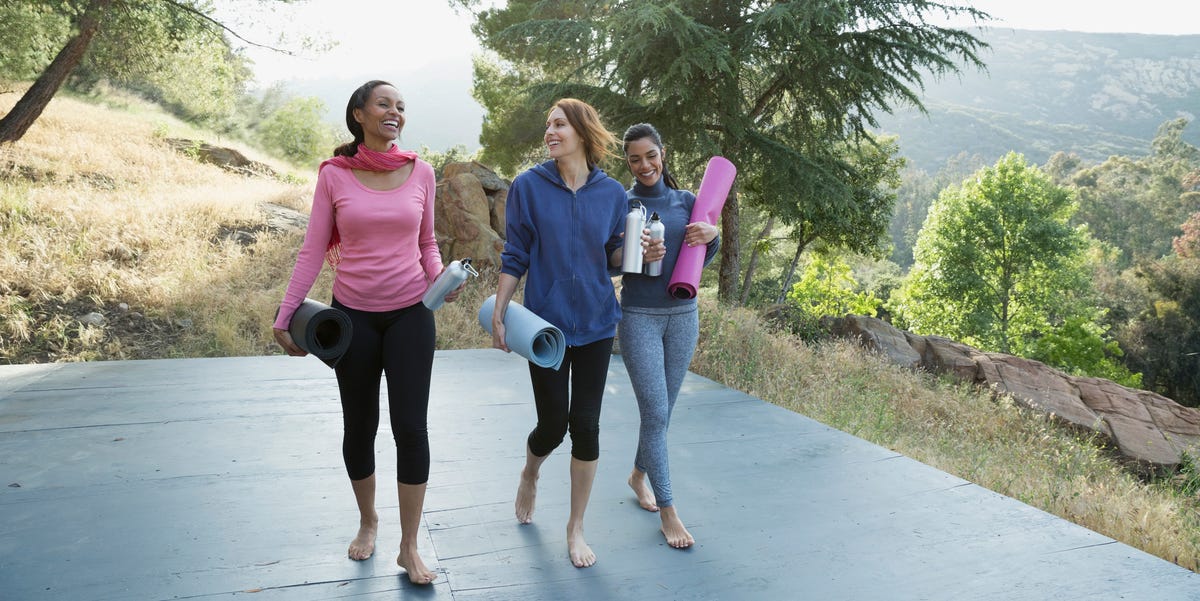 Moms are amazing, which is why each year there is an entire day dedicated to them on the second Sunday in May every year: Mother's Day. A quick history lesson: President Woodrow Wilson signed the measure to officially establish Mother's Day way back in 1914. So this year marks the 107th year the tradition has been going on. And before you have to check a calendar, Mother's Day 2021 is on Sunday, May 9. (You're welcome.) That leaves you plenty of time to find your mom the perfect gift. (No procrastinating this year, guys.)
And if your mom is a fitness fanatic, one of the best gifts you can give her is some new workout swag. Depending on her activity of choice, she may be pining over some new running shoes, a yoga mat, or new headphones. And if she is a big hiker, she may be interested in a smart watch with GPS. Whatever wellness lifestyle she may prefer, giving her a gift that will benefit her health and favorite wellness activity is bound to score you some extra brownie points. (And if you're tight on cash, here are 37 of our cheapest picks for Mother's Day 2021 that she'll definitely cherish.)
Take our advice and forgo your standard gifts (a box of chocolates, a new bathrobe, a shiny necklace) in place of one of these 30 options that she will really use that will show her how much you love and appreciate her.
Everyday Yoga Restorative Yoga Bundle
This Restorative Yoga Bundle has everything your yogi mom needs. It is a sweet bundle that  includes a bolster, a strap, a blanket, yoga blocks, and an unlimited annual Practyce membership to enhance her practice.
Define Duffle
Lululemon
lululemon.com
$178.00
Gymreapers Grip Hip Band
Gymreapers
gymreapers.com
$19.99
Is mom hitting the weights? This Gymreapers Grip Hip Band is designed prevent slippage during training exercises. It also has added rubber enhancement around the middle of the band to improve gripping ability and also engages more hip/glute work. It also comes in three sizes for a customized fit for your mom.
Brooks Ghost 13
Brooks
zappos.com
$129.95
Brooks is an incredible running brand, and The Ghost 13 is the latest model of its super popular Ghost style. It's made with DNA LOFT technology with super plush midsole cushioning that makes this shoe so soft. 
Nike Swoosh Sport Headbands
This is something to help keep the hair out of your face while you go for a long run on the treadmill.  It will hold your hair secure, and it comes in six different colors—almost one for every day of the week.
Hydro Flask Water Bottle
Hydro Flasks are amazing water bottles that your mom will absolutely love. They are BPA-free water bottles that are also phthalate-free, and made of 18/8 food-grade stainless steel. This one also features a slip-free powder coating so it doesn't sweat, and is also dishwasher safe.
Terez Apres Work Out Kit
This three-piece Terez Apres Work Out Kit has every piece your mom could need for her outdoor workout or lounge around the house. It comes with a pair of high-waisted marble print leggings, long sleeve tee and fleece pullover sweatshirt so she can look stylin' in a complete outfit.
Suspension Training System
No home gym? No problem. Mom can use these handy straps and her own body weight for low impact exercises just about anywhere. 
Allbirds Women's Tree Dashers
Allbirds
allbirds.com
$125.00
These Allbirds Tree Dashers are one of the brand's top running shoes. Made from renewable materials, like its supportive dual-density sugarcane midsole, they're an eco-friendly option for any mom.
invisibobble Original Traceless Hair Ties
These traceless hair ties will be perfect for the on-the-go woman who is looking to not have her hair covering her face. Plus, these are non-creasing to the hair and they come in different colors—perfect for when you can't decide what will match your athleisure. 
Remix Half Zip Pullover & Remix Pant Set
Alo Yoga Set
aloyoga.com
$326.00
If you're mom is a hype beast, then she will love this matching set from Alo Yoga. It features a pullover half zip and super comfy sweatpants for a fashion-forward outfit she can wear for chilling at home or during her errands.
Crossrope
Crossrope
amazon.com
This weighted jumprope will help you get active while trying to keep up with your fitness goals. In addition, there's an app that you can download that connects you to more than 80,000 other users, keeping motivation at a high. 
Women's Jacket Nike Sportswear Synthetic-Fill
This Nike Sportswear Jacket comes in a super pretty light yellow color and features a synthetic fill with a raised collar. It has a boxy fit that is on-trend and will keep your mom warm during cooler spring days. 
Garmin Venu® Sq
Garmin
garmin.com
$199.99
With a 1.3-inch color LCD touchscreen protected by Gorilla Glass 3, the Venu Sq is a bit larger than more simple fitness trackers, which is a plus. Garmin claims the watch can last 14 hours in GPS mode, so if you're mom is into major hikes or tracking her location, this may be the perfect watch for her.
Dakota Neoprene Backpack
Looking for a sleeker way to carry all your workout gear on your back? This backpack has enough room for you to toss in all your gym apparel while still providing space for you to place a 15-inch laptop. Talk about convenience. 
Resistance Bands Exercise Loops
This set of exercise loops are great to toss in her day bag for stretching, workouts, and more. Resistance ranges from x-light to x-heavy, so she can find all kinds of uses. 
Beyond Yoga Spacedye Caught In The Midi High Waisted Legging
Beyond Yoga is the gold-star classic when it comes to yoga and exercise apparel. Their Spacedye line is the brand's bestseller, and features a super-soft spandex and polyester fabric that has the perfect amount of stretch and compression. Plus, these leggings come in 16 colors bound ot be one of your mom's favorites.
OPTP PRO-ROLLER Soft Foam Roller
Foam rolling might be painful but it's essential for any fit mama's recovery. Help her do it in style with this one that features a modern and very of-the-moment pink marbled design.
Speed Up Short Long 4″ Updated Fit
Lululemon
lululemon.com
$58.00
These Lululemon Speed Up Shorts are perfect for any mom that loves to run in shorts. They were specifically designed for running, and are made with the brand's lightweight Swift™ Fabric. They have a higher rise and an awesome zipper at the back of the short for extra storage.
Powerbeats Pro Wireless Earphones
Beats
amazon.com
$249.95
$199.99 (20% off)
These Powerbeats are completely free of unnecessary wires, so your mom won't have to be worried about getting tangled up in superfluous cords. They have flexible ears hooks and a water-resistant exterior, plus up to nine hours of battery life.
On Cloudswift
These On Cloudswift's are the brand's latest perfomance running shoe. They feature Helion™ superfoam for extra cushion on hard surfaces. It also has an extreme rocker outsole and a re-engineered Speedboard™ to help propel you forward and give you an extra smooth ride. 
Dr. Teal's Epsom Salt Bundle
Unknown
amazon.com
$26.95
After an intense workout, these epsom salts will help ease the muscle aches. Coming in three different scents, this will be a product you'll want to use at the end of a stressful day. 
Boxing Gloves
Sanabul
amazon.com
$29.99
If your mom is as much a fighter as a lover, she'll love these gloves that will add a burst of color and personality to her next class or sparring session. 
Alo Yoga Alosoft Lavish Bra & High-Waist Alosoft Lounge Legging Set
Alo Yoga Set
aloyoga.com
$152.00
This set from Alo Yoga includes both the top and leggings for a complete outfit your mom will love. It features Alo's Alosoft material that is, as aptly named, super soft. The leggings are high-waisted for great coverage and the Lavish Bra is a simple, pretty bralette your mom can wear during a fitness class or running errands.
MOSO NATURAL Mini Air Purifying Bag Shoe Deodorizer
MOSO NATURAL
amazon.com
$9.95
Looking to get rid of the awful stench after a good run? These odor eliminators will help take away the smell of sweat in your shoes, leaving you smelling better than you thought. Plus, they have no chemicals or toxins, so you can feel good about using them!
NutriBullet ZNBF30500Z Blender
NutriBullet
amazon.com
$139.99
If you're looking for something to help you make better protein shakes and green juices, this blender will help take your nutrition to the next level. This also comes with a single-serve cup—perfect for those on-the-go moms! 
The Laundress Sport Detergent
The Laundress
amazon.com
$25.95
Let's just say that sweat-soaked gym gear doesn't exactly smell great and likewise they don't exactly wash the same way like other clothes in a typical laundry load. This duo features The Laundress' special sport formula made just for sweaty unmentionables in two different formats (and very classy packaging at that)—a detergent and refresh spray—to ensure her leggings and tanks will be good as new (and not wreaking of BO) for her next slew of workouts.
Resolve Plus Jacket
The North Face
amazon.com
$90.00
The perfect shell for any outdoor, heart-pumping exercise, this sleek black lightweight jacket will keep her cool even as things heat up. She can even wear it while on her way to a class or the gym and then fold it up and throw in her bag (it won't lose its form) when not in use.
Contigo Couture Thermalock Vacuum Insulated Stainless Steel Water Bottle
Contigo
amazon.com
$19.14
Gifting a mom who is not a fitness aficionado a water bottle might seem like a lame gift, but the mom who's always movin' and shakin' will definitely appreciate a new vessel, especially when it's as chic as this one. It's got all the same features that everyone's come to know and love from Contigo Couture bottles (like a leak-proof lid, stainless steel interior that keeps drinks cold for 24 hours or hot for 12, a wide mouth for optima water flow and cleaning) but with full-body graphics that'll distinguish hers from everyone else's and a carry handle for easy transport. You're sure to find one that best suits her personality with the range of colors and patterns it comes in.
HOKA ONE ONE Women's Clifton 7 Running Shoe
HOKA ONE ONE
hokaoneone.com
$130.00
The Clifton 7 joins Hoka's iconic Clifton model family. It features a streamlined silhouette and updated upper made from the brand's engineered mesh. It also has a plush collar that eases Achilles pressure, and has a full-compression EVA midsole that provides signature HOKA cushioning.
This content is created and maintained by a third party, and imported onto this page to help users provide their email addresses. You may be able to find more information about this and similar content at piano.io
Source link