Health
The 15 Best Moisture Wicking Shirts for Cooler Workouts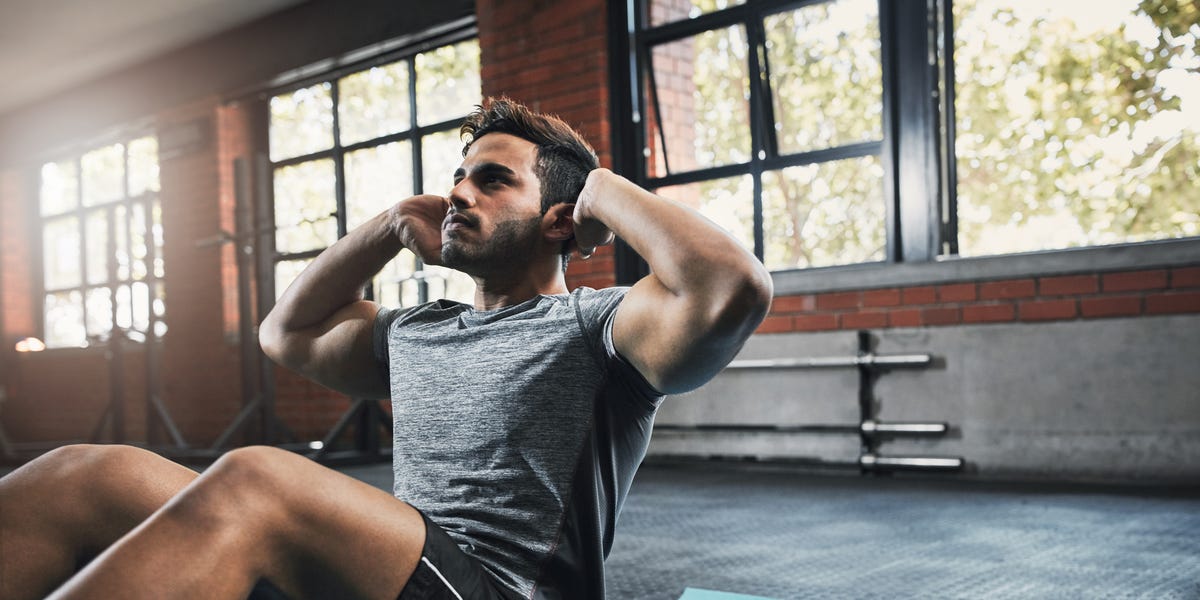 If you're working out properly, you're bound to get sweaty. And that's a good thing—if you're sweating, your body is working. So whether you're getting in cardio with a long run or sprints on the treadmill, or trying out a new strength training plan, there is truly nothing worse than working out in a sopping wet t-shirt. Not only can it weigh you down, but it also can get sticky and create chafing, making your workout miserable. That's why it's crucial that you choose a moisture-wicking fabric for your workout tops that will pull moisture away from your skin, quickly dry sweat and keep you cool the sweatier you get.
Moisture wicking fabrics are synthetic, designed to handle wetness better than traditional materials. There are tiny spaces for liquid to move through the material through "capillary action," according to REI Co-Op Journal. When you sweat wearing a moisture wicking shirt, the liquid quickly moves to the outer layer of the garment, where it will dry quickly instead of saturating the fabric. Since these synthetics handle moisture so well, they're perfect for exercise clothes.
These fabrics include: polyester, Gore-Tex, nylon and spandex. Double checking the tags on your tops, or reading about the materials it's made of will help you pick proper shirts for your workouts. And thankfully, you can find moisture-wicking materials in tanks, short sleeve tees, long sleeve tees and hoodies.
To help you out, we rounded up 15 moisture wicking shirts that will keep you dry and cool, no matter how much you sweat.
Advertisement – Continue Reading Below
adidas Freelift Tank Top
Ditch your sleeves and train in this tank made with adidas' single jersey fabric that wicks moisture to keep you dry.
Nike Men's Dry Training
Just because you need long sleeves doesn't mean you won't get sweaty. Add an extra layer with this fitted (but not tight compression) shirt made with Nike's Dri-Fit sweat-wicking material.  
Under Armour Men's Tech 2.0 V-Neck
This v-neck tee from Under Armour gives your sweat session a subtle style pop while keeping your sweat under control. Pick from a huge assortment of colors and make this your go-to basic top.  
Babioboa 2 Pack Workout Tank Tops
If you're looking for a great deal, these Babioboa moisture-wicking tanks come in a 2-pack. They're made of quick-drying polyester and spandex for a lightweight and breathable feel.
Merino Wool Crew Neck T-Shirt
Unbound Merino
unboundmerino.com
$75.00
Add some wool to your workout wardrobe with this simple moisture wicking crewneck tee from Unbound Merino. The high-quality material is also antibacterial and odor resistant, so you won't gross out the rest of the gym after multiple wears. 
Dash 1/2 Zip
Brooks
brooksrunning.com
$70.00
Take on runs without too much on top with this half-zip layer made from Brooks' moisture wicking DriLayer material. The fitted shirt has a pocket for gear and raised collar for added comfort. 
MIER Men's Athletic Sleeveless Hoodie
MIER's sleeveless hoodie is made of 100 percent polyester that absorbs sweat to keep your body cool. It also offers UPF 50+ sun protection.
Rhone Reign Short Sleeve Workout Shirt
Rhone's short sleeve training tee is made to take on any workout, with raglan sleeves and specialized stitching to allow you to move around without chafing. Moisture wicking material and GoldFusion tech to stave off smelliness help when you get sweaty. 
Three Sixty Six Zip Up Hoodie
Three Sixty Six
amazon.com
$33.95
Take on outdoor workouts in this sleek zip-up hoodie. Once you get moving and ramp up that core temp, the French terry fabric will keep you comfortable once you get sweaty. 
Helly-Hansen Men's HH Moisture Wicking Tech T-Shirt
Helly-Hansen
amazon.com
$25.00
This Helly-Hansen short sleeve tee is made from the brand's technical polyester fabric that is quick drying and moisture wicking. It also has flatlock seams to minimize itching.
The North Face Men's Wander Hoodie
The North Face
amazon.com
$49.95
This activewear hoodie from The North Face has FlashDry technology for sweat wicking, plus thumbholes in the cuffs for full hand coverage. 
Marmot Men's Windridge Short Sleeve T-Shirt
This Marmot tee was designed specifically for windy conditions, and will help you stay dry thanks to its 93 percent polyester and 7 percent elastane fabric makeup.
Smartwool Men's Intraknit Merino 200 Colorblock Crew Long Sleeve Shirt
Smartwool
amazon.com
$120.00
This fitted Smartwool long sleeve top is made with 3D-knitting for a near-custom fit, plus the brand's Intraknit Merino 200 fabric that offers ventilation and moisture-wicking capabilities, as well as body temperature regulation.
Ease Performance Half Zip
Vuori
vuoriclothing.com
$76.00
Vuori's half zip is made of polyester and elastane for quick-drying and moisture-wicking properties. Plus, it has UPF 30+ to offer extra sun protection.
Fast and Free Short Sleeve Shirt *Recycled
Lululemon
lululemon.com
$68.00
This slim-fitting top from Lululemon features the brand's sweat-wicking, The brand's Breathe Light Mesh Fabric that is lightweight and made of recycled polyester.
This content is created and maintained by a third party, and imported onto this page to help users provide their email addresses. You may be able to find more information about this and similar content at piano.io
Advertisement – Continue Reading Below
Source link