Health
The 12 Best Earplugs for a Good Night's Sleep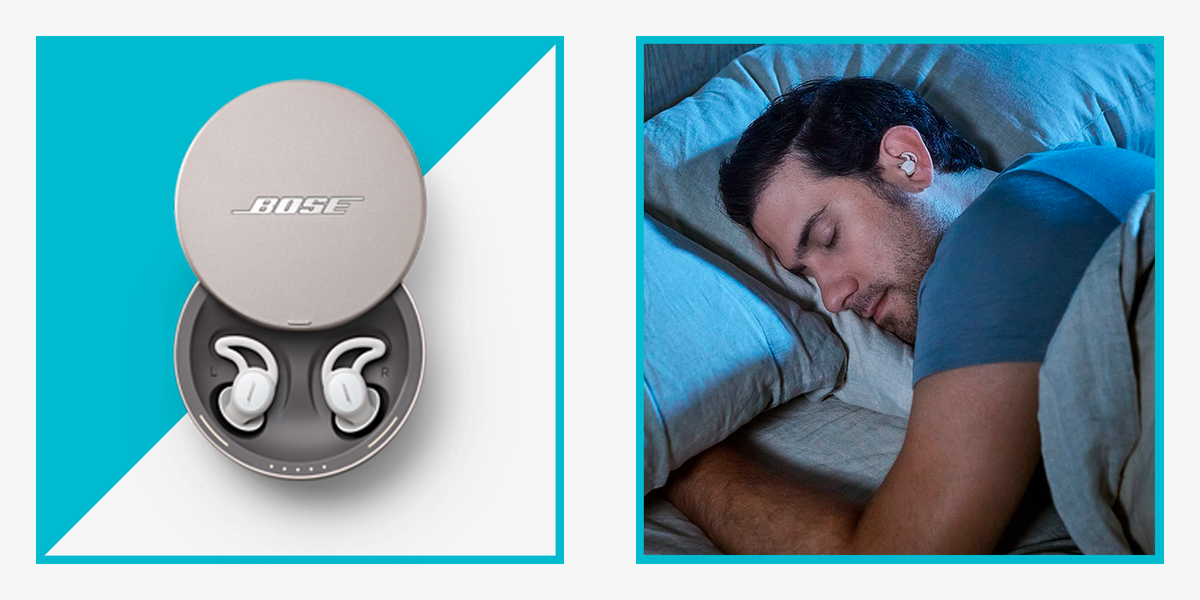 Sleep is essential—but often interrupted. Snoring, among other sounds of the night, can wake you up and leave you staring at the ceiling for hours wondering how long your body can go without sleep.
You can change up your diet, check in with a sleep coach, or count sheep, but none of those solutions will quiet noise like a good pair of earplugs can. While some people find white noise and sleep gadgets to help them catch some extra Z's (and they totally can!), sometimes, you've just got to turn off the noise and go the hell to sleep. And earplugs are safe to sleep with, too! At most, you risk a little buildup of earwax, but there are treatments for it.
Let's face it, you owe your body a peaceful night's rest. Sleep is so crucial to your overall health and wellness and a good night's sleep sets the tone for your entire day. When your sleep and wake cycle is thrown off, you disrupt your body's natural circadian rhythm which helps keep your bodily functions in check and connects to outlying health issues like blood sugar regulation, metabolism and mental health.
You might have never thought of wearing earplugs before, but after you try one of our picks from the roundup ahead, you'll see that this simple change was worth the effort. We have studied and tested a ton of options to bring you the 10 best earplugs on the market, especially if you sleep with a snorer, live in a noisy building or a city that never sleeps.
From noise-cancelling options that completely block out sound, to affordable-yet-effective reusable picks for the guy on a budget and noise-masking earplugs that lie in the middle, soon you'll achieve the deep sleep you've always dreamed of. We bring you the best earplugs for traveling and taking naps too! Because if we all got a good night's sleep, maybe the world would be a nicer place.
Advertisement – Continue Reading Below
Hearheed High Fidelity Ear Plugs Noise Reduction
Lullabies are great and all, but singing songs is no match for these headphones, which promise to cut out the extra noise. They're made of clear silicone, so they're not total eyesores. The material also means they're soft and malleable, so they won't get uncomfortable or irritating through the night.  
Best Smart Earplugs
Bose Sleepbuds™ II
Bose engineered technology, specifically for the sleep category. These earplugs connect to the Bose sleep app to help take you to cloud 9. Whether it's through white noise, meditation, sleep sounds ,or straight up noise reduction, the new and improved Bose Sleep buds will beat out any snore.
Best Earplugs Design
Vibes High Fidelity Earplugs
Vibes' earplugs keep a low profile so you can enjoy a good night's rest or sneak in a nap just about anywhere, without anyone having to know. If you're heading to a rock concert, you'll want these bad boys in your ears to avoid inevitable hearing issues postshow. 
Best Earplugs for Travel
Pluggerz Airplane Earplugs
These are the best earplugs to use when traveling. They're not only designed and tested to significantly reduce outside sound, they are made with pressure regulating filters that help prevent ear pain and discomfort caused by changes in altitude during flight. No need to pop a pill to pass out with these babies! Pluggerz makes sleep and music-specific earplugs, too! 
Best Hi-Tech Earplus
SoundOff Sleep Noise Masking Device
Ever hear of pink noise? SoundOff's hi-tech, noise-masking sleep earbuds use this special sound to help relax the brain and improve the quality of your sleep. If hearing your mate start to snore gets on your nerves, these will both block the sound and relax you. And for some users, these are the only earplugs that have actually worked, which makes them worth trying. A good night's sleep is worth the investment. 
Powerbeats Pro Wireless Earphones
You might know them as the best workout headphones a guy can own, but think of these noise-isolating bad boys as the perfect sleep companion. The secure-fit ear hooks are incredibly comfortable, even for side sleepers! If you're going to splurge on some helpful sleep tech, top-rated headphones that double as earplugs are a solid choice. 
Etymotic Research High Fidelity Earplugs
amazon.com
Though they're billed as being ideal for musicians, these earplugs are also great for the person who wants peace and quiet as they snooze, but without eliminating all sound interaction. Noises seem muffled and significantly quieter, but they're not gone completely. They're ready-to-fit and easy to use. 
Drift to Sleep Moldex Earplugs
amazon.com
Looking to drift off to sleep? These aptly-named earplugs promise to help you do just that. The travel case means you can catch a nap anywhere, without worrying you're getting lint in your ears. 20 pairs for $14 is also a pretty good deal, especially considering sleep is kind of priceless. The basic design works for most that have never tried earplugs before, and they are so minimal you'll forget you have them in. 
Most Comfortable Earplugs
Decibullz Custom Molded Earplugs
amazon.com
Lower the decibels of your partner's dreaded snoring with the help of Decibullz. They mold to fit the exact shape of your ear, so they're seamless and comfortable. They're also made to fit the highest noise reduction rating of any earplug of their kind, so you can literally sleep soundly knowing no noise will penetrate them. 
Mack's Slim Fit Soft Foam Earplugs
amazon.com
Listen, you don't always have to reinvent the wheel. Mack's old-fashioned earplugs are perfect for someone who doesn't want to worry about charging earbuds or spending money on fancy models. They get the job done without all the bells and whistles, so you don't have to try sleeping through bells and whistles. Keep this container in your bedside drawer and soon reaching for them will be a part of your nightly routine. 
Best Alternative To Earplugs
CozyPhones Sleep Headphones
amazon.com
Get cozy. Though it's labeled "headphones," this headband from CozyPhones is kind of a two-in-one product. It rests on the head as a headband should, but also provides noise-canceling properties due to its inner speakers. It's washable, durable, and unobtrusive. If you're looking for an alternative to earplugs, this is your guy. 
Most Versatile Earplugs
SureFire EP4 Sonic Defenders Plus Filtered Earplugs
amazon.com
Optional filter caps give you plenty of opportunity to switch these earplugs up. Want to have some awareness of sounds like the birds chirping in the morning? Take the caps off. Prefer total silence to block out the early morning construction noises does the block? Take the earplugs out and sleep in total peace. 
This content is created and maintained by a third party, and imported onto this page to help users provide their email addresses. You may be able to find more information about this and similar content at piano.io
Advertisement – Continue Reading Below
Source link