Health
The 10 Best Ski Goggles for Better Performance on the Slopes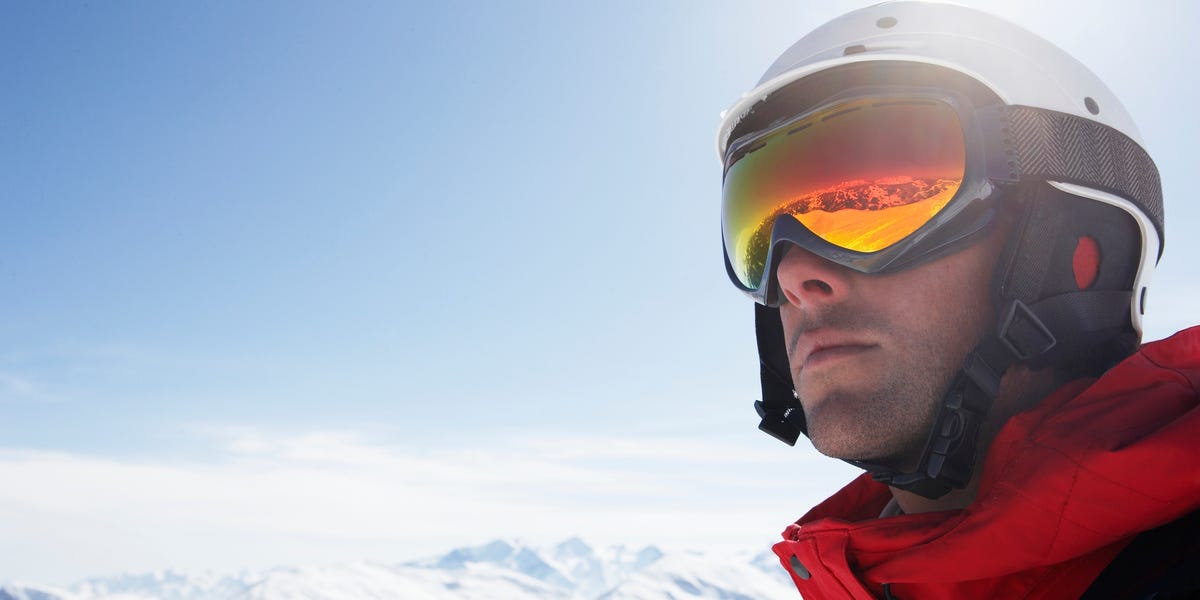 You've got everything you need for a good time on the slopes—skis, boots, jacket, pretty much everything. But you may be missing a key ingredient to optimize your performance and your enjoyment: goggles. Ski goggles, to be exact, from tried-and-trusted brands like Oakley, Burton, and Atomic.
Ski goggles are essential when you're on the mountain—or cross-country—for many reasons. The first, and probably most important: safety. Ski goggles are necessary for keeping your eyes safe from blowing snow, sleet, or any other elements that might fly your way.
And the second: visibility. Ski goggles help you see the slope clearly, reducing the glare that can come off snow and blind you into a possibly fatal mistake. You don't want to be squinting while you're careening down the mountain at a rapid pace.
Ski goggles also help you see contrast. When you're on the mountain, everything can be a blur of white, and obstacles or bumps may not stand out. Ski goggles help you see the whole field as it is without blurring together.
There are a few things to look for when shopping for the best ski goggles. First and most important: fit. We recommend trying a few on in a sporting goods store and getting a good sense of your fit, then buying your favorite online, likely at a discount. The last thing you want is your goggles slipping down on the slope.
Then you'll have to consider your lens tint. You'll want just the right visible light transmission (VLT) for your trip on the mountain. A low VLT like 20 means less eye fatigue for you during bright days—a high VLT like 80 means deeper colors during darker trips.
Always choose polarized lenses when possible to reduce glare, and UV protection to keep your eyes safe from the sun's rays. Some ski goggles even have anti-fogging features that keep you seeing clearer for longer.
Check out the best ski goggles you can get below.
Advertisement – Continue Reading Below
Burton Anon Sync Ski Goggles
Rule the slopes with Burton's Anon Sync frames—made from hearty, high-quality thermoplastic polyurethane (TPU), giving you the highest resistance to damage while staying incredible flexible. With multiple tint options and customizable frames (using magnets), these ski goggles offer just the right amount of contrast wherever you are. It also has a cylindrical lens construction, which tapers to a thinner profile on the edges, helping your peripheral vision.
Oakley O-Frame 2.0 PRO XL Snow Goggles
The O-Frames are fairly entry-level, but an ideal pair of ski goggles for contrast: they utilize high-definition optics to help eliminate any distortion in your vision, giving you a sharp picture of your slope. You get plenty of peripheral vision with Oakley's streamlined, geometrical frame, and it's designed to be integrated into most skiing helmets. Choose from multiple tint and frame options, including ultra-cool combos like dark brush camo/fire iridium, matte white/persimmon, or heathered grenache/dark gray. It all adds up to a reasonably priced, entry-level ski goggle that's perfect for your next trip.
Atomic Revent L FDL HD Goggles
If fogging up on the slope is your problem, Atomic's Revent goggles are your solution. The inside of the lenses on these ski goggles are coated with eight layers of fog-proofing, and the double fused lenses help your peripheral vision. With an ultra-cool old-school look, HD technology to boost contrast and minimize reflection, and a face-molding design, you'll be more than comfortable under any circumstance on the slope. Plus, it's extra large, so it'll fit almost anyone. Pair it with one of Atomic's helmets for a seamless outfit out there.
Smith Vice ChromaPop Snow Goggles
These slick, semi-rimless goggles are perfect for skiing or snowboarding. They feature an oversized, spherical Carbonic-X lens—virtually indestructible—and optics that help preserve your peripheral vision. These ski goggles comes with anti-fogging coating, which is critical for your clearest picture of the mountain, and the wide silicone-backed strap can be quickly adjusted to your preference. It even comes with a lifetime warranty—and a carrying bag.
Zeal Portal Goggles
Zeal Portal Goggles are "smart," in a way—they come with automatic lens tech that adapts to changing light conditions, so you're good for all day on the mountain. The will continually optimize throughout your trip. Plus, advanced hydrophobic anti-fogging tech keeps your vision clear. The triple-foam frame provides comfort for your face (good for all-day wear) and the lenses protect you against more than just the elements, but UVA, UVB, and UVC solar rays.
ZIONOR X4 Goggles
One of our top budget ski goggle picks, these ZIONOR goggles are more than good enough to get you through your trip to the slopes. The lenses are treated with anti-fogging treatment and a 100% UV protection coating, and provide plenty of peripheral viewing with 180-degree design. For quick lens swaps, simply remove the lens from the eight magnets that keep them in place. Vent channels keep you cool and reduce fog further, and the goggles are especially enhanced to be able to take all sorts of damage on the slopes.
Anon M4 MFI Toric Goggles
The Anon M4 MFI Toric goggles are ideal if you're looking for something that integrates totally seamlessly into your helmet—they're specifically designed for that. The lens tech mimics the curvature of the eye for enhanced peripheral vision and better optics on the slopes, and the porous inner lens helps keep fog out. It comes with a suite of bonuses, too: a spare lens for quick switches, and a magnetic face mask that keeps your face warm. The face masks even seamlessly connects to the ski goggles for easy comfort.
Dragon Alliance X2 Ski Goggles
Ski right into the future with these cyberpunk-y looking goggles that come with LUMALENs tech—optimized for high-definition optics. The proprietary Swiftlock changing system lets you swap out lenses as you need with east, and each lens is treated with a 200% anti-fog coating plus UV protection—no chance you'll have your vision obscured. Ski all day in comfort with the silicone backing. The frameless technology design lends these goggles a more futuristic vibe than almost any other goggles you're bound to see out there.
Smith I/O MAG ChromaPop Goggles
The Smith I/O MAG goggles iterate on the previous gen of I/Os in a significant way: there's now a lens change system that's easier to use than ever before with magnets in the frame. Don't worry, they're tough as nails, resisting all the wind, snow, sleet, and whatever other elements you'll find on the mountain. The ChromaPop tech in the lenses delivers serious contrast—for your safety and for the beauty—plus, hydrophobic coating repels moisture, grease, and other muckiness. Ski in comfort with the 3-layer face foam that also wicks away your sweat.
Outdoor Master PRO Goggles
Ski all day in safety and without breaking the bank with the Outdoor Master PRO series ski goggles, made from tough-as-nails TPU and coming with a polycarbonate lens that'll resist even the strongest of elements on the mountain. The lenses have UV protection to keep your eyes safe and are made frameless so you can see pretty much everything there is up there. It'll work with virtually any helmet out there due to the extra-long elastic strap, and it's designed so that you can wear your regular glasses in them. It even comes with a helpful protective case, carrying pouch, and one-year warranty.
Giro Method Goggles
With a groundbreaking new frame design, Giro's Method ski goggles offer up unparalleled peripheral vision with a shaved-down frame and frameless zones. The lenses are injection molded cylindrical lenses—helping refine what you see and minimizing distortion—and the interchange lens system offers up a more intuitive way of swapping out lenses as you need. There's plenty of ventilation, too: these goggles use a new foam made from a durable, non-absorbent material that minimizes fog and releases moisture. The face foam is plush, too, adding comfort throughout your ski trip. And the price for all these features isn't too shabby, either.
This content is created and maintained by a third party, and imported onto this page to help users provide their email addresses. You may be able to find more information about this and similar content at piano.io
Advertisement – Continue Reading Below
Source link