Health
How Patrick Mahomes' Fiancée Helped Whip Him Into Shape for This Season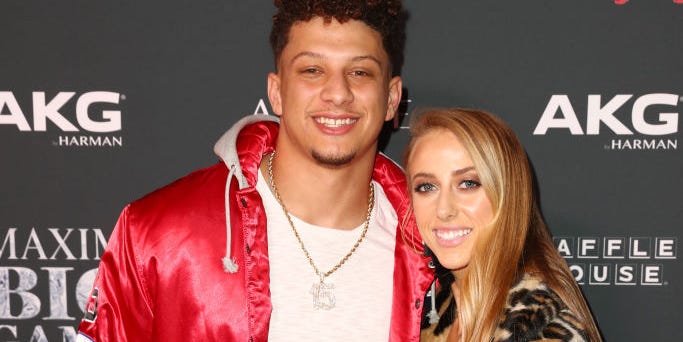 Patrick Mahomes isn't the only fitness fanatic in his family. Heck, the Kansas City Chiefs' quarterback may not even be the biggest fitness badass in his family, either.
That's because his fiancée, Brittany Matthews, has serious gym cred of her own. A former soccer player, Matthews, 25, interned for Mahomes' longtime trainer, Bobby Stroupe, in college, and went on to become a certified personal trainer. She offers a series of workout programs on her own website.
She put that knowledge to serious use during the 2020 offseason, when quarantine-life challenged Mahomes to adjust his training. While he often found ways to train with Stroupe, Mahomes occasionally couldn't work with his trainer.
So Matthews put him through sessions instead. "She wrote the workouts for me, so I mean she continued to pus me to be better," Mahomes says. "It makes me feel like a lazy bum whenever I'm not working out and she's working out. So she holds me accountable in that way."
Matthews does all that while still chasing fitness goals of her own, as she explained in an interview with Men's Health:
How did you and Patrick meet?
We met in high school, and we were best friends for a while before we actually started dating. So we were best friends for probably like a year, year and a half. And then we started dating in high school, his sophomore year, and my junior year. When we met, I didn't know that he was a good athlete, and good at all of those sports until I went to his first sporting event, I think. And that's when I really realized, "Oh, he's pretty good."
How have you helped Patrick with his fitness?
He kind of just listens to whatever I say. His training is obviously different from mine. I still consider myself an athlete, but current athletes, you know, train differently. But when we train together, you know, we just kind of push each other and like. I obviously never win, if we are training or racing or anything, but I feel like me pushing hard makes him push harder.
This offseason, I woke up, you know, early with him every day. So we were on the same schedule. We had to go to bed early because we had to get up early and go train together. I think that's I've played a huge role in just keeping him motivated.
Why did Patrick step up his commitment to fitness before the 2020 season?
I don't think we had a pivotal conversation. We had a chef in Texas with us this offseason. And then just you know, him being in the gym everyday with Bobby . . . He was like, "I like this has worked so well for me this offseason, like I want I want to continue this in Kansas City."
I couldn't tell you the one reason that hit him this offseason, besides winning the Super Bowl and realizing like, "Oh, we could be . . . I could be the best. My team can be the best and I need to start focusing on my body." I think other than that, having the consistent schedule routine that we had all offseason in Texas. just bringing that back with us to Kansas City, I think just worked out perfectly.
How much do you help Patrick with his diet?
You know, he, he was not big into nutrition and diet and eating healthy coming out of college because I feel like it's kind of hard in college to eat healthy. So when I moved up here to Kansas City with him, it was like we're not playing games, you're going to start trying new things. You're going to eat healthy. I'm not going to sit here and watch you eat that stuff.
And I remember one time when I was cooking, I gave pastured mashed cauliflower. And I told him it was mashed potatoes.
Have you both talked about eventually becoming a fitness power couple?
Yeah, we've talked about a lot of brands and things and stuff that we want to do in the fitness industry together eventually, and especially after the day when he's done with football. I think definitely tapping into the fitness industry, him and I will be something very important that we do together just to stay active and healthy. Right now I'm obviously doing some of it on my own because his main focus is football. But we do have some ideas.
Give us one idea.
I don't know if I can give it away. We've definitely thought about a gem of some type of way some type of form shape, somewhere in the gym space.
This content is created and maintained by a third party, and imported onto this page to help users provide their email addresses. You may be able to find more information about this and similar content at piano.io