Health
8 Outstanding Projectors for Your Home Theater System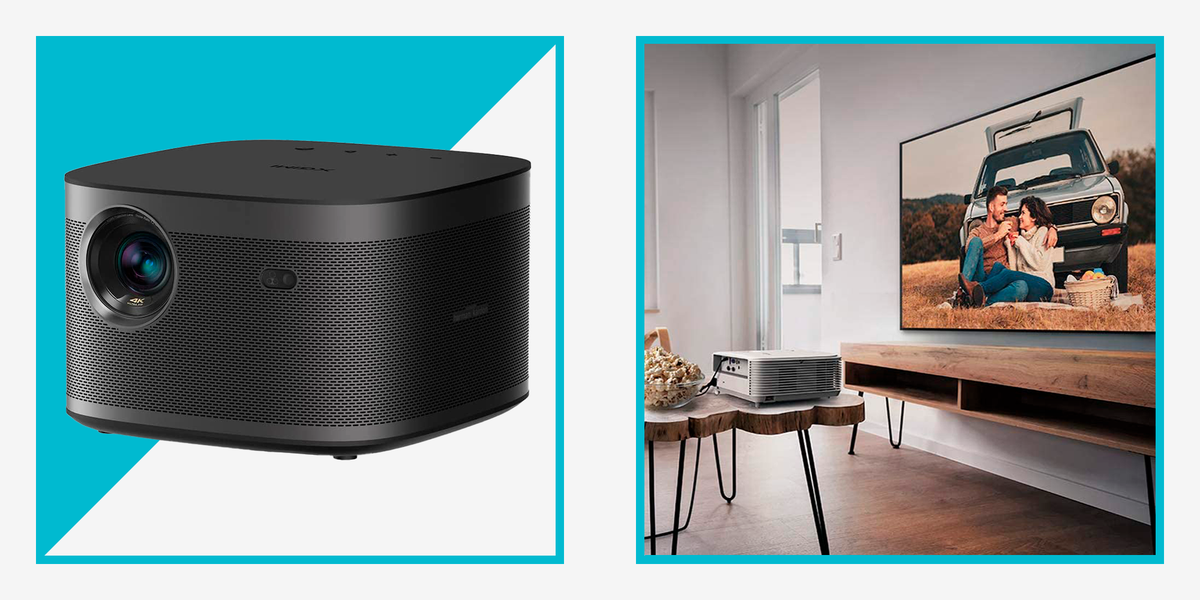 Thanks to the pandemic and the new affordability of home projectors, there's hardly a need to go to the movies anymore. For less than $1,000, any movie buff can set up a cinema-quality projector system in their own home in less than an hour. Just add a few comfy chairs, an old-timey popcorn machine, and a surround sound speaker system (or a soundbar), and you're in business.
Shopping for a projector might seem overwhelming if you've never bought one before. The long list of buzzwords and tech specs makes it difficult to compare one model to another. You have to consider things like bulb hours, ANSI lumens, short-throw versus long-throw, laser versus LED—the list goes on. We're here to help clear things up with our picks for the best home projectors to shop in 2022
Advertisement – Continue Reading Below
Best Overall 4K Projector
Horizon Pro 4K Projector
Beautiful 4K resolution
Excellent picture quality and clarity, even at large screen sizes
Impressive 16W Harmon Kardon speakers
Maximum 300" screen size
Sleek, compact design
Reasonably priced
Mediocre HD upscaling
No internal battery
Some spotty streaming support
There's a lot to like about XGIMI's flagship projector. The Horizon Pro 4K boasts a long list of must-haves, including 4K capability, solid 2200-lumen brightness, fantastic picture quality (even at larger screen sizes above 150 inches), and an affordable price. Plus, it's all wrapped in a sleek, minimalist metal case that belies its roughly $1,700 price tag. Our only real quibbles are minor: The brightness is impressive, though not show-stopping, meaning the picture suffers in very bright environments. The lack of a built-in battery or support for some streaming services like Netflix is annoying, but there are workarounds (requires plugging in a separate streaming device). Still, we're confident in calling the Horizon Pro 4K our pick for the best overall 4K projector available right now.
Dimensions: 8.2 x 8.6 x 5.4 inches
Standard resolution: 3840 x 2160 (4K)
Lamp life: 25,000 hours
Lamp type: LED
Brightness: 2,200 ANSI lumens
Read more: Best TVs
Best Budget Projector
Solar Portable 1080p Projector
Balanced picture
Compact and portable design
Solid sound for its size
Three-hour battery life
Great smart platform
Retractable, adjustable stand
Not as bright as comparable models
Fan can be loud
The Solar Portable is an entry-level projector in Nebula's catalog, offering plenty of essential features, including a full HD picture, an excellent smart platform (with thousands of Android apps), and a scalable image up to 120 inches. Plus, the portable option means it'll run for three full hours on a single charge. With numerous input options, it'll accept USB drives, HDMI devices, Wi-Fi signals, and more, so it's compatible with just about any external media device. A built-in retractable stand allows for fine-tuning the pitch and angle for the perfect picture. The fact that it's available for under $500 makes this our favorite budget projector.
Dimensions: 7.6 x 7.6 x 2.3 inches
Standard resolution: 1920 x 1080
Lamp life: 30,000+ hours
Lamp type: LED
Brightness: 400 lumens
Best Value for the Money Projector
HT2150ST 1080P Short Throw Projector
Short-throw lens means a big image in tight spaces
Solid color and contrast for the price
Built-in 10W speakers
Easy setup
Included soft carry case
Low-input lag is great for gaming
No HDR support
Maximum input limited to 1080p resolution
Modest brightness rating only suitable for dim/dark rooms
BenQ's awkwardly named HT2150ST is billed as a "home theater projector for gaming." Many of the same qualities that make it great for gamers—short-throw projection, loud onboard speakers, and an included soft carry case—mean it's a great value projector for just about any other form of viewing too. In a dark room, the 2,200-lumen output is good for a 210-inch (diagonal) 16:9 image. Among mid-range projectors, we found the image quality to be excellent right out of the box with minimal tweaking of the settings. Color accuracy is better than most, and the 1080p resolution should satisfy most viewers. Plus, the moderate footprint and included soft carry case mean that it's reasonably portable for moving between rooms or taking to a friend's house for impromptu movie or game nights.
Dimensions: 15 x 10.9 x 4.8 inches
Standard resolution: 1920 x 1080
Lamp life: Maximum 7,000 hours (in SmartEco mode)
Lamp type: Bulb
Brightness: 2,200 ANSI lumens
Read more: Best Tech Gifts
Best Splurge Projector
VW325ES 4K HDR Home Theater Projector
Stunning image quality
Deep, rich blacks
HDR-capable
Full 4K resolution
Anamorphic wide-lens compatible
Motorized lens provides wide range of zoom/shift options
Mediocre brightness (1,500 lumens)
Premium price tag
Bulky
If you're shopping for the very best projector and money is no object, Sony's $5,500 VW325ES 4K HDR is your man. While that sky-high price tag is two, three, even five times as expensive as the competition, we contend that it's well worth the money. The superb image quality bests everything we've tested, thanks to Sony's super-advanced X1 projector processor, HDR capability, and full 4K (4096 x 2160) resolution. The use of proprietary SXRD (liquid crystal on silicon) tech also guarantees a contrast ratio that blows "ordinary" LCD and DLP chips away. If you've got the disposable income and you really love movies, it simply doesn't get any better than this.
Dimensions: 19.5 x 8 x 18.25 inches
Standard resolution: 4096 x 2160
Lamp life: 6,000 hours (in Low mode)
Lamp type: Bulb
Brightness: 1,500 lumens
Best Smart Laser Projector
EpiqVision Mini EF12 Smart Streaming Laser Projector
Deep rich blacks and shadow details
Decent speakers
Compact size
Long-lasting laser
No internal battery
Lacks most common apps
Lackluster color representation
Epson manages to pack its fantastic 3LCD projection system into the EpiqVision Mini EF12—an ultra-portable laser projector that measures just 7 x 7 x 5 inches. It delivers a surprisingly good picture up to 150 inches (diagonal) in 1920 x 1080 full HD resolution with deep, dark blacks and shadows. That's complemented by dual onboard 5W speakers that provide decent audio, given the unit's size.
It's an incredible value at less than $900 with better features than most portable projectors in this price range. Still, it's not without its shortcomings. The absence of an internal battery isn't a deal-breaker for most, though it does limit its portability. It also lacks some of the most popular apps like Netflix, and the 120ms input lag means gamers will need to look elsewhere.
Dimensions: 6.9 x 6.9 x 5 inches
Standard resolution: 1080p HDR
Lamp life: 20,000+ hours
Lamp type: Laser
Brightness: 1,000 lumens
Best Portable 1080p Projector
Halo True 1080p Portable Projector
Bright picture
Decent sound for its size
Surprisingly portable
Maximum 200-inch image size
Onboard Harmon Kardon speakers
Software occasionally buggy
Indecisive autofocus
Two-hour battery inadequate for longer films
Like every projector in XGIMI's catalog, the Halo features a sleek, metal casing that immediately feels more premium than its sub-$800 price should allow. At roughly 6 inches cubed and weighing just 3.5 pounds, it's incredibly portable, making it an excellent option for anyone who likes to watch movies indoors and out or occasionally set up their home theater in different rooms. The 800-lumen LED lamp isn't the brightest on this list, although we found it to be more than adequate in our own testing. In our experience, we found the autofocus to be a little indecisive at times. There were also the occasional software glitches (apps not connecting or the remote lagging), but nothing that a hard restart couldn't fix. For the money, you'd be hard-pressed to find a better portable 1080p projector.
Dimensions: 6.7 x 5.7 x 4.4 inches
Standard resolution: 1920 x 1080
Lamp life: 30,000 hours
Lamp type: LED
Brightness: 800 lumens
Best Palmtop Projector
Luma 350 Portable Smart Projector
Compact, lightweight design
Decent-sized image for most casual viewing
Above-average picture quality
Remote included
Inexpensive
Mediocre movie watching
Some popular streaming services not supported
Occasionally buggy software
Not everyone needs a cinema-quality home theater projector. For more casual viewing, there's Kodak's Luma 350 Portable Smart Projector. The ultra-compact design makes it the perfect choice for travelers, taking to a neighbor's house for slideshows of your vacation photos, or as an impromptu entertainment device when toting a full-sized projector seems like overkill. It's not the brightest, most feature-rich, or clearest. Support for streaming services is limited and, at times, buggy. Die-hard cinema buffs or anyone looking for a dedicated home projector might want to look elsewhere. But, if size and portability are your main concern, this inexpensive palmtop projector is the best option available.
Dimensions: 4.4 x 4.4 x 0.9 inches
Standard resolution: 854 x 480
Lamp life: 30,000 hours
Lamp type: LED
Brightness: 200 ANSI lumens
Best Outdoor-friendly Projector
GT780 Short Throw Projector
Eye-popping 3,800-lumen brightness
Giant 300-inch max screen size
Easy setup
Short-throw is great for small spaces
Good built-in speakers
Mediocre video resolution (720p)
Replacement bulbs can get expensive
Most projectors fall short in outdoor settings where sunlight can easily wash out even the brightest picture. Optoma's GT780 is up to the task with a whopping 3,800-lumen brightness that's ideal for almost any viewing situation, indoor or out. The short-throw design also allows it to project large images that are bright and crisp from just a few feet away. At less than $700, it's one of the best value projectors on this list. However, that affordable price tag is a result of cutting a few corners. Buyers only get 1280×800 (WXGA) resolution with this model, although that's likely enough for all but the most hardcore movie watchers. The use of a traditional bulb compared to LED or laser (more on that below) also means you'll need to replace it sooner or later. So, the all-in cost could be closer to $1,000 over the life of the projector.
Dimensions: 12.44 x 9.61 x 4.25 inches
Standard resolution: 1280 x 800 (WXGA)
Lamp life: Up to 15,000 hours
Lamp type: Bulb
Brightness: 3,800 ANSI lumens
Read more: Best Gaming Consoles
Buy the Projector That's Right for You
Most projectors aren't cheap, but you can save money by honestly assessing your personal viewing habits. Don't buy "more projector" than you need. Casual viewers who occasionally like to stream Hulu while traveling might only need a portable or palm-sized projector with decent resolution. Parents looking to entertain their kids in the basement playroom might want a slightly better option. Gamers and sports lovers might appreciate something even more premium. But, unless you're a diehard cinephile looking to immerse yourself in a full 4K IMAX-worthy experience at home, you probably don't need to spend more than $2,000 on a home projector.
Consider the (Light) Source
In the world of projectors, not all light sources are created equal. The decision comes down to traditional bulb lamps, lasers, or LEDs. Relative to comparable models, bulb lamps are by far the cheapest of the three. But, they require replacing the bulb at least once (or more) over the life of the projector depending on your personal usage. In the long run, your total investment could be more expensive than "splurging" upfront on a seemingly more expensive laser or LED model. These models last 20,000 hours or more—essentially the life of the projector.
Brightness: How to Measure and Why It Matters
Measuring projector brightness is a bit like measuring fuel economy. It's not quite an exact science because it depends on many factors, including your watch preferences, projector settings, and the viewing screen used. Take any brightness claims (usually measured in ANSI lumens) with a grain of salt, and assume that any figure the manufacturer provides is slightly exaggerated or a "best-case scenario." The only way to know for sure if a projector is bright enough for your viewing habits is to read detailed reviews or test it out yourself. One important tip: For anything beyond casual movie-watching, consider investing in a high-quality projector screen. Better screens reflect more light, creating a richer, crisper, more detailed picture.
We tested each projector by viewing different media types—including still photos, animated TV shows, and the most over-the-top blockbuster movies—in a wide range of room types and lighting situations. We made notes on how each model performed in a variety of categories. That includes the smallest details (how intuitive the remote is to use), essential tech specs (brightness, contrast ratio, etc.), and other key buying considerations. Everything is tallied to decide on the best overall projector in each category.
This content is created and maintained by a third party, and imported onto this page to help users provide their email addresses. You may be able to find more information about this and similar content at piano.io
Advertisement – Continue Reading Below
Source link