Health
6 Sunrise Alarm Clocks That Will Actually Get You Out of Bed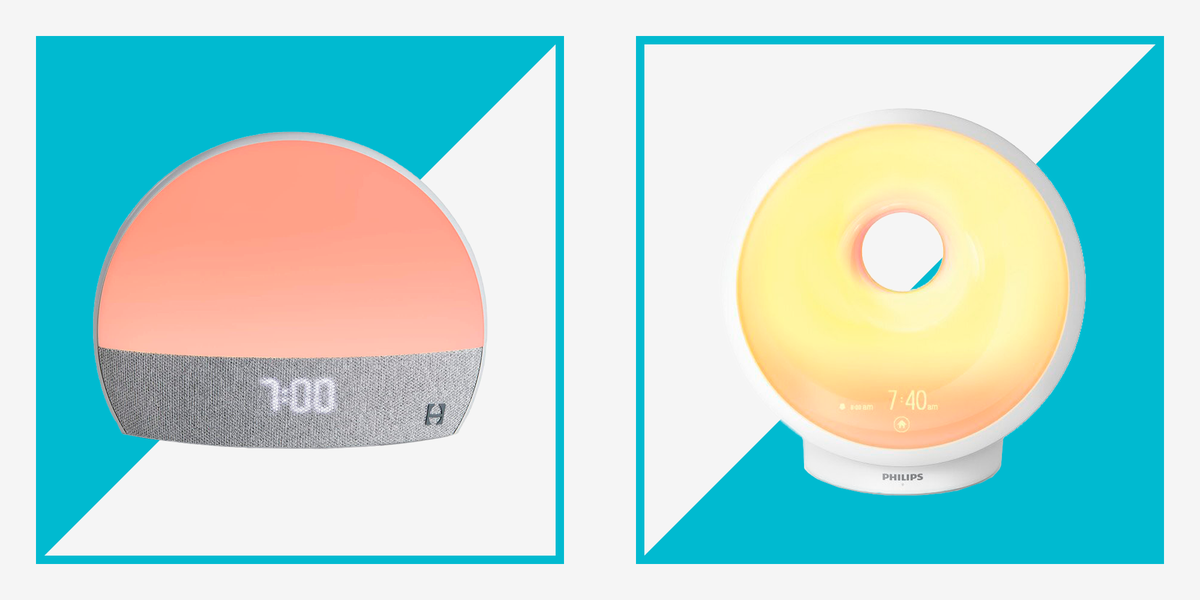 Photos Courtesy of Retailers
Health is the new wealth these days. The messaging is plastered all over the internet through healthy eating guides, mental wellbeing tips, and our favorite category of wellness: fitness. But the building blocks of every "healthy person" starts with a good night's sleep and maintaining a deep and consistent sleeping pattern. For some, this translates to a solid eight hours, but when you dive deeper into what a good night's sleep actually is, you're looking at your individual internal clock, otherwise known as our circadian rhythm.
When we talk about the importance of sleep, we often refer to our circadian rhythm because it's what helps hormones that generate both alertness and relaxation at the beginning and end of each day. According to The National Sleep Foundation, "circadian rhythms are 24-hour cycles that are part of the body's internal clock, running in the background to carry out essential functions." Naturally, we should be waking when the sun rises and be sleeping when the sun sets, give or take a few hours. A consistent sleep and wake cycle contributes to mental, physical, and metabolic performance, while a disrupted one does quite the opposite.
Ironically, while health is the number one priority right now in culture, society is overstimulated and overexposed to the wrong types of light, which ultimately throws off our sleeping patterns. Whether it's blue light from our screens, or improper artificial light in our homes, a poor sleep and wake cycle makes it harder to fall and stay asleep, disrupts our circadian rhythm, and it can in a spiraling of health issues thereafter. On the bright side of things (pun intended), it's 2021 and technology can fix that! An easy solution to improving your sleep and wake cycle to invest in a sunrise alarm clock.
Take it from me, a nocturnal-night-owl-turned-morning-person, one of these light alarm clocks can—and will—change your life.
What Is a Sunrise Alarm Clock?
Sunrise alarm clocks are exactly what they sound like. In their most basic form, they are a bedside tech gadget that mimics a realistic sunrise and sunset, right inside your four walls. Plus, they play soothing sounds to help you to wake up peacefully. Depending on how fancy your light alarm clock is, it can also connect to your phone via Bluetooth, and provide a personalized routine through artificial intelligence. Some options can even read the air quality of your room.
So, do they actually work? We've tested and researched some of the top options on the market to bring you the best sunrise alarm clocks your hard-earned money can buy, at every budget. Any of these gadgets will help get your body in tune with a habitual circadian rhythm, with a light guided sleep and wake system that makes it easier to get out of bed.
They can be especially important to those who sleep and wake up at nontraditional times by providing natural energy by way of light upon your first morning stretch, even before your first sip of coffee. A happier, healthier life awaits you with this one simple addition to your daily routine—you'll never have to hear a blaring iPhone alarm again!
Philips SmartSleep Sleep and Wake Up Light Therapy Alarm
Philips has perfected the art of the sunrise. This bedside light alarm clock has a range of 25 shades for a gradual simulated sunset and sunrise. You can control and schedule the speed and intensity of the warming light directly from your phone through the SleepMapper app with coordinating wakeup and relaxation sounds. You can customize your morning and nightly routine to track your sleeping patterns, too. You'll also get advanced breathing exercises, realistic nature noises, a USB charging port, and randomly, an FM built-in radio.
As one of the more advanced sunrise alarm clocks on this list, it provides a deep assessment of bedroom conditions, like temperature, humidity, and background noise with tips on how to improve them. Plus, the sleek and modern design looks cool on any nightstand. This ranks pretty high in the whole sunset simulation thing. You might not believe us until you try it, but it actually makes getting out of bed feel like a wellness ritual. Invest in this one if you're looking for innovative sleep tracking and a pretty realistic faux sun. 
Hatch Restore
Hatch Restore users typically talk way too much about their undying love for this product—and with good reason. It's designed by sleep experts and comes with all the features you would look for in a sunrise alarm clock:  a sleep sound library, a soft bedside light, and wide range of warming and cooling light choices. 
You can create a personal "wind down" routine through the app with access to an ever-changing database of new meditations and sounds. Unlike the Philips Wake Up Light, this light alarm clock has a wider library of colors to create a more varied mood. 
hOmeLabs Sunrise Alarm Clock
If you're looking for a basic sunrise alarm clock at an affordable price, look no further. Know that at around $20, you're not going to get anything transforms you into another dimension like some of the others on this list, but it will provide the gradual dim or rise in eight different color options. There is no WiFi or phone connectivity, just your old fashion set and sleep operation system, which can actually help you get off your phone at night. While it doesn't look, sound, or feel as expensive as some of the other wake-up alarms on this list (for obvious reasons), it successfully illuminates your room with healthy light and soothing sound—a much better improvement to a blaring iPhone alarm, if you ask us.
Philips SmartSleep Wake-up Light HF3520/60
A slight step down in price and features from the HF3670, the Philips 3520/60 remains a best-seller from this top brand. It does everything you need it to at best. The colored sunrise simulation falls close to the advanced version, but it doesn't have the sleep tracking capabilities or extensive library of sounds (although you'll get some).
We recommend this one as the best sunrise alarm clock for that mid-level price point. It connects to the app for controlling and scheduling, and it provides an overly pleasant yellow-to-orange sunrise/sunset without jolting you out of bed in the morning. You're still getting quality light, pleasant sound, and the same app interface, but it's missing a few bells and whistles, like a USB charging port and modern design which knocks down the price.
Lumie Bodyclock Shine 300
The Lumie has a more extensive range of customizing the length of your sunrise or sunset. You can program the gradual light to occur over the course of 15 to 90 minutes, while implementing the device's built-in sleep sounds. The cloth-covered speakers elevate its sound quality and the LED simulates both a sunrise and all-day natural light. The purpose of the Lumie is to reverse SAD (or seasonal affective disorder) by not only providing a better night's sleep, but by simulating a happy daytime sun for a pleasant wake-up situation that you don't typically get on cloudy winter days.  
Casper Glow
Casper's Glow is one of the more unique light alarm clocks on this list. It sits softly on the bedside charging port, but really it's made for handling room to room. Glow is perfect for a midnight snack kitchen run or changing a diaper. It ranks smaller in size and lighter in weight, but doesn't skimp on the quality of gradual illumination. Since it's made for transporting, it's durable with no right side up. The design team calls it "quiet technology," meaning at first glance you don't think of anything high tech. They believe in keeping the idea of technology out of the bedroom. 
 Glow is controlled by gestures. You twist it to turn it on or off and it begins a 45-minute "drift" pattern by default. To increase or decrease the amount of light or speed, you simply tap the side. You can even wiggle it to cast a small amount of light. This gadget is definitely one to learn, but it's extreme attention to detail and thoughtful design makes it the coolest, most minimal light on this list.
And yes, like the others, you can schedule a wake-up time to slowly start rising out of bed directly through its connected app. You can even sync it to other Glows throughout your house.
This content is created and maintained by a third party, and imported onto this page to help users provide their email addresses. You may be able to find more information about this and similar content at piano.io
Source link