Health
15 Tough Punching Bags to Knock the Crap Out of At Home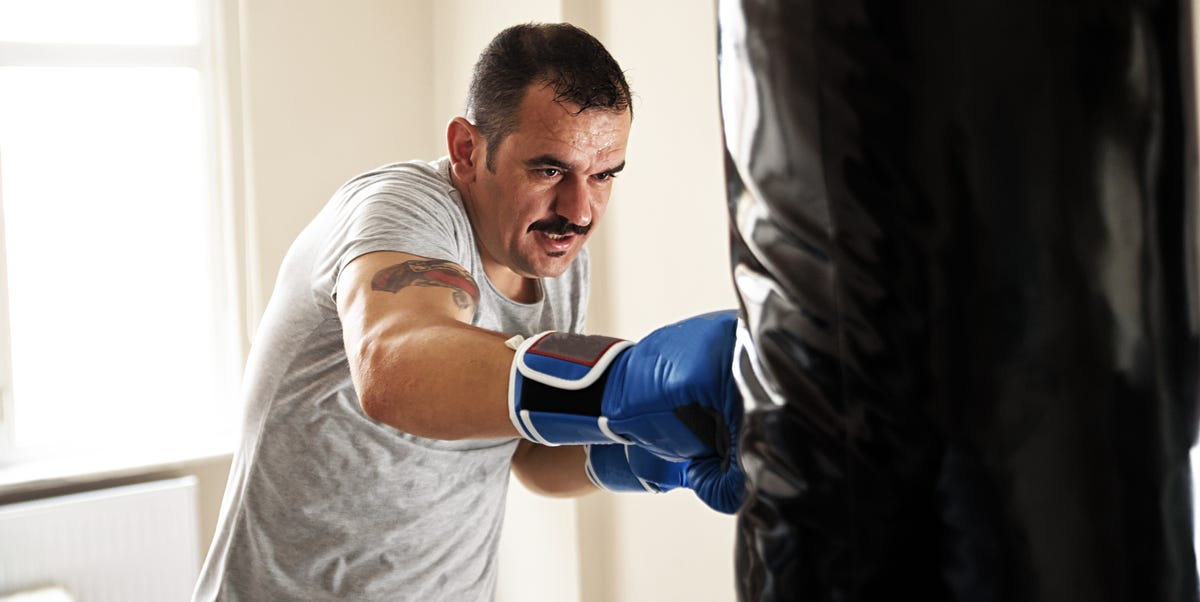 Evander Holyfield, Mike Tyson, Tyson Fury, Ryan Garcia, Floyd Mayweather, Muhammad Ali (and yes, Sylvester Stallone) are some of the biggest names in boxing. And one thing they all have in common? At their peak, they have been in absolutely incredible shape. And it's also the preferred workout of some of the biggest actors and names in Hollywood.
Boxing is part of Chris Hemsworth's workout routine. Michael B. Jordan got absolutely jacked with boxing for his roles in the Creed movies, and Jamie Foxx implemented it while training for his role as Mike Tyson. Actor Eli Goree became a boxer to play Cassius Clay in the film One Night in Miami, and Jake Gyllenhaal had an insane training schedule to get in shape for his role in Southpaw. And musician Paul Banks has been boxing for nine years. (Here are some of the best speed bags on the market.)
Not only is boxing a great cardio workout, but it also will chisel your core. That's because a good punch starts with a strong core, two-time Chicago Golden Gloves champion Gideon Akande previously told Men's Health. (Watch what happened when this guy ate and trained like Muhammad Ali for a day.)
If you're looking to get boxing into your workout regime, a great tool to have is a punching bag. And there are endless options out there. (These workouts to get you started once you have your home boxing setup.)
Ready to get boxing? Here are 15 punching bags that will complete your home boxing setup.
Everlast Omniflex Freestanding Bag
Everlast
amazon.com
$179.99
$129.99 (28% off)
No sturdy ceiling mount for your heavy bag? No problem. This free-standing unit from Everlast can stand up to a beating, and you can adjust the height to make your punching even more efficient. 
Everlast 70-Pound MMA Poly Canvas Heavy Bag
This 70-pound canvas bag is a great starter for any basement ring setup. It comes filled and designed for maximum shock absorbency, with sturdy nylon straps for hanging.  
Everlast Pro 2-Station Gym
everlast
everlast.com
$2,299.99
If your boxing workouts are more like serious training than a stress relieving hobby, this full setup could become your best friend. You get a heavy bag and a speed bag on one rig without having to hang either from your ceiling—as long as you have the space for it. 
FightCamp Personal Package
joinfightcamp.com
This smart, free-standing bag is more tailored to the novice puncher interested in taking up boxing for general fitness, but even seasoned fighters can have some fun with the interactive device. The wraps are designed to include tracking devices, so you can log real-time punch speed, count, and output during sessions, and you can take classes and compete with users around the country, à la Peloton.  
Boxing Reflex Ball Set
This isn't quite a heavy bag, but if you're really strapped for space to train, this headgear might be your best option. Hone your hand-eye coordination and punching speed, then move on to bigger heavy bags. 
Outslayer Muay Thai Heavy Bag
Outslayer
amazon.com
This fabric-filled 6-foot monster is not for casual jabbers—only consider this bag if you're really set on giving fight training your all. The vinyl construction should hold up, though, since there's a 10-year warranty. 
Century Wavemaster Freestanding Bag
century
centurymartialarts.com
$179.99
The OG freestanding bag allows you to train your punches and kicks without taking up too much space in your home. Fill up the base with water or sand to weigh it down, then start hitting.  
Body Action System
basbodyactionsystem.com
$299.00
Take your home fight to the next level with this pad system developed by MMA legend Bas Rutten. Pads represent an opponent's head and torso, while attachments allow you to hone your hooks and uppercuts with more accurate placement to simulate sparring. 
Century BOB – Body Opponent Bag
centurymartialarts.com
$299.99
We would never advocate that you take a swing at anyone—other than BOB here. This freestanding bag is molded to look like an opponent so you can have a more realistic boxing experience. 
Ringside Apex 100 LB. Heavy Bag
Ringside
ringside.com
$179.99
This leather bag from Ringside offers up nothing but the basics—which is great, because that's all you really need for a good home boxing session. All you need is a sturdy ceiling mount and you'll be ready to go the distance.
RDX Punching Bag
rdx
rdxsports.com
$100.99
This heavy bag from RDX comes with a chain to hang and gloves for good measure, so you'll be able to set it up and start swinging ASAP. Just make sure to fill the bag up so you're hitting something with substance, since it comes empty.  
Everlast Hyperflex Strike Bag
Practice your strike and aim reflexes with this standing punching bag. It's equipped with a solid plastic base for stability.
Everlast Hydrostrike Water Bag
Everlast
amazon.com
$149.99
$130.79 (13% off)
This next-gen heavy bag is made to absorb contact, which isn't surprising since it's filled with water, not foam. Hang it, fill it, and get to striking. 
Everlast 4318 Punch Mitts
Everlast
amazon.com
$25.98
These durable punching mitts will help any boxer sharpen their technique. Made of synthetic polycanvas, they're antimicrobial to keep away smells and bacterial growth.  
Sanabul Essential MMA Hybrid Sparring Gloves
Free up your fingers with these MMA-style sparring gloves from Sanabul. There's still enough padding that you won't mess up your knuckles when you attack the bag, while the lock-down velcro system keeps the fit tight. 
Hayabusa T3 Boxing Gloves
Hayabusa
amazon.com
These high-quality gloves from Hayabusa will protect your knuckles and support your wrist while you're throwing hands at home. A dual-strap closure ensures a snug fit, while multiple layers of foam absorb the impact. 
Fairtex Muay Thai Boxing Gloves
Fairtex
amazon.com
Some of the best boxing gloves in the world come out of Thailand, designed for the national sport that adds kicks, knees, and elbows to fist strikes. You can depend on these gloves to hold up over a long time, even if you're only using them to pound away at the bag.  
This content is created and maintained by a third party, and imported onto this page to help users provide their email addresses. You may be able to find more information about this and similar content at piano.io
Source link