Health
14 Indoor Exercise Bikes You'll Actually Want to Ride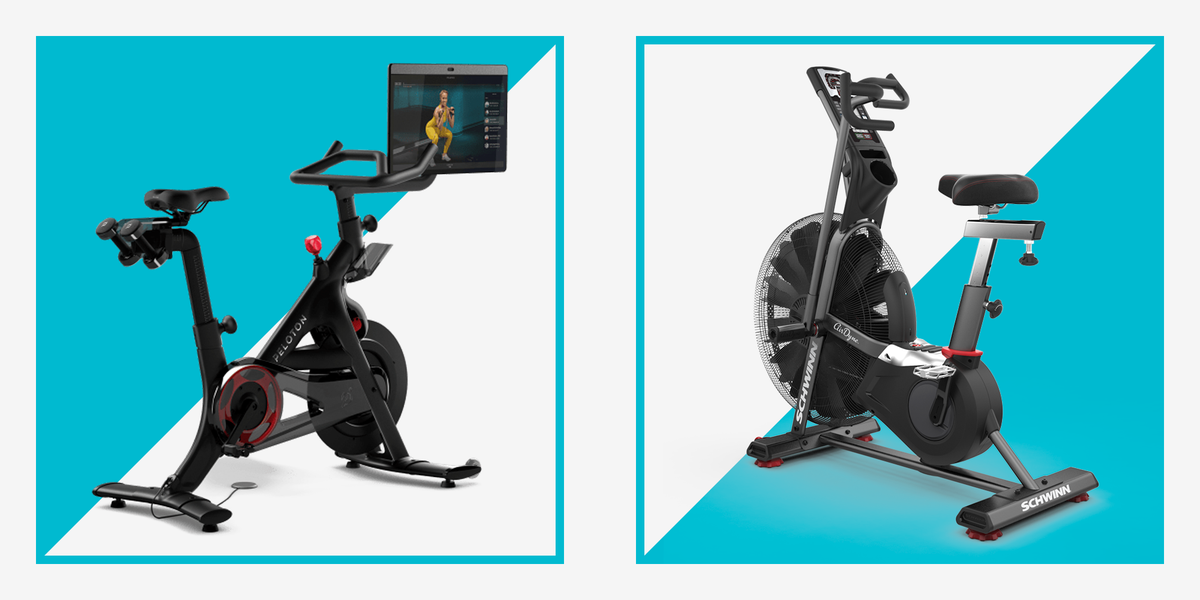 Having your own space to work out at home became less of a luxury and more of a necessity in the past couple of years. Creating an at-home workout space stocked with your go-to gym equipment gives you more freedom to train exactly when and how you want.
If that training includes cardio or studio-style classes, an essential piece of equipment you should definitely consider adding to your setup is an exercise bike. But which one should you pick? We reached out to Cooper Mitchell, the man behind the brand dedicated to the best home gym setups around: Garage Gym Reviews.
"One essential piece for any home gym is an exercise bike. You can pick from any of the different kinds of bikes out there, like air bikes, spin bikes, cycling trainers, and more," he says.
However, it can be tough to know which bikes are actually worth investing in.
"The good news is there are more exercise bikes available today than likely any other time in history," notes Cooper. "The bad news: Since you have so many great choices, you'll have to try to decide which bikes are worth your money, and which ones are better off being left on the showroom floor."
To help you choose the best exercise bike for your home gym, we rounded up 13 of the top exercise bikes for all budget levels—from the super high-end Peloton Bike+ all the way down to the budget-friendly options on Amazon.
Read more: Best Home Gym Equipment
Advertisement – Continue Reading Below
AD7 Airdyne Exercise Bike
"The Schwinn AD7 Aidryne is one of the best exercise bikes you can buy, and it's got the features and results to back that up. The wind-resistance nature of the bike helps to give you a full-body cardio workout, and with an extra-padded, oversized seat, this will be a comfortable ride (if you choose to remain seated)," says Mitchell. "And while this bike is a little expensive, you can also feel comfortable in the quality of the product you're investing in. After all, this is Schwinn. That's a name in bikes that has always meant something—you can always appreciate the comfort in buying a solid product from a legacy brand."
Read more: Best Fitness Deals
BikeErg
"The BikeErg was designed with traditional cyclists in mind. Now if you're wondering if the BikeErg still delivers a killer workout, the answer is a resounding, YES!" says Mitchell. "Concept 2 builds very durable and effective equipment like Model D Rower (which is by far my favorite,) and now the company has applied those principles to a bike. The BikeErg isn't the most aesthetically pleasing design, but it is made to take a beating and keep on going."
He adds, "We have over 1M meters on the one that we've been testing for a few years and it still performs like it did on day one without any maintenance. Now that's special."
AirBike Classic
"And the winner for most popular goes to… the Assault AirBike. The Assault Bike is so beloved largely because it's been used in the CrossFit Games and in a ton of different CrossFit Affiliate Gyms," says Mitchell. "Ultimately, the Assault AirBike has a super solid design with an oversized fan and chain drive system. Although we prefer a belt drive due to its lack of maintenance, this is a proven design that just works; it's also priced pretty well compared to the competition."
Read more: Air Bike vs. Spin Bike
Indoor Cycling Bike
"The YOSUDA. Haven't you heard of it? That's probably because the company only makes exercise bikes. This is a super quiet, belt-driven bike that won't drown out the TV while you're getting in your afternoon workout," says Mitchell. "Overall, the YOSUDA is a good bike with a killer 30-day full refund guarantee and 1-year free parts replacement warranty. While this bike is definitely made with the budget-conscious in mind, it's also one of the most highly rated on Amazon."
Read more: Home Gym Awards
Indoor Exercise Bike
"The bike that needs no introduction, the Peloton! Yes, we've all seen the commercials… it's not just hype, this bike is revolutionary and has changed the industry," says Mitchell. "Is it pricey? Yes. Do you get what you pay for? Yes. Is it one of the most immersive training experiences you'll find from the comfort of your home? Yes. Yes. Yes. "
He continues, "The reason we recommend the Peloton Bike is not just because it's built extremely well, but because of the experience that drives nearly every rider to work out more than they would without the live classes. If you struggle to exercise at home and have the money to spend, Peloton is truly your best option."
Read more: Best Cardio Machines
Exercise Upright Fan Bike
"Looking for an entry-level, budget-friendly bike? Look no further. The Body Rider will get the job done and keep everyone happy because you didn't break the budget," says Mitchell. "Although this bike isn't nearly as durable as the other options, for the price, it will be a great introduction to using a stationary bike, especially if you upgrade later on. If you're already serious about training, though, we'd suggest looking to one of our other picks."
Nordictrack Commercial S22i Studio Cycle
"Looking for the Peloton experience without the Peleton price? Look no further than the NordicTrack Commercial Studio Cycle (the NordicTrack is still pricey, just not Peloton pricey)," says Mitchell.  "While we have found the classes on the NordicTrack aren't quite as engaging as Peloton's, the NordicTrack bike is actually superior in many ways to Peloton's. Overall, it's still a great experience and a really nice bike."
Echo Bike
Rogue
"Looking for a bike that is the most likely to survive the apocalypse? Rogue has definitely made an end-times exerciser with this one," says Mitchell. "The Rogue Echo Bike is a well-built machine that is basically a deconstructed version of a Rogue Squat Rack. With its combined rock-solid foundation and smooth ride, it's at the top of the game. The bike uses a belt drive system that requires virtually no maintenance and a monitor that tracks useful metrics."
He also adds, "The bike is heavy, so be aware of this if you plan to move it. That said, there are wheels on the front that make it easier to do so. I've reviewed the Echo Bike in-depth and it is without a doubt one of the best air bikes available."
Health & Fitness Indoor Cycling Exercise Bike
"Let's add another bike to the entry-level, budget-friendly category. The Sunny Health SF-B1002 is a great low-priced bike with solid features and good quality," says Mitchell. "Surprisingly for the price, this bike utilizes a belt drive system, has a strong frame, and according to reviews offers a comfortable riding experience (mostly thanks to the seat.)"
In addition, he notes, "For the price point, it's a great bike to add to the home gym, but we wouldn't suggest it for gyms where there's high output athletes or many different people using the bike."
AirBike Elite
"Just when you thought the Assault AirBike couldn't get any better, they go and upgrade! Think, the same super solid design and features of the original AirBike just more… elite," says Mitchell. "Honestly, there isn't a huge difference in terms of function between the Elite and original Assault AirBike, but the frame on the Elite is much heavier and it's an overall better bike, albeit at a significantly higher price."
On top of that, Mitchell adds, "The Assault AirBike Elite does offer a much more comfortable ride than its less elite brother, so your backside may thank you for upgrading (your wallet, on the other hand, may not)."
AD Pro Airdyne Bike
This bike has an impressive custom designed 26 blade fan that produces more watt power to help you burn more calories during your HIIT workout. It also has built in HIIT programs and tracks watts, calories, heart rate, time and distance. And since Schwinn knows you'll be dripping sweat during your workouts, they also built it with a moisture-repellent frame.
Connect Bike EX-7s
The Echelon Connect Bike EX-7s features a competition-style seat, a rotating 22" class HD touchscreen and 32 levels of indexing resistance. If you love to stream live classes, the monthly FitPass subscription allows you to take them with world class instructors and also connect via social media apps to compete with other riders.
Bike+
This upgraded Peloton Bike, the Bike+, is like the original Peloton bike—but better. It has an amazing 24-inch-wide HD touchscreen, with an easily adjustable seat and handlebar settings. It also has auto-follow, so when hen the trainer suggests you make resistance adjustments, Bike+ automatically does so.
Standard Bike Bundle
Looking for a high-tech workout in a short window? This stationary spin bike uses a unique AI-powered protocol (called REHIT, for reduced-exertion high-intensity training) to create quick-hitting 9-minute metabolic sessions that are tailored to the rider's output.
Not interested in only riding within that framework? That's just fine. You can use the bike in free-ride mode—and if you have a Peloton membership, you can log in to take spin classes directly on the bike's screen.
This content is created and maintained by a third party, and imported onto this page to help users provide their email addresses. You may be able to find more information about this and similar content at piano.io
Advertisement – Continue Reading Below
Source link