Health
10 Supportive Pillows to Sleep Soundly on Your Side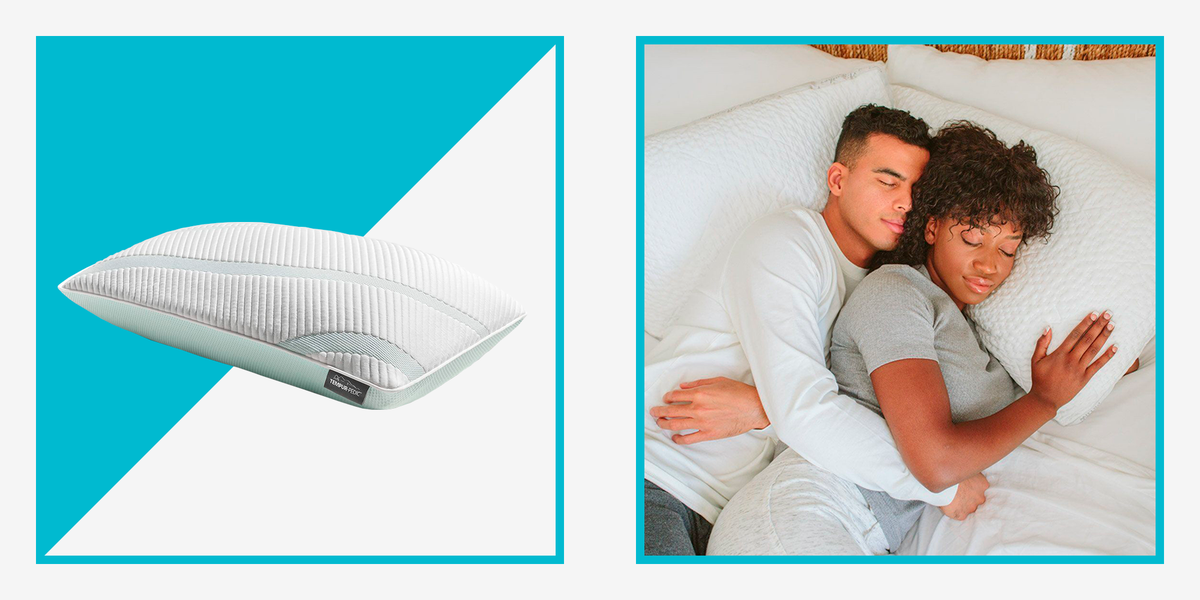 Most people sleep on their side—with the right support, it keeps your spine aligned, relieving the pressure that can otherwise lead to morning aches and pains. That means you wake up less likely to have a sore neck, shoulders, or hips; it can also help with lower back pain. Side sleeping also helps with snoring, which can be a ​​symptom of obstructive sleep apnea. (Because it disrupts your breathing, sleep apnea can lead to serious long-term problems, including diabetes and heart attack.) Improved gut health, including relief from heartburn and constipation, may be another benefit of side sleeping.
All of that sounds great, but obviously, you can only get those benefits if you can make side sleeping work for you. As we've mentioned, a big factor in side sleeping is supporting your body. That starts with the right mattress. You may like a firm or soft mattress, but when it comes to keeping your body supported, the right answer is probably somewhere in between: firm enough to support your joints throughout the night, but soft enough that it's still comfortable to sleep.
With the right mattress, you can move on to choosing the best pillow for side sleeping. (Or upgrading your old pillow: You should probably replace your pillows once a year, as older pillows stop supporting your head as well, in addition to becoming a haven for dust mites and even giving you acne.) Generally, when you lay down, your ears should be in line with your shoulders, chin neutral. With your hands at your sides, you can try a firm pillow between your knees to keep your knees, hips, and spine in alignment. Finally, lifting your knees toward your chest will reduce the pressure on your back.
In this position, the right pillow keeps your head and neck straight with your spine. (Some options, such as Pillow Cube, let you specifically customize a pillow for your side sleeping.) From there, it's just a matter of choosing what other factors you find important. To help, we've compiled this guide to the best pillows for side sleepers.
Read more: Best Pillows for Sleeping
Advertisement – Continue Reading Below
Best Overall Pillow for Side Sleepers
Easy Breather Memory Foam Pillow
The Easy Breather ticks a lot of important boxes for us. It ships overstuffed with memory foam, so you can adjust it to your liking. The cooling fabric means you won't wake up sweaty. And it can even be ordered in a customized side sleeper size.
Dimensions for Side Sleepers: 29 x 17 inches
Weight for Side Sleepers: 5 lbs
Material: Icecore, Polyester, Spandex, knit cotton
Best Down Alternative Pillow for Side Sleepers
The Ultimate Down Alternative Sleeper Pillow
Down Alternative
Two Sizes Available
No Adjustable Firmness Levels
Crane and Canopy gives you the feel of down without all the downsides. It's a lofty pillow with a 400 thread-count cover, with medium support for side sleepers. Choose this if you like to sink into your pillow.
Dimensions: Standard 20 x 26 inches, King 20 x 36 inches, Euro 26 x 26 inches
Material: Down Alternative

Best Body Pillow for Side Sleepers
Full Body Pillow
Supports back, legs, neck, and hips
Besides aligning your head and neck, keeping your knees and hips aligned is important for side sleepers. A body pillow can help with that, and the memory foam Snuggle-Pedic is one of the firmer options. It's definitely worth considering if you have hip, knee, or lower back pain when you wake up.
Dimensions: 16.4 x 8 x 8 inches
Weight: 7.65 lbs
Material: Viscose of Bamboo, Polyester, and Lycra
Read more: Best Pillows for Neck Pain
Best Cooling Pillow for Side Sleepers
TEMPUR-Adapt ProMid + Cooling-Queen Pillow
Two Sizes
Three Firmness Settings
The Tempur-Pedic's memory foam pillow fill comes in three heights, so it can be customized to fit your sleeping needs. The foam is dense and supportive, but the pillow's cover keeps your head exceptionally cool. A great choice for anyone who sleeps hot.
Dimensions: 26 x 16 inches
Weight: 4.6 lbs
Material: Memory Foam
Read more: Best Memory Foam Pillows
Best Extra-Firm Pillow for Side Sleepers
ComfortFit™ Pillow – Ultimate
Choose Your Shape and Size
With three removable inserts, the Sleep Number ComfortFit Pillow Ultimate can be extra firm for side sleepers. The filling is a unique blend of memory foam and down alternative that helps the pillow keep its shape. With a hypoallergenic cover, it won't irritate your skin.
Dimensions: Standard Curved 24 x 17.5 inches, Standard King 34 x 17.5 inches
Material: Memory Foam and down alternatives
Read more: Best Bedding
$119
$99
Sometimes one size doesn't really fit all, and if you can't find the perfect pillow, consider a custom option. Pillow Cube will ask you some questions about your sleep style, then recommend one of their 4-, 5-, or 6-inch thick, memory foam pillows designed specifically for side sleepers. The pro version, aimed at sleepers who roll at night, costs a little more but looks more like a conventional pillow; all options have a temperature-regulating core to keep things cool.
Best Budget Pillow for Side Sleepers
Bed Pillows for Sleeping
A good side-sleeper pillow doesn't have to break the bank. The Beckham Hotel Collection offers a pair of gel fiber-filled pillows for about $40; they're soft and supportive, with a sateen cover that feels more expensive than it is. As a bonus, they're hypoallergenic.
GhostPillow – Memory Foam
The medium-filled pillow is perfect for side sleepers and features patented phase-change material that adjusts to your body temperature. The pillow is designed to create more airflow keeping you cool throughout the night. The gel memory foam creates a core that supports your sleep position.
Casper's pillow-in-pillow design is made of a down alternative material and responds to your body movement during sleep. The pillow is also clump resistant and keeps you cool every night.
This down pillow from Brooklinen comes in either standard or king and offers three levels of firmness. The down pillows are soft, and supportive, and are the perfect fluffiness for side sleepers anywhere.
How We Selected
For the past two years, Men's Health editors tried and tested countless pillows to determine the best performing pillows on the market today. We ranked each pillow based on side sleeper positions, material, and value. We also considered top-reviewed pillows from online retailers we trust.
What Should Side Sleepers Look for in a Pillow?
The main thing a side sleeper should look for in a pillow is a thicker and firmer pillow. Pillows with a medium-firm feel to them will support your head and neck when lying down and help to keep your body aligned. Side sleepers may also want to consider a pillow between your knees for spine alignment. That's why we recommend going for firmer materials like memory foam and latex.
This content is created and maintained by a third party, and imported onto this page to help users provide their email addresses. You may be able to find more information about this and similar content at piano.io
Advertisement – Continue Reading Below
Source link