Health
10 Camping Cots That Will Bring You a Good Night's Sleep Outdoors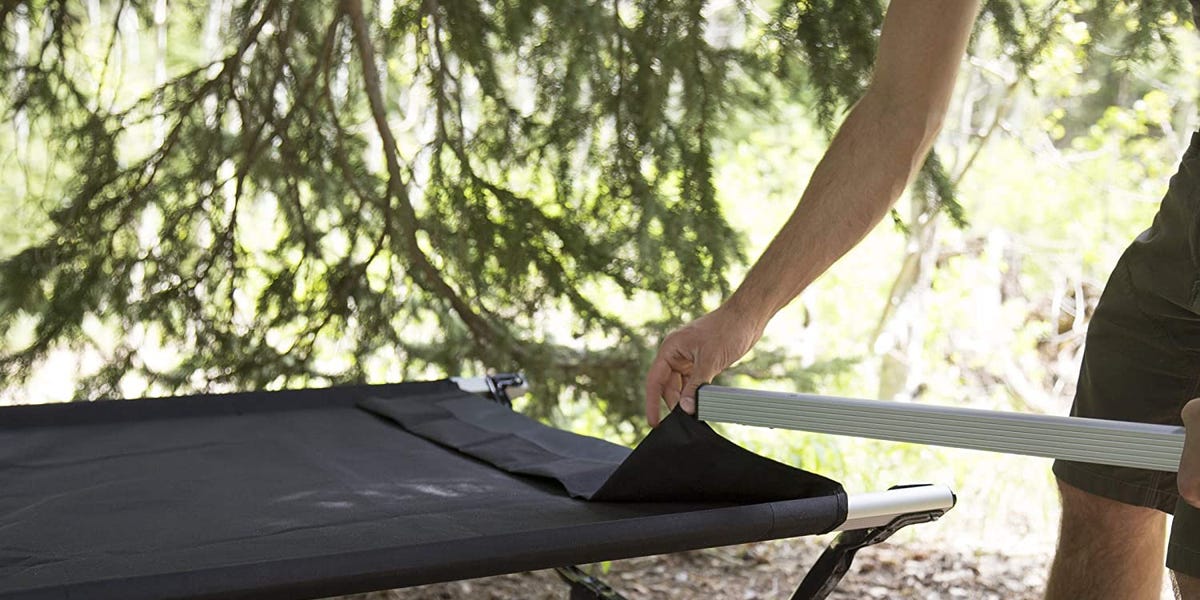 Photos Courtesy of Retailers
You've probably got all your essentials accounted for when packing for a camping trip, right? Tent, rations, medical needs, sleeping bag. But you don't want to be sleeping on the cold, hard, wet ground, do you? Don't forget to add one of the best camping cots to your camping checklist.
Cots are excellent, if not essential, camping accessories. They enable you to sleep in better comfort—giving you better recovery from the day's activities—as well as keep you elevated off the ground, so you'll stay warm and dry.
Most camping cots are constructed relatively simply—a metal frame that's usually steel or aluminum, and a layer of fabric, usually nylon or polyester. That's the basic structure to keep you elevated off the ground (all you have to do is add a sleeping bag and maybe a pillow, and you're good to go). Some folding cots come with a mattress, and those are great too! It all relates back to what you need for a good night's sleep.
And there are a lot of variables when shopping for the right camping cot for you. You're going to want to take your size into account (will you fit on it?) the carrying capacity, the weight of the cot itself, and the obvious and most important, comfort.
Whether you're on the hunt for the most comfortable camping cot for bigger guys, back pains, or side sleepers, not to worry. We've rounded up the best camping cots you can get to fit your exact needs. Get ready for your best night's sleep ever—in the great outdoors.
Advertisement – Continue Reading Below
Best Overall Camping Cot
REI Co-Op Camp Folding Cot
REI's Co-Op camping cot pretty much has it all: 75 inches of length to stretch out in, a hearty steel construction that keeps its form, and a comfortable polyester fabric that's light but strong. When you're ready to roll, the cot conveniently folds up for storage and travel. You'll definitely be sleeping through the night in comfort with this one
Weight: 16 lbs 9 oz
Capacity: 300 lbs
Length: 75 inches
Best Budget Pick Cot
Coleman 765353 Trailhead II
The Coleman camping cot Trailhead II has it all despite the bargain price. With an alloy steel frame and construction, it'll stand its ground (even in wind) and it's built to last years and years. It's 35 inches wide, which means it'll fit most guys (unless you're the Hulk) and is a great budget pick among Coleman camping cots. Don't venture into the wild and plan on getting any sleep without it.
Weight: 21 lbs
Capacity: 300 lbs
Length: 73 inches
Best Lightweight Cot
Helinox Lite Cot
Portability is key when you're camping out, so you might want to go for something that's more lightweight. The Helinox cot weights barely three pounds and packs down to a pint-sized 5 inches by 21 inches—something you can easily carry on your back, since it's a collapsible cot, not a folding one. The fabric is made from durable, rip-resistant polyester, so it can handle all manners of conditions.
Weight: 2 lbs 3 oz
Capacity: 265 lbs
Length: 73 inche
Best Cot for Cold Nights
Helinox Cot One Convertible
Cold-weather camping can be pretty difficult, so don't make it any harder on yourself. Pick up one of Helinox's Cot Ones, made from sturdy polyester and an aluminum frame. The cinch is that there's a (sold separately) insulated pad that replaces the fabric, adding a layer of cushion and insulation when it's nippy out. So when it's cold out, you've got that extra layer of warmth.
Weight: 5 lbs 1 oz
Capacity: 320 lbs
Length: 75 inches
Best Cot for Two People
Kamp-Rite Double Kwik-Cot
They say to love the one you're with, not sleep in separate cots. This cot from Kamp-Rite has your solution: a cot for two people that fits evenly into the accompanying tent, made from tough-to-break nylon. Like we said, it actually comes with a tent
if you need it (they're made to go together), and the tent is just as good as the cot, guaranteeing shelter and a comfortable night's sleep for you and your sweetie.
Weight: 25 lbs
Capacity: 300 lbs
Length: 85 inches
Most Comfortable Cot
REI Co-Op Kingdom Cot 3
We all want to sleep in comfort; it's just a little harder in the wild. So what is the most comfortable camping cot? We say take the guesswork out of it with this cot that comes with a plush, padded, quilted top that's made from water-resistant polyester. It even has a knob that changes the back position, should you want a little reading session during your trip. It's so comfortable we're thinking of using it in a guest room.
Weight: 20 lbs
Capacity: 300 lbs
Length: 82 inches
Best Cot for a Bad Back
TETON Sports Camp Cot
Feeling the weight room when you're sleeping? You don't have to give up on your camping hobby because of it. Pick up this cot from TETON Sports that's super simple to set up, made from reinforced steel in the frame, is extra large so your limbs can spread out easily, and—most important for guys who have a bad back—super comfortable. We recommend picking up the additional foam pad for added comfort.
Weight: 26 lbs
Capacity: 600 lbs
Length: 85 inches
Best Cot for Tall Guys
L.L. Bean Easy Cot
As a tall boy, L.L. Bean's cot is your perfect choice. Not only does it nail the main qualification—it's 79 inches in length, allowing for guys up to 6'7" to sleep in it—it also adds about 30 pounds of capacity than the average cot, accounting for all that extra muscle a tall guy might have. It's portable, breaking down easily, and is made from rugged polyester fabric that'll last years.
Weight: 21 lbs
Capacity: 330 lbs
Length: 79 inches
Best Cot for Side Sleepers
Byer of Maine Easy Cot
If you're a side sleeper—like many of us are—you'll want something on the firmer side to help you align your spine and make sure you're not sinking too much. Byer of Maine's cot is the goldilocks for these kinds of sleepers, coming in with a strong 600 Denier polyester fabric that's breathable but very sturdy, plus multiple panels to increase the cots durability. It's also wider than most cots—31 inches—accounting for shifting leg positions when you're sleeping on your side.
Weight: 21 lbs
Capacity: 330 lbs
Length: 78 inches
Filson x Helinox Printed Tactical Cot
Hey there, big spender. If you want top-of-the-line comfort and the price tag that comes with it, this Helinox and Filson collab is the choice for you. Included are ultra-strong, aluminum poles, high-strength nylon-resin hubs with shockcords, and 600 Denier polyester fabric. Don't forget the main highlight: an ultra-sweet camo finish. We'd open a new credit card to camp out with this one.
Weight: 5 lbs 1 oz
Capacity: 320 lbs
Length: 74.5 inches
This content is created and maintained by a third party, and imported onto this page to help users provide their email addresses. You may be able to find more information about this and similar content at piano.io
Advertisement – Continue Reading Below
Source link