Fashion
Shop Dermstore's Top-Selling Products of 2020 Like a Derm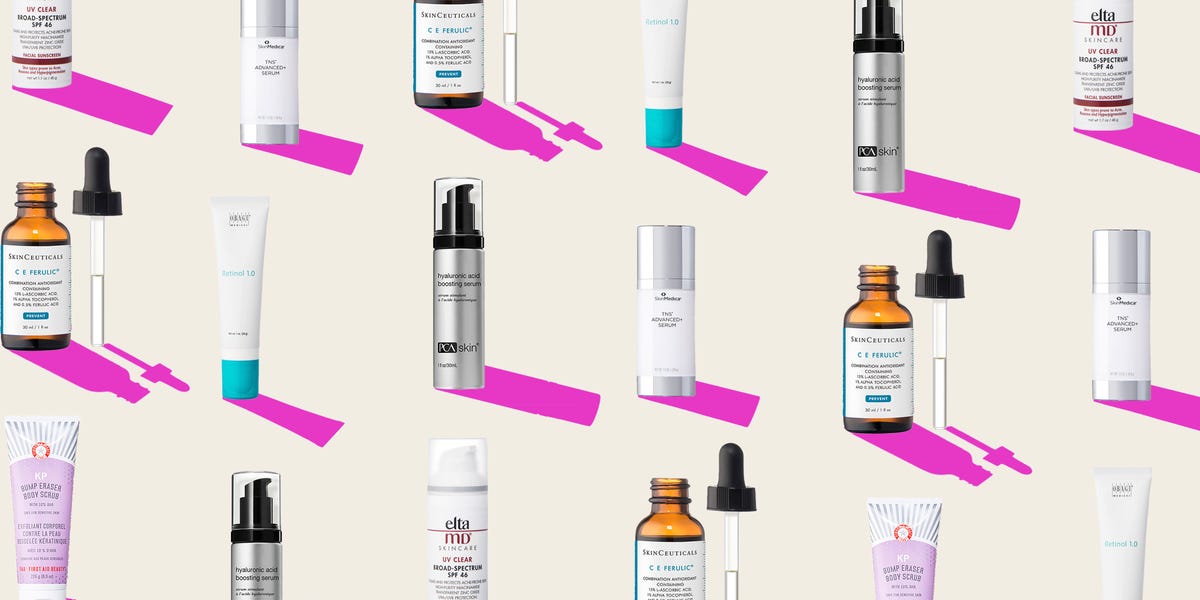 Ever wish you could just copy/paste the virtual carts of the experts who really know what they're doing when it comes to shopping for beauty products? Well, we leaned into that nosiness and started a series dedicated to the shopping lists of some of the country's top beauty experts. This week, we're asking a dermatologist to shop the year's most popular purchases from Dermstore, one of the best beauty retailers for highly rated, carefully curated skincare products.
Not sure where to start when it comes to shopping for skincare online? One good strategy is to check out the bestsellers, which tend to be popular for a reason (i.e. they work). And another is to ask an expert. Here, Mona Gohara, MD, a New Haven, Connecticut-based dermatologist and professor at Yale School of Medicine, gives the best of both: She picks her standouts among Dermstore's top-selling products of the year and shares why they deserve the spotlight. Keep scrolling to start your skincare shopping list for healthy, more radiant skin in 2021.
Advertisement – Continue Reading Below
C E Ferulic
SkinCeuticals
dermstore.com
$166.00
Dr. Gohara considers this a cult classic among both derms and their patients (and obviously the wise Dermstore shoppers of 2020). It's one of the OG antioxidant serums and your best defense against free radicals, which can create cellular DNA damage, break down collagen and elastin, and also lead to hyperpigmentation. Clearly, preventing that is important, and nothing makes it easier than this serum. "This successfully coupled two of the most powerful antioxidants to help to effectively fight off free radical damage," she says. Those two antioxidants, vitamins C and E, are paired with ferulic acid, which helps to enhance the benefits in this formula.
UV Clear Facial Sunscreen Broad-Spectrum SPF 46
EltaMD
dermstore.com
$28.80
If there were a popularity contest for sunscreen, this would be crowned the winner year after year—both at Dermstore and beyond. Unlike the chalky sunscreens of years past, "it has amazing blendability and can be a staple for any skin tone," says Dr. Gohara. The fragrance- and oil-free formula doesn't leave a shiny residue behind, either. Another advantage: It goes above and beyond to double as a treatment. "The infused niacinamide brings down inflammation for those who struggle with rosacea or acne, or those with anti-aging in mind," she explains.
TNS Advanced+ Serum
SkinMedica
dermstore.com
$295.00
Dr. Gohara has never gotten an injectable neurotoxin like Botox, even though, as a derm, she's around it all the time. "I swear it's because I have been using TNS for years," she says. "This dual chamber technology delivers multiple antioxidants together with collagen-building peptides to help smooth and say goodbye to sags." The ability to help visibly deter sagging skin is a big deal, since few topical products are able to pull that off. Plus, the antioxidants give it all the free radical-fighting perks of an antioxidant serum, helping to brighten and repair skin.
Retinol 1.0
Obagi
dermstore.com
$67.00
Retinoids fall in the non-negotiable category of a good skincare routine, since they help with both acne and premature signs of aging alike—a winner for anyone with adult acne, which explains why it's a bestseller. "Retinoids should be a part of everyone's skin armamentarium," says Dr. Gohara. "They are the single most effective ingredient in actively building collagen and preventing its degradation." She likes this one for its quick-absorbing, lightweight texture, and considers it gentle enough for most skin types. (That said, it still "cranks out collagen like the best of them.")
KP Bump Eraser Body Scrub with 10% AHA
First Aid Beauty
dermstore.com
$28.00
Anyone with keratosis pilaris, a.k.a. KP, knows how hard it can be to find a solution for those pesky flesh-toned bumps that appear on the skin and don't want to leave. According to Dr. Gohara, this body scrub does the trick. "It works as a great antidote to the dreaded 'chicken skin,'" she says. "One of the few to mix two of the most popular AHAs—glycolic and lactic acids—it evens out the genetically derived, bumpy texture." It's also a good bet for anyone who just wants super-smooth, more radiant skin from head to toe.
Total Eye™ 3-in-1 Renewal Therapy SPF 35
Colorescience
dermstore.com
$69.00
Dr. Gohara considers this eye cream one of the best multitaskers out there. "It conceals, protects, and actively anti-ages the most delicate skin on our body," she explains. The cooling metal applicator can help reduce puffiness around the eyes, too, and it can work wonders after a late night. "It is a forever friend of anyone on the dark-circle struggle bus—like me," she says.
Hyaluronic Acid Boosting Serum
PCA Skin
dermstore.com
$115.00
The body naturally produces hyaluronic acid, which does everything from lubricate the joints to keep skin plump and hydrated. However, "in our 30s, our body's hyaluronic acid begins to precipitously decline," says Dr. Gohara. "Adding this product provides an immediate plump while encouraging the skin to produce its own." The combo of quick results and the potential for long-term improvements make this serum a win-win for skin, especially if you're prone to dryness. It's no surprise that it tops the bestseller list.
This content is created and maintained by a third party, and imported onto this page to help users provide their email addresses. You may be able to find more information about this and similar content at piano.io
Advertisement – Continue Reading Below
Source link