Fashion
Nordstrom Is Having a Secret Sale On Masks by Madewell, Lele Sadoughi, and More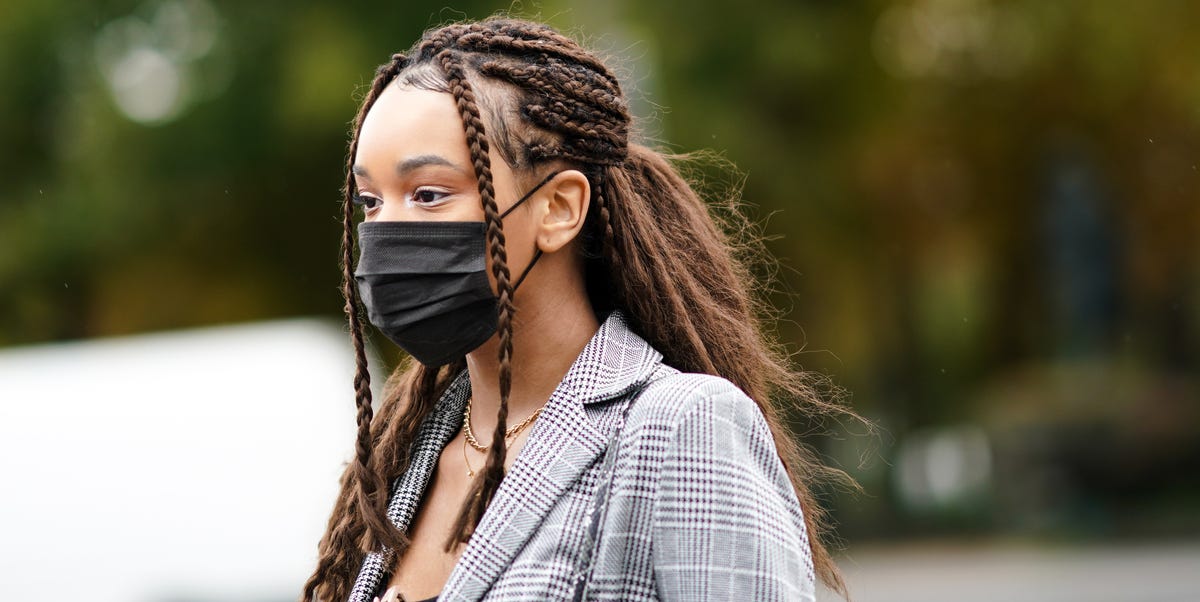 Edward BerthelotGetty Images
If someone told us this time last year that face masks would be the most in-demand fashion accessory of 2020, we wouldn't have believed it. But, as we know all too well, masks are necessary for keeping you, your loved ones, and your community healthy. That said, there's no reason your practical face mask can't look good, too. (In fact, a bunch of brands are offering their stylish spin on the safety staple.)
While one or two reusable options are sufficient, many of us have resorted to impulse-buying new masks. If you're looking to beef up your collection—but don't want to spend a small fortune on them—Nordstrom is taking up to 40% off stylish masks right now. From fun prints by top designers like Lele Sadoughi to versatile neutrals by Madewell, there's something here for just about everyone.
1
3-Pack Assorted Adult Face Masks
Lele Sadoughi
Nordstrom
$40—$49 $28—$34.40 (30% off)
ICYMI, all the cool girls wear Lele Sadoughi's masks. Decked out with faux pearls, sweet embroidery, and eye-catching prints, this pack will keep you safe and receive a lot of compliments.
2
Assorted 4-Pack Adult Face Masks
NORDSTROM
nordstrom.com
$25 $14.90 (40% off)
What better way to honor the tie-dye fad than with matching masks? 
3
Adult Face Mask
Brixton
Nordstrom
$12.50 $8.75 (30% off)
Found: A cute mask for under $10. 
4
3-Pack Cactus Organic Cotton Adult Face Masks
Baggu
Nordstrom
$32 $24 (25% off)
Thanks to the adjustable ear loops, Baggu's masks offer a snug, comfortable fit. 
5
Assorted 5-Pack Adult Face Masks
Safety Smile
Nordstrom
$15 $10.50 (30% off)
Looking for the best bang for your buck? Safety Smile's pack offers five great masks for the price of one!
6
3-Pack Assorted Adjustable Adult Face Masks
Madewell
Nordstrom
$24 $16.80 (30% off)
Convinced you already have too many masks? Think of it this way: Masks a great way to support your favorite brands. We're currently coveting this vibrant option from Madewell.
7
Buffalo Check 4-Pack Family Face Masks
NORDSTROM
Nordstrom
$25 $17.50 (30% off)
If you want to protect the entire family, this pack includes masks for kids and adults.
8
Assorted 3-Pack Adult Face Masks
Citizens of Humanity
Nordstrom
$30 $18 (4o% off)
If versatility is your top priority—aside from, you know, staying safe—this pack from Citizen of Humanity will l0ok good with just about anything. 
9
2-Pack Twill Texture Adult Face Masks
Brooklyn Brigade
Nordstrom
$25 $17.50 (30% off)
Sure, Brooklyn Brigade might be a menswear company, but this is one essential we want to borrow from the boys.
10
Twisted Face Mask Chain
Bauble Bar
Nordstrom
$18 $14.40 (20% off)
If you keep your mask close by during an outdoor dining excursion? This chain is equal parts practical and pretty.
This content is created and maintained by a third party, and imported onto this page to help users provide their email addresses. You may be able to find more information about this and similar content at piano.io
Source link