Fashion
Meghan Markle's Favorite Skincare Brand Tatcha Is Having A Sale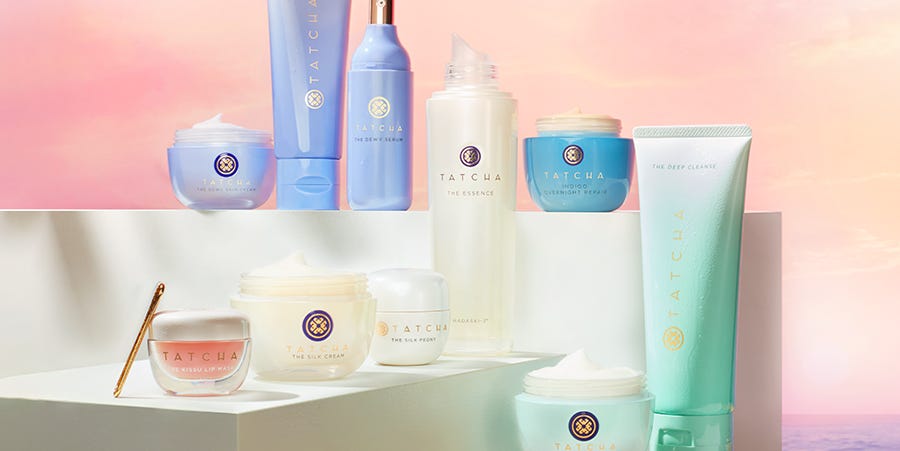 Sales should always be celebrated, but especially so when they're rare, and when it's for a brand that literal royalty loves. Tatcha is beloved by so many celebrities that it's not even worth listening to them all. Suffice to say, there's probably not a single icon who hasn't slathered on some Dewy Skin Cream before an event. And now, for six blissful days, every single product on Tatcha's website is 20% off with the code "FF2021".
So what should you purchase? Maybe their brand new Indigo Overnight Repair cream, also known as the smoothest, most hydrating moisturizer currently on the market? Or, for those opposed to looking too dewy, you could reach for their bestselling Water Cream, which keeps you silky smooth in a lightweight formula. The options are endless, but just to make sure you get the best of the best, browse the 11 options below to see what I, personally, will be adding to my cart.
Advertisement – Continue Reading Below
1
Indigo Overnight Repair
Slather this on before bed if you want to be like Sleeping Beauty and awaken to magically repaired skin in the morning.
2
The Dewy Skin Cream
My adult brother won't wash his face, but he will steal dollops of my Dewy Skin Cream when he comes to my apartment. If that's not a reason to stock up, I don't know what is.
3
The Water Cream
Also known as the best moisturizer for warm weather, this formula is so light you won't even know you're wearing anything.
4
Luminous Dewy Skin Mist
I like to spritz this on in the middle of the day to make myself feel alive. It also works as a great setting spray for that luminous glow you've been coveting.
5
The Essence
If you want to give your face a splash of youthifying liquid, pat this on after you wash for face and watch your skin practically life in front of your eyes.
6
Violet-C Radiance Mask
My go-to for resetting my face after a week of stressful meetings, this mask is like a facial in lovely, purple, creamy form. 
7
The Camellia Cleansing Oil
You know that sinking feeling when you're about to go to bed and then remember that you still have mascara on? This cleansing oil makes taking off makeup a breeze. Plus, it will always leave your skin feeling hydrated and smooth.
8
The Dewy Serum
Contrary to popular opinion, serums should simply your routine, not complicate it. This is the only serum you need if you're battling dry skin during the winter. 
9
Violet-C Brightening Serum
Hello, brightness. This vitamin C serum gives you that glowing, healthy sheen to your skin that you've always wanted.
10
Silken Pore Perfecting Sunscreen
Yes, you need to wear sunscreen. No, it doesn't have to be a boring step in your routine. This SPF acts like a primer to your makeup, and will leave your skin practically poreless. 
11
The Pearl
Just because you didn't get to bed last night until 4a.m. doesn't mean everyone needs to know that. This tinted eye cream doubles as a concealer so no ones says, "Wow, you look really tired" during your morning meetings.
This content is created and maintained by a third party, and imported onto this page to help users provide their email addresses. You may be able to find more information about this and similar content at piano.io
Advertisement – Continue Reading Below
Source link