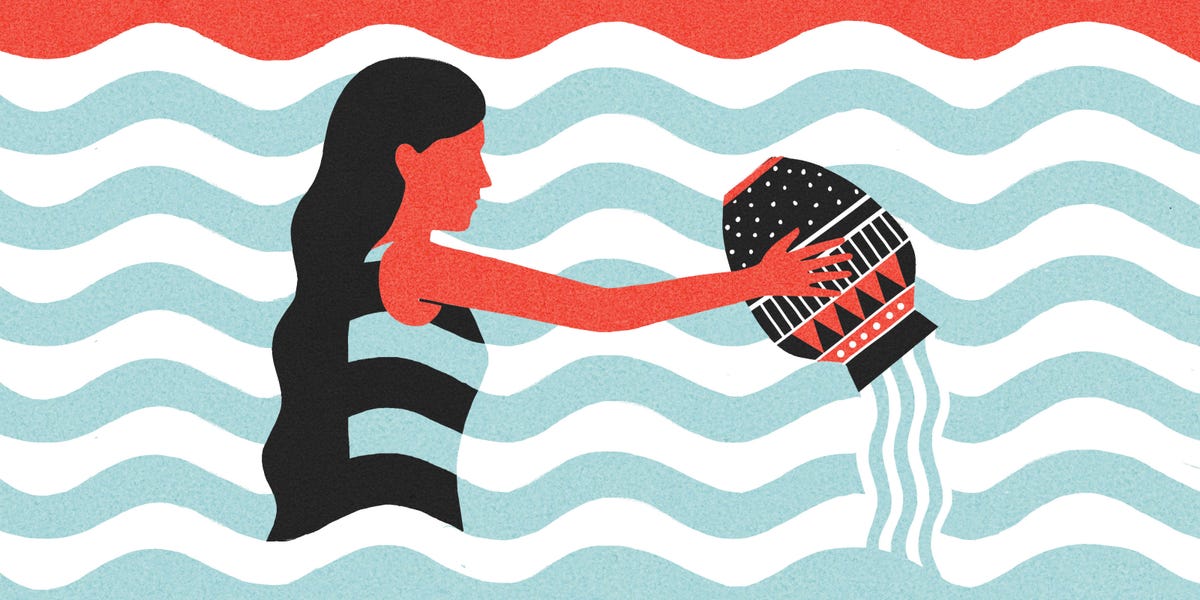 MONTH OF November
Monthly Snapshot: 
Aquarius for president? You've got big goals to accomplish, and with the Sun marching through Scorpio and your tenth house of career and ambition until November 21, you're on a mission to make them happen. Although there's so much going on in the world now, it's important that you also stay focused on your priorities and long-term plans.
That will get easier because this month, three retrograde planets turn direct (forward) after long slowdowns: Mercury on November 3, Mars on November 13 and Neptune on November 28. It's been tough to get big ideas off the ground, and funds may have been tight. By late November, there will only be one planet left in retrograde motion—quite a change from September, which had SIX retrograde planets.
The plot twist? That remaining rogue planet happens to be your ruler, disruptive Uranus. The side-spinning planet will reverse through Taurus and your domestic fourth house for a couple more months. If you've been hoping to move or change your living situation, it might take until early next year.
Before then, you may need to clear a longstanding issue or block. Is there something unresolved from your past filling up the space? On November 12, the third of 2020's three rare Jupiter-Pluto conjunctions arrives in Capricorn and your twelfth house of healing and release. A huge moment of surrender could be on tap.
Whew! For all the seriousness and intensity of the first half of November, the second part compensates with a bit more lightness. On November 21, the Sun moves into Sagittarius and your eleventh house of group activity and collaboration. While you may need to do it virtually or from a safe social distance, communing with your chosen crew adds much-needed levity to the next four weeks.
But the grand finale arrives on November 30, when a Gemini lunar eclipse blazes into your fifth house of passion, creativity and drama. Lights, camera, Aquarius—this could be a day of big love and even bigger emotions coming out into the open. From an unexpected consummation of love to strong feelings that surge up without warning, the month closes out with giant fanfare. Pass the popcorn?
Week 1: November 1-8
Speak your truth
Can we interest you in a cup of truth serum, Aquarius? Honesty once again becomes the best policy this Tuesday, November 3, as Mercury, the galactic guardian of communication and technology, ends a tough three-week retrograde. From October 13 to 27, Mercury backed through Scorpio and your career zone, disrupting your goals and career dynamics. ("Zoom fatigue" doesn't even begin to cover it.)
Since October 27, meddlesome Mercury's been in Libra and your ninth house of big ideas, candid communication and travel. While going places might just be a non-issue as Covid restrictions tighten, here's hoping you paused before pressing "post" or "send" on any, say, incendiary election rants.
If you held your guns, now's the time to (thoughtfully) make yourself heard. And what if you slipped and went a bit too far? You can effectively get to work and make things right now—especially if the topic involves visionary ideas, travel or education. Have you felt stalled on a media or educational project? Prepare to resume forward motion! This is the perfect week to reanimate your most visionary projects. On your mark, get set—go!
Week 2: November 9-15
Let it go
What are you holding onto, Aquarius? This week brings a major moment of healing and release and the possible reveal of information you didn't expect to hear.
It begins on Thursday, November 12, when truth-bomber Jupiter makes its last of 2020's three connections to shadowy Pluto in Capricorn and your twelfth house of closure and hidden information. These planetary powerhouses only align every 13 years, and they've already done so on April 4 and June 30. A secret you or someone else has been keeping could be exposed. Feelings you haven't processed may come up, raw and authentic, forcing you to deal with that pain, grief or bottled-up anger.
Will you feel liberated by this… or blindsided? It depends. On the one hand, your intuition may have been tugging at your sleeve for a while, telling you something was "off." Carrying that burden has been a heavy load. But you'll also feel quite vulnerable, which won't be comfortable. Make sure you have support if you plan to have any challenging conversations or decisions.
With these two prophetic planets uniting in your supernatural twelfth house, the Jupiter-Pluto conjunction could bring a psychic dream, a message from a departed loved one or a serendipitous encounter that feels divinely arranged. Open the channel with a practice like meditation, creative visualization or free-writing. Do a ritual to release what no longer serves you. Let go of whatever's blocking you from being your most empowered and true self!
(For more on how the Jupiter-Pluto conjunctions have impactclass="body-el-link standard-body-el-link" ed the world this year, read our post at https://astrostyle.com/plagues-pandemics-jupiter-pluto-conjunctions-in-history-what-astrology-knows/).
Watch your words this Friday, November 13, as aggressive Mars wakes up from a two-month retrograde in Aries and your communication zone. Since September 9, conversations and social encounters have been stymied by the red planet's reversal. You may have bickered more or just felt cut off, silenced and misunderstood. A sibling, friend or neighbor could have been a source of antagonism. And if you took up the mantle of devil's advocate, it probably backfired.
As Mars corrects course, your conversations can get back to a lively but less-confrontational tone. News or a long-awaited answer could finally come through. However, when a planet "stations" (switches directions), the transition isn't always peaceful. If you've been biting your tongue, all the pent-up frustration could come boiling up. Helpful hint: Today is World Kindness Day, so observe it by choosing your words with extreme care. If you feel reactive or emotional, draft an email and send it to yourself or vent to a neutral third party instead of going on a rampage!
Your goals come sharply into focus on Sunday, November 15, when the year's only Scorpio new moon beams into your tenth house of career and ambition. Set your goals and set sail on a six-month voyage toward major success. This isn't about "making it" overnight but rather working toward your intended outcome, step by step. Where would you like to be by the time the April 26, 2021, Scorpio full moon arrives? The more specific you are, the better.
Week 3: November 16-22
Group efforts
On Tuesday, November 17, you could experience a work-life balance meltdown when mental Mercury in your career sector opposes destabilizing Uranus in your home and family zone. Dueling demands from both parts of your life could push you to the brink. Manage your stress levels—and everyone's expectations—so you don't spin out of control.
On Saturday, November 21, the Sun slides into Sagittarius and your aspirational, group-oriented eleventh house. Can you slip out of workaholic mode to mix and mingle, either IRL or virtually? Mayor Aquarius (preferably of a utopian society) is a role that suits your exuberant, visionary sign. Focus on idealistic ventures that benefit yourself and others, and team up with kindred spirits. Collaborations you start now could really take off!
Week 4: November 23-30
Finances take flight
November's last week could be its most eventful (though the competition for that crown is stiff). On Saturday, November 28, dreamy Neptune wakes up from a powered-down retrograde in Pisces and your financial house. Since June 22, the hazy planet has been blurring your budget and balance sheet, interfering with the flow of funds. Work may have been slow or uninspiring.
From today on, money matters begin to improve. Start thinking of how you can cut extra expenses, boost income AND have your funds work harder for you. Since this is a big holiday shopping weekend, you could wake up with a case of Black Friday buyer's remorse. Do you really need that? Save your receipts and scout for good deals. And if money's tight, consider making it a Secret Santa year, where each person gets assigned one other giftee instead of breaking the bank. You could also exchange non-material presents. A free week tutoring your niece so your harried sister gets a break from Zoom school? Priceless!
On Monday, November 30, the month makes a dramatic send-off as a Gemini lunar (full moon) eclipse sweeps through your fifth house of romance, passion and creativity. It will be difficult to stem the tide of feelings that rush in like a tsunami. But careful that you don't do damage by spewing a raw, unfiltered torrent of bottled-up emotions at the nearest target. (We understand that you've been holding this in for a while!)
Romantic chemistry could consummate today, and since the fifth house rules fertility, Water Bearers of the, er, child bearer demographic could get unexpected pregnancy or adoption news. Look back to the May 22 Gemini new moon for clues of what might come to a potent peak.
This is the first Gemini eclipse in a series barreling across the Gemini/Sagittarius axis from June 2020 until December 2021. You'll learn important lessons about drama versus detachment and new ways to balance head and heart. Your sign can be either totally impulsive or lost way up in your head. Over the next year, work toward cultivating a middle ground. One such teaching may come today, when the lunar eclipse unlocks the floodgates of passion. If you've been holding back from truly unleashing the most creative and enlivened version of yourself on the world, let 'er rip! An artistic or personal renaissance awaits.
LOVE & ROMANCE:
With love planets Venus and Mars in opposite signs this month—staring at each other from across your axis of expression and education—communication becomes all the more essential to maintain the health of your love life. Whether you're single or attached, boost your happiness by reading books, listenclass="body-el-link standard-body-el-link" ing to podcasts and checking out educational resources like the Gottman Institute (http://www.gottman.com). Just talking about what's on your mind can make a huge difference!
Venus is in Libra until November 21, activating your worldly and optimistic ninth house and, if you're single, giving you hope that your soulmate really is out there! You'll be feeling adventurous and open. Regardless of your status, you may have particularly itchy feet and could be bored with the status quo. But restrictions and personal values will factor into how much you actually mix things up or take ANY kind of trip. Of course, there are ways to expand your "horizons" without leaving your 'hood. Check out virtual cultural offerings and mingle with people from different walks of life (online or safely distanced IRL).
Meanwhile, Mars is in Aries this month (and for the rest of the year), heating up your interactive and local third house. The red planet wraps up a retrograde on November 13 that began September 9, so the first half of November could have a few discordant moments where you feel irritable and can't stop bickering. An attraction to a friend could land you in uncomfortable terrain. Think twice before going there…
Before the month ends, Venus will get into cosmic clashes with Mars, Pluto, Jupiter, Saturn AND Uranus, suggesting that a lot of stuff is going to come up and will need to be hashed out, negotiated and compromised on. All the more reason to take your time and think everything through carefully.
The diciest of those altercations could be on November 9, when Mars and Venus make an exact opposition, a tricky day for getting on the same page. Hang in there until November 21, when Venus relocates to Scorpio and your goal-oriented tenth house until December 15. You should be more grounded and eager to talk about the future. Suddenly the grass doesn't look greener over there, and you're laser-focused on what you want and how to get there.
Key Dates:
November 9: Venus-Mars opposition
With the zodiac's love planets in opposite corners, you may feel out of sync with the one(s) you adore. Even a well-intentioned attempt to hash things out could lead to further misunderstanding. An admirer might ply you with the sweetest lines, but are they able to follow through with action? Wait and see.
MONEY & CAREER:
Have your goals been stalled for the past couple weeks? Mercury, the planet of communication and technology, has been retrograde (backward) since October 13. On November 3, the interactive planet resumes forward motion, helping you get back on track with your lofty ambitions.
Expressing yourself gets even easier after November 13, when assertive Mars ends a retrograde in your third house of words and ideas. If you've had a bit of mental block or a hard time feeling heard, the tides will soon turn. Between now and January 6, focus on getting your message out there, perhaps with a big marketing or social media push, or by recording a heartfelt and shareable video. Holiday season could be busy with pitches and proposals. Don't be surprised if your inbox starts blowing up with people apologizing for taking so long to get back to you!
The November 15 Scorpio new moon brings fresh-start energy to your tenth house of career and ambition. Get ready for a new six-month chapter! Where would you like to be by late April 2021? Map out a master plan and start working toward it step by step.
When hazy Neptune ends a five-month retrograde in your money zone this November 28, financial fuzziness turns into clear cashflow opportunities. One of them could come with a dose of spotlight-grabbing attention when the November 30 Gemini lunar eclipse ignites your fifth house of fame and creativity.
Key Dates:
November 1: Mercury-Saturn square
Today marks the second of three squares between mental Mercury and structured Saturn, and this time Mercury is in retrograde motion. (The first occurrence was on September 23.) After Mercury resumes its forward motion, the two will clash again on November 6. On these days, progress could be stalled by an authority figure or higher-up. Their resistance might seem unfounded, but see this as an opportunity to polish or fine-tune your creation. If you aren't communicating the benefits clearly enough, go back to the drawing board. There won't be any shortcuts, but in the end, that could be a blessing in disguise.
Love Days: 3, 8
Money Days: 15, 22
Luck Days: 12, 20
Off Days: 5, 10, 18
This content is created and maintained by a third party, and imported onto this page to help users provide their email addresses. You may be able to find more information about this and similar content at piano.io
Source link