Fashion
35 Valentine's Day Gifts For Those Whose Love Language Is Gift Receiving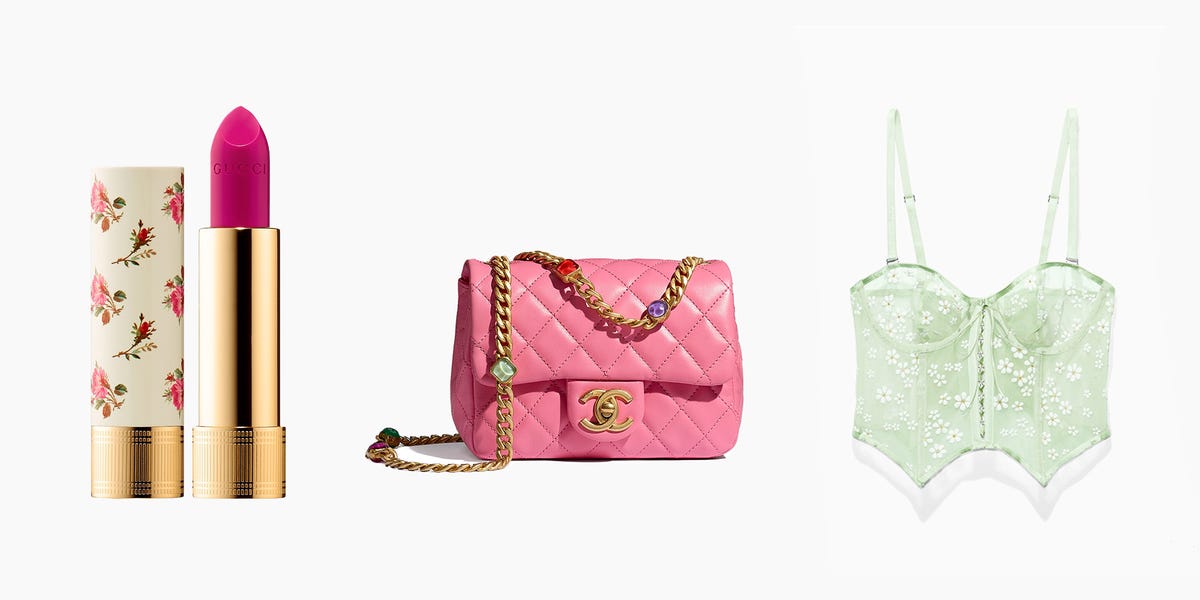 It's cupid's favorite holiday, so lean into all the sticky sweet paraphernalia Valentine's Day has to offer. Spoil her with presents doused in hearts, spring for an iconic Cartier bracelet that has 'love' written all over it, or give a chic yet practical vacuum cleaner (reserved only for recipients who specifically say they want a vacuum cleaner). Click through for 36 romantic presents she's sure to love.
1 of 36
Rouge à Lèvres Voile Sheer Lipstick
The lipstick case is almost as pretty as this vibrant shade of fuchsia. 
2 of 36
CozyChic Unisex Robe
Barefoot Dreams
nordstrom.com
$74.25
Buy two of these unisex robes and snuggle up for a date night in. 
3 of 36
Puff Daisy Unlined Bustier
Savage X
savagex.com
$29.98
Rihanna-approved lingerie. 
4 of 36
Love bracelet
Cartier
cartier.com
$6,550.00
Here's a bracelet she'll own forever (and pass on to your kids, if that's in your cards).  
5 of 36
XL Premium Jumbo Wine Glass
Share a glass of wine… or a bottle. 
6 of 36
Spring Matte Lip Shade Collection
Mented Cosmetics
mentedcosmetics.com
$50.00
Give her some options to last through the seasons. 
7 of 36
Remote Control Couple's Vibrator
We-Vibe X Lovehoney
lovehoney.com
$119.99
Someone has to take charge.  
8 of 36
V7 Motorhead Cordless Stick Vacuum Cleaner
A fancy vacuum cleaner is a great gift, if—and only if—the person you're gifting specifically stated they wanted it for Valentine's Day.
9 of 36
Pure Silk Pillowcase
SLIP FOR BEAUTY SLEEP
nordstrom.com
$85.00
Silky pillows instantly make a bedroom more romantic while also saving your hair from morning bedhead. 
10 of 36
Hollywood Frame
Anthropologie
anthropologie.com
$32.00
Don't forget to include your favorite photo of you together. 
11 of 36
Organic Pearl Hoops
She'll be your girl with the pearl earring. 
12 of 36
135BC 35mm Camera
Holga
urbanoutfitters.com
$60.00
For the girl who exclusively dumps film carousels on Instagram. 
13 of 36
Emerald Green Maya Silk Set
Prayers & Plans
prayersandplans.com
$193.00
Silk PJs are possibly sexier than actual lingerie…
14 of 36
Poetica Halter Bra
Anya Lust
anyalust.com
$325.00
…or not. For a curated edit of great lingerie, check out indie shop Anya Lust.  
15 of 36
Stretch Sandals
Bottega Veneta
bottegaveneta.com
$930.00
Heels for Valentine's Day dinner and beyond. 
16 of 36
Fur Oil
Fur Skincare
nordstrom.com
$46.00
Sometimes, everything needs to be pampered. 
17 of 36
Kingston Candle
Bright Black Candles
brightblackcandles.com
$28.00
You can't take her to Jamaica, so maybe this is the next best thing. 
18 of 36
Flap Bag Lambskin, Resin & Gold-Tone Metal Pink
Chanel
chanel.com
$4,000.00
If she doesn't love you yet, she will after you give her this bag. 
19 of 36
Mint SupaBalm
KNC Beauty
nordstrom.com
$22.00
20 of 36
Diana Athpleasure Sweatsuit
Sleeper
the-sleeper.com
$220.00
Not everyone craves sultry bedwear.  
21 of 36
Ring with Interlocking G enamel heart
The ring she actually wants might not be one with a massive stone.  
22 of 36
Leather Oxfords
Dr. Martens
drmartens.com
$130.00
Dr. Martens celebrates the day of love with these low-key heart shoes. 
23 of 36
03 Rose Edition Atelier Hobo Bag
Valentino
valentino.com
$2.00
This bag is definitely better than a dozen roses. 
24 of 36
An Essential Diffuser
Predominantly Black
predominantlyblack.com
$30.00
Not everyone loves candles. 
25 of 36
Ami Striped Pullover
I fell in love with this sweater while watching Run On and I can't stop thinking about it.
26 of 36
Portofino Sneakers
Dolce & Gabbana
dolcegabbana.com
$945.00
Make celebrating love crystal clear with these hand-painted sneakers, a limited-edition style made just for Valentine's Day. 
27 of 36
Cashmere Crew-Neck Sweater
Miu Miu
miumiu.com
$1,390.00
A little on the nose, but not any less chic. 
28 of 36
UGG Fluff Yeah Genuine Shearling Slide
UGGu003CSUPu003Eu003Cu002FSUPu003E
nordstrom.com
$99.95
The love child of comfy and gaudy. 
29 of 36
Embellished Wraparound Sandals
Amina Muaddi x AWGE L
bergdorfgoodman.com
$1,490.00
Staying in for the night doesn't mean you can't go all out. 
30 of 36
Initial 14-karat gold diamond necklace
Mateo
net-a-porter.com
$595.00
They'll own this necklace forever. 
Advertisement – Continue Reading Below
This content is created and maintained by a third party, and imported onto this page to help users provide their email addresses. You may be able to find more information about this and similar content at piano.io
Source link