Entertainment
Analysis: Sean Connery was the ultimate movie star, and a lot more than just James Bond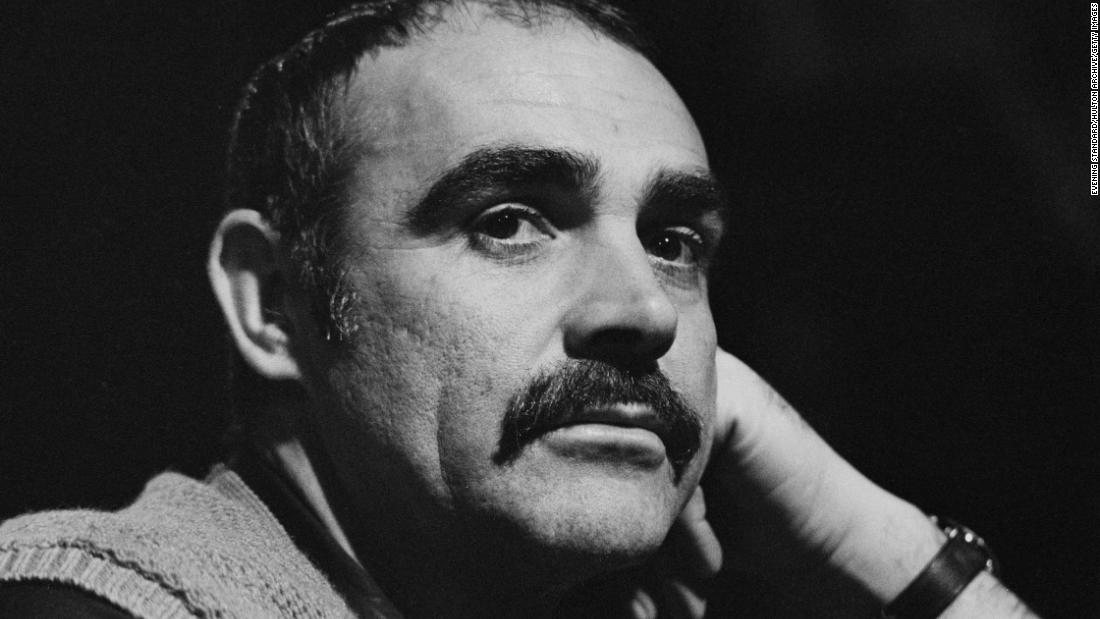 Sean Connery poses as James Bond in 1968.
A young Connery poses with a dog. He was born into a working-class family in Edinburgh.
A young Connery poses for a photo. He quit school in his early teens and enlisted in the military.
Connery, number 24 in center, competes in a bodybuilder beauty contest in the 1950s.
Connery is seen with his wife, Diane Cilento, on their honeymoon near Marbella, Spain, in December 1962.
Connery poses for a photo in 1962, the year he would first play James Bond.
Ursula Andress and Connery perform in a scene from "Dr. No," Connery's first film as James Bond.
Connery on the set of "From Russia with Love."
Connery poses as James Bond next to his Aston Martin DB5 in a scene from "Goldfinger" in 1964. Bond is often seen in the movies driving the car at high speed.
Claudine Auger and Connery in a scene from "Thunderball." Connery's attractive female co-stars in the series became known as "Bond girls."
Connery signs autographs at the Cannes Film Festival in France in 1965.
Connery travels with his actress-wife, Diane Cilento, and their children Gigi and Jason in 1967.
Anthony Costello and Connery on set of "The Molly Maguires" in 1970.
Connery rehearses a scene in the 1971 Bond film "Diamonds Are Forever."
Connery poses for a publicity photo for the film "Zardoz" in 1974.
Connery dances with Kim Basinger in a scene from the 1983 film "Never Say Never Again," his last film as Bond.
Connery holds up his Oscar for Best Actor in a Supporting Role for "The Untouchables" at the 1988 Academy Awards.
Connery and his son, Jason, are seen on the set of the play "Journey's End" in 1988.
Harrison Ford and Connery during a scene from "Indiana Jones and the Last Crusade" in 1989. Connery played Jones' father as a man who competed with his son for everything — including women.
Connery and his second wife, Micheline Roquebrune, attend a premiere in London.
Connery holds up his Cecile B. DeMille Award during the Golden Globe Awards in 1996.
Connery in a scene with Nicolas Cage from the 1996 film "The Rock."
Alec Baldwin and Connery pose for photos during the Tony Awards in 1998.
Connery shows his feet to the crowd on the Hollywood Walk of Fame during his Hand and Footprint Ceremony at the Mann Chinese Theater in Hollywood in 1999.
Sean Connery was among the Kennedy Center Honorees in 1999. From top left, clockwise: Judith Jamison, Connery, Victor Borge, Stevie Wonder and Jason Robards, as they pose following a dinner.
Connery poses for photos in full Highland dress along with his medal after he was formally knighted by the Queen in 2000.
Connery takes a ceremonial kick off during a "Match for Peace" in Barcelona, Spain, in 2005. FC Barcelona played a team comprising Israeli and Palestinian players to support efforts to end the conflict between the countries.
Connery receives the European Film Academy's lifetime achievement award in 2005.
Connery meets with the Dalai Lama in Italy in 2006. The actor's appeal, partly due to the name recognition of his signature character, made him a global figure.
Connery promotes his new book "Being a Scot" at the Edinburgh International Book Festival in 2008. Connery was a staunch supporter of Scottish independence.
Connery watches a tennis match during the US Open in 2017.
Source link